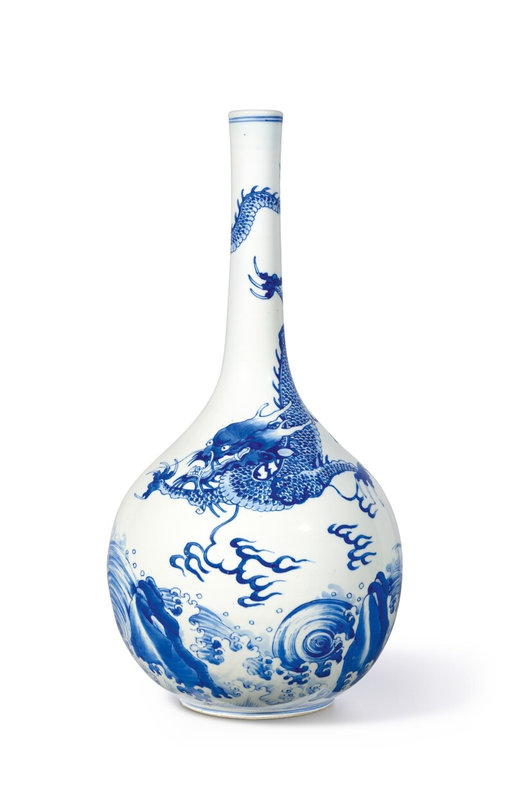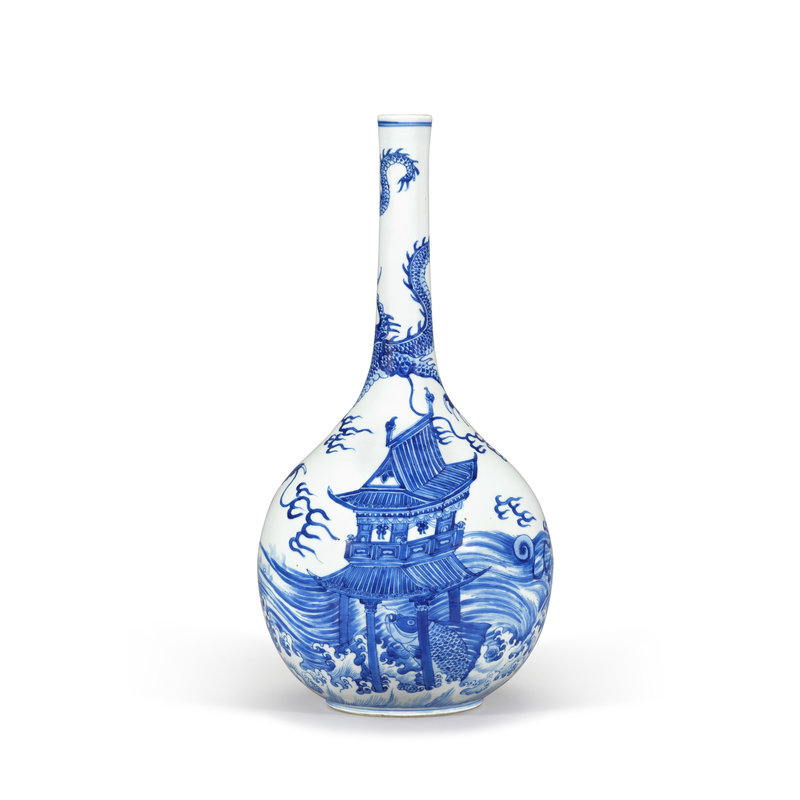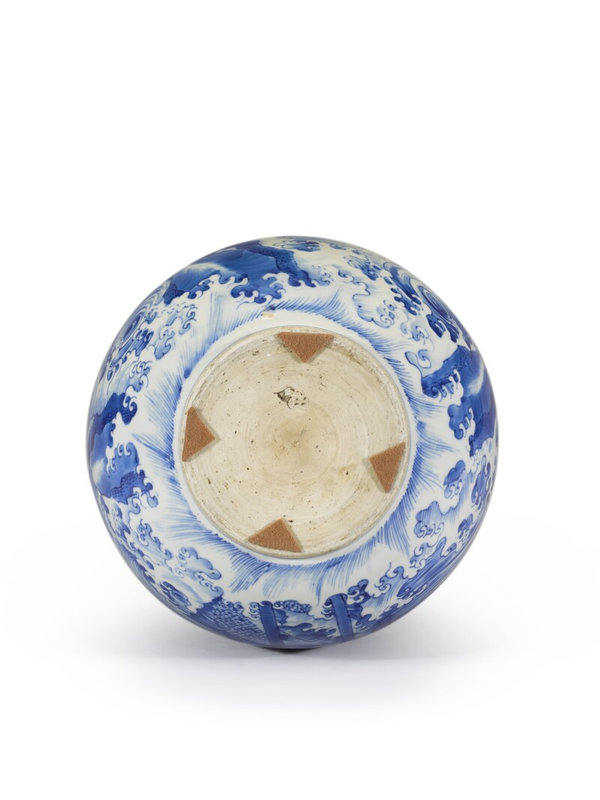 Lot 15. A blue and white 'carp and dragon' bottle vase, Qing dynasty, Kangxi period (1662-1722). Height 42.2 cm, 16⅝ in.. Lot sold 81,900 GBP (Estimate : 30,000 - 50,000 GBP). © Sotheby's 2022
Provenance: The Chinese Porcelain Company, New York.
An American Private Collection.
Literature: The Chinese Porcelain Company. A Dealer's Record, 1985-2000, New York, 2000.
Note: Elegantly potted with a long thin neck and attractive globular body, this vase is impressive for its dynamic design which was executed in a confident painterly manner, reminiscent of contemporaneous paintings and woodblock printed illustrations. A jar painted with a related motif in cartouches attributed to the Kangxi period, in the Palace Museum, Beijing, is illustrated in Compendium of Collections in the Palace Museum. Ceramics, vol. 21, Shunzhi and Kangxi Periods of Qing Dynasty, Beijing, 2012, pl. 139; and a dish, with a Kangxi mark and of the period, in the Nanjing Museum, Nanjing, is published in The Official Kiln Porcelain of the Chinese Qing Dynasty, Shanghai, 2003, pl. 84. See also a pear-shaped vase painted with a carp disposing of a pagoda through its mouth, in the Museum of Eastern Antiquities, Stockholm, illustrated in Jan Wirgin, 'K'ang-hsi Porcelain', B.M.F.E.A., no. 45, 1974, pl. II.
This vase is painted with the popular story of the carp transforming into a dragon. According to legend, on the third month of the spring schools of carp would swim up the Yellow River to spawn. At a steep passage known as Dragon's Gate, the carp would have to leap up over the waterfall. Most of the fish would not succeed, but those that did transformed into dragons. The carp-dragon is symbolic of attaining success and is often found on objects bestowed to those studying for their civil service exams in hopes of passing.
Sotheby's. Important Chinese Art, London, 11 May 2022