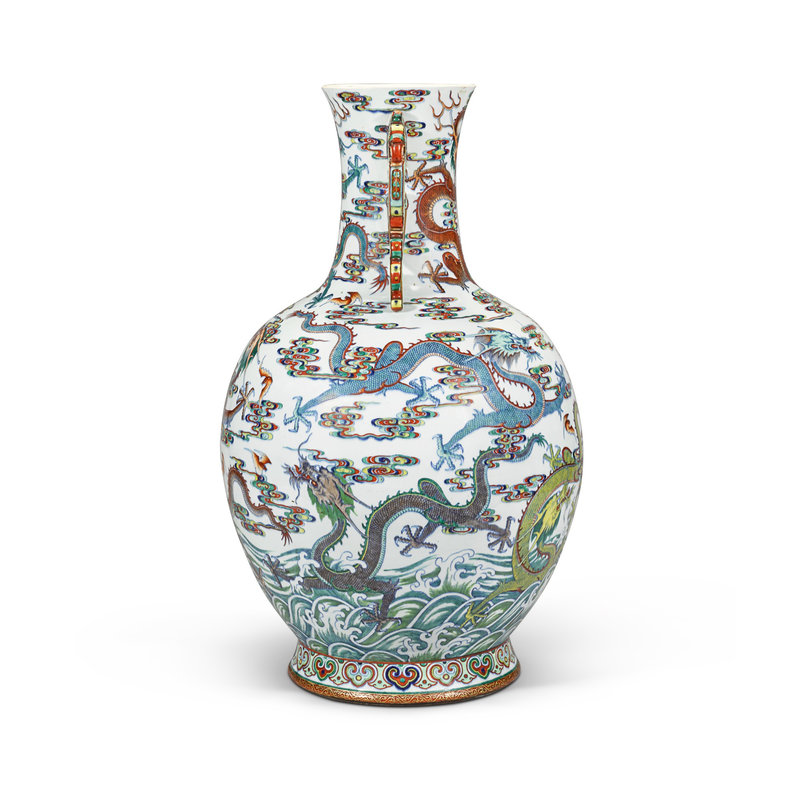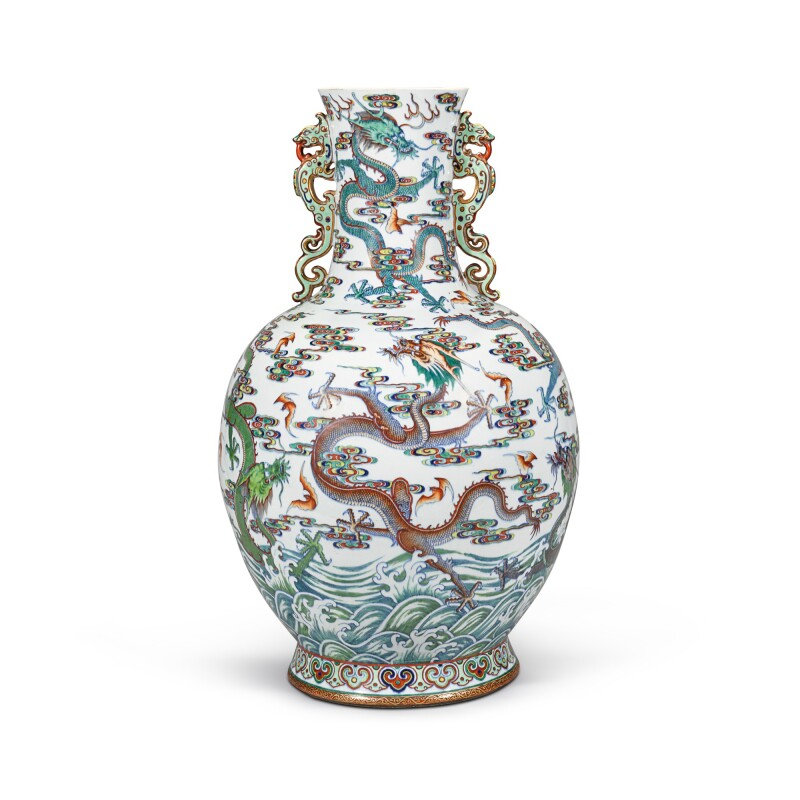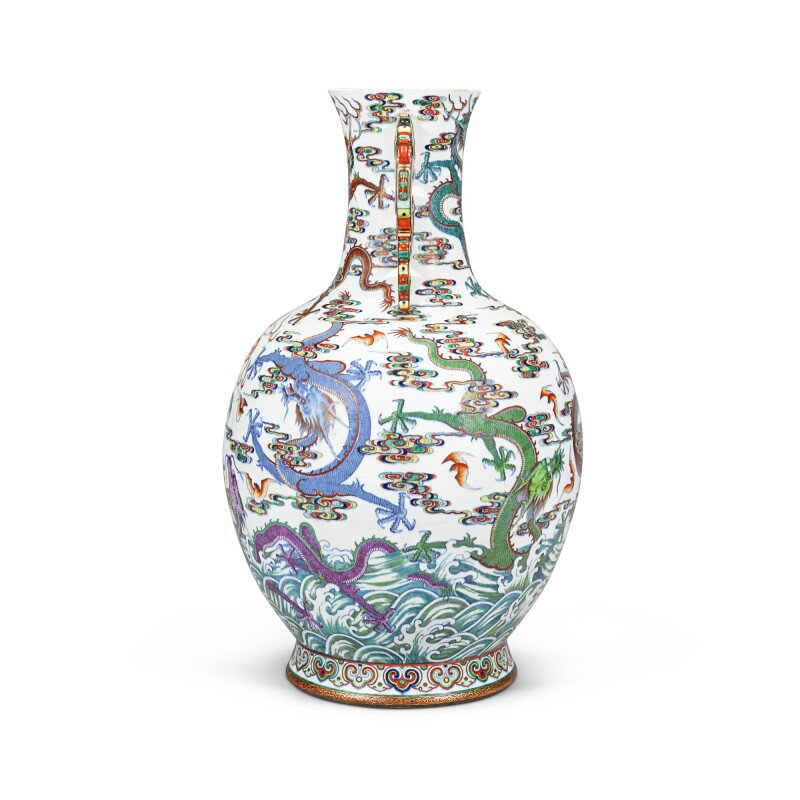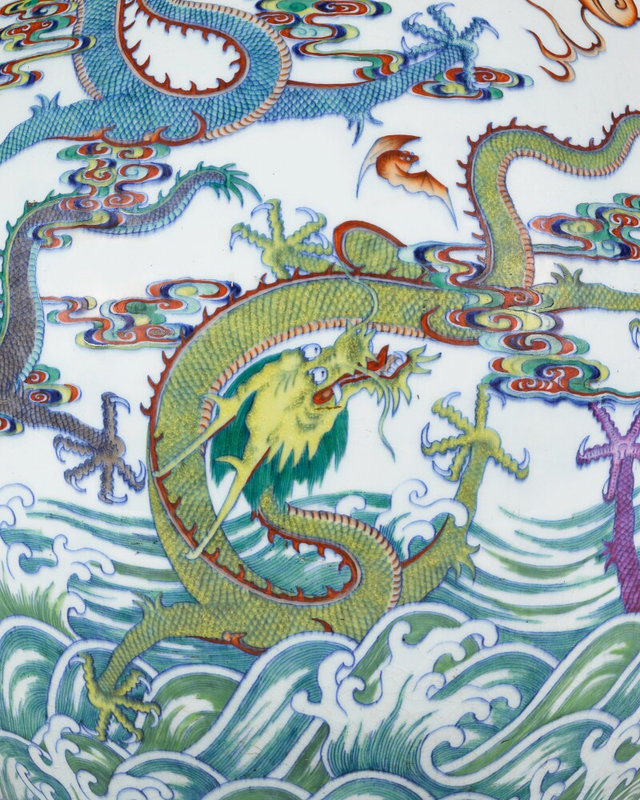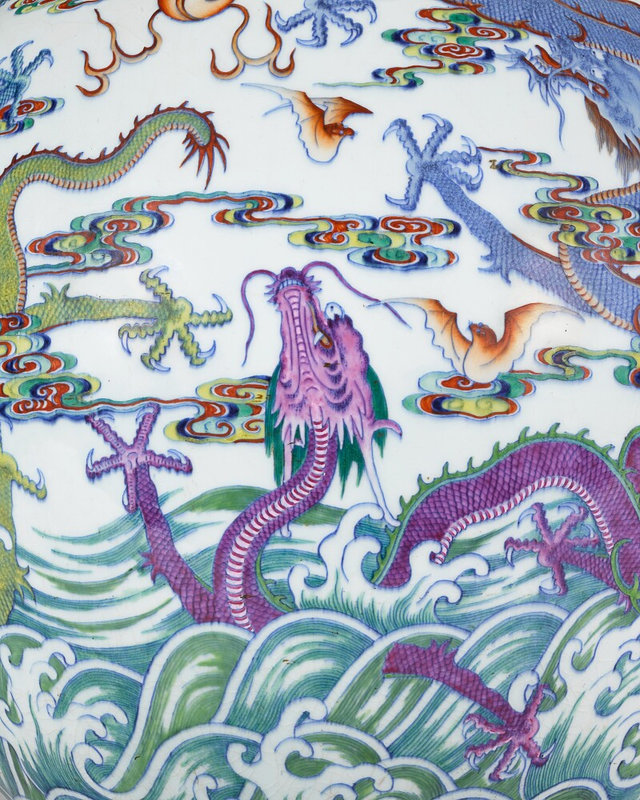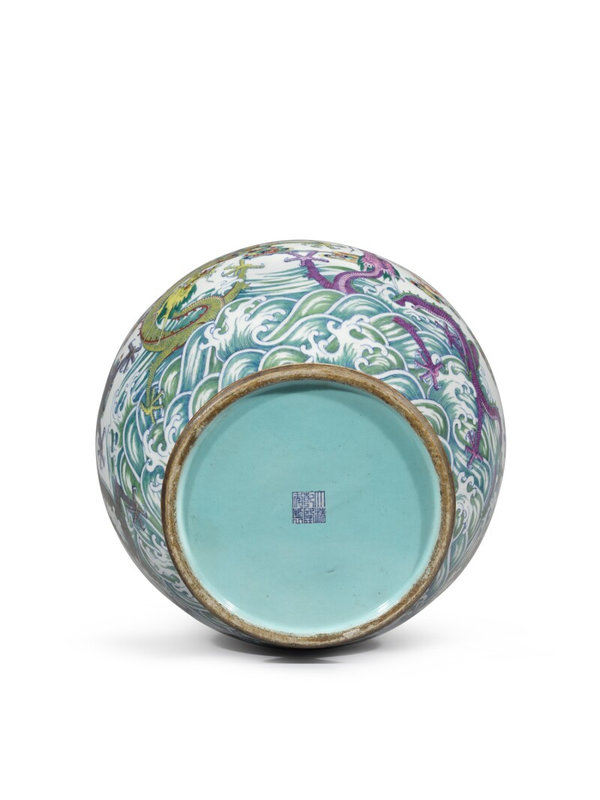 Lot 13. An exceptionally rare and large doucai 'nine dragon' vase, Seal mark and period of Qianlong (1736-1795). Height 67.3 cm, 26½ in. Lot sold 1,8 50,000 GBP (Estimate : 100,000 - 150,000 GBP). © Sotheby's 2022
the base with a six-character seal mark in underglaze blue.
Property from a Scottish Private Collection.
Provenance: Acquired by the forebears of the present owner in t.he 19th century, thence in the family by descent.
Note: With nine dragons soaring across the sea and sky, vividly rendered in a striking range of colours, this magnificent doucai vase of monumental size is extremely rare. Only one other vase of this design appears to be recorded, in the Porzellansammlung, Zwinger (accession no. PO 5981) (fig. 1), but with the composition painted in mirror image to the present piece, suggesting that the two vases originally formed a pair.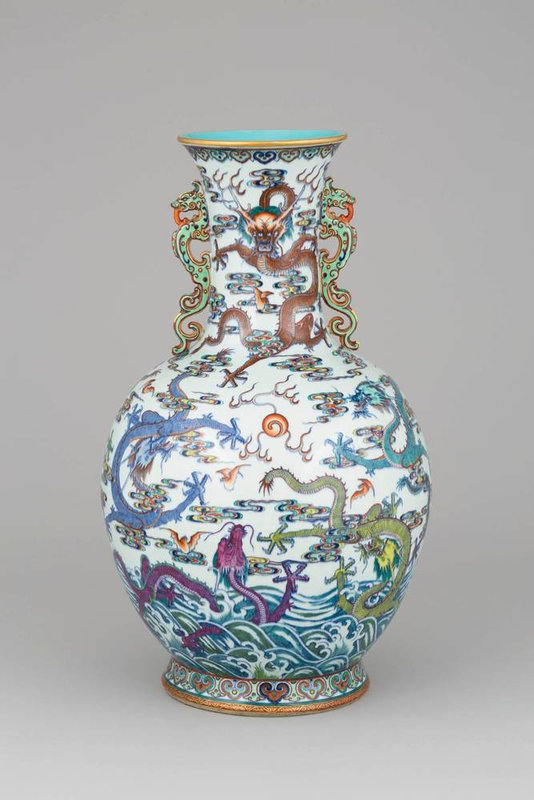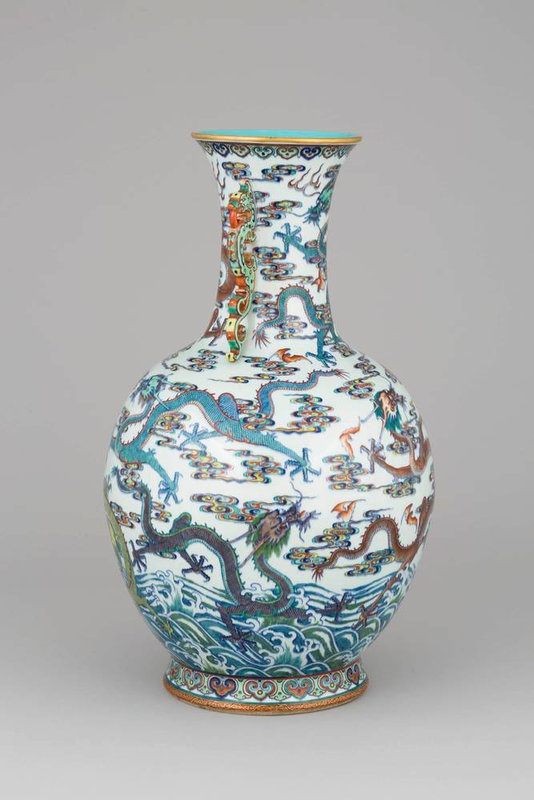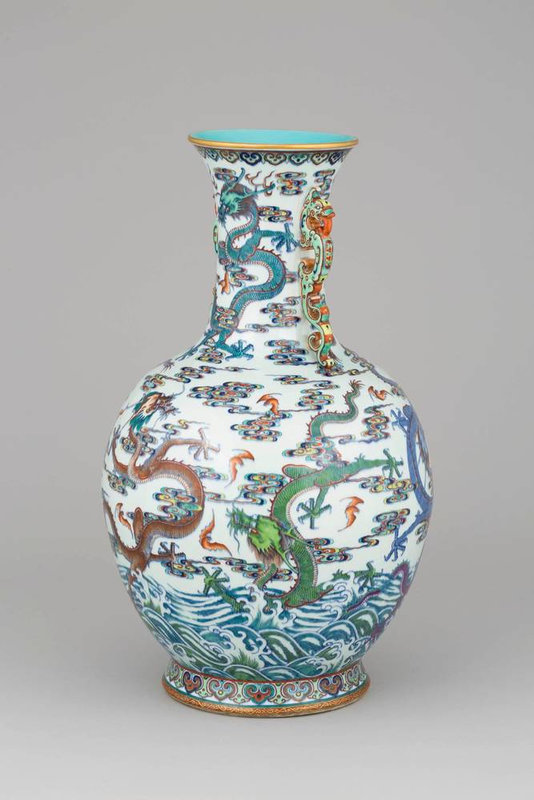 Vase, China, Jingdezhen, Qing Dynasty (1644 - 1911), Qianlong Era (1736 - 1795). Porcelain, painting: underglaze cobalt blue, overglaze colors and gold. H. 70 cm, D. 41 cm, D. base: 26 cm. PO 5981 © Porzellansammlung, Staatlichen Kunstsammlungen Dresden. Photo Adrian Sauer.
In China, the number nine (jiu) is the homonym for the word 'eternity' and the dragon is the symbol of the emperor's power, thus the motif of 'nine dragons' represents the wish for an everlasting rule. Nine dragons can be found on a number of Qianlong (1736-95) vases of different shapes decorated in other palettes, such as a blue-and-white vase with ovoid body and a meiping painted in underglaze-blue and pink enamel, both preserved in the Palace Museum, Beijing, illustrated in The Complete Collection of Treasures of the Palace Museum. Blue and White Porcelain with Underglazed Red (III), Hong Kong, 2000, pls 118 and 230. Red bats (fu) hovering above the sea create a pun on the Chinese saying fu ru donghai ('may your blessings be as deep as the Eastern Sea', while ruyi-shaped clouds (yun) symbolise 'good fortune as you wish'. Their rainbow colours were considered a most auspicious omen.
Doucai decoration, where the outline is drawn in underglaze blue and filled with washes of multi-coloured overglaze enamels, gained popularity with the Ming Emperor Chenghua (1465-87), resulting in the production of a wide range of prestigious porcelains of small size, including the highly esteemed chicken cups. During the Qing dynasty (1644-1911),the doucai colour scheme continued to be appreciated for its elegance and for its association with Chenghua porcelain, but only under the Qianlong Emperor were vessels of the massive size and complex decoration of the present vase created.
Although besides the Dresden example no doucai vase of comparable magnificence appears to be recorded, related designs with fewer dragons among rainbow clouds appear, for example, on two much smaller moon flasks, also with archaistic dragon handles, from the Qing Court Collection and illustrated in The Complete Collection of Treasures of the Palace Museum: Porcelains in Polychrome and Contrasting Colours, Hong Kong, 1999, cat. nos 241 and 254.
Sotheby's. Important Chinese Art, London, 11 May 2022