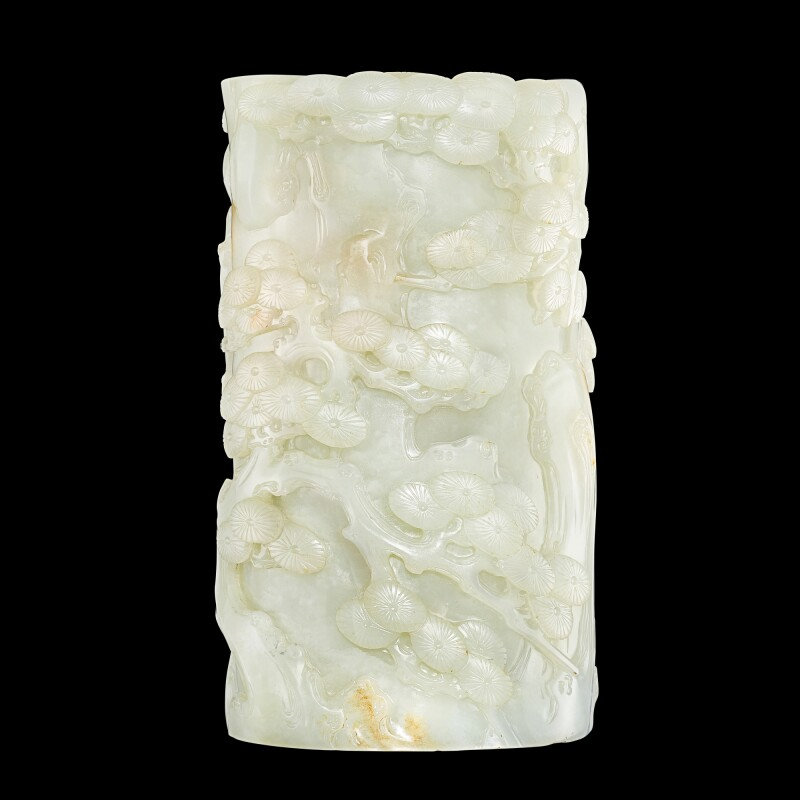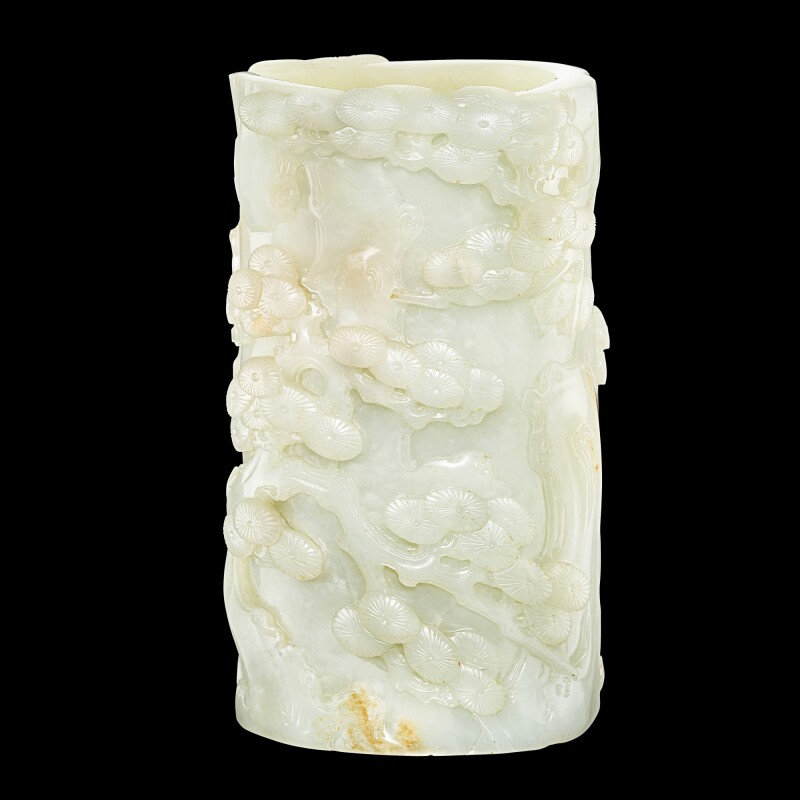 Lot 3619. A superb white jade 'pine' flower receptacle, Qing dynasty, Qianlong period (1736-1795); 15.4 cm. Lot sold 2,520,000 HKD (Estimate : 2,500,000 - 4,000,000 HKD). © Sotheby's 2022
Property from the De An Tang Collection.
Exhibited: A Romance with Jade: From the De An Tang Collection, Yongshougong, Palace Museum, Beijing, 2004, cat. no. 9.
Note: Carved from a lustrous white jade stone with attractive russet highlights, the present flower receptacle is naturalistically rendered in the form of a pine tree trunk, detailed with heaps of pine needles and networks of gnarled branches skillfully carved in varying levels of relief. The beauty of the stone, together with the intricate carving, imbues the piece with energy and life. It is truly a masterpiece and a testimony to the pursuit of harmonious beauty and technical virtuosity in jade carvings during the Qianlong period.
Pine has always been a popular subject matter in Chinese art and literature. It is known to survive and grow well upon frost and drought, making it an apt metaphor for the literati's perseverance and unswerving loyalty. The present receptacle serves as a fitting decoration placed on a scholar's desk, to give inspiration and pleasure while its owner contemplates aspects of life and virtues.
Confucius says, 'superior men found the likeness of all excellent qualities in jade'. The beauty of jade has been appreciated and revered in China for thousands of years. It was highly praised by Xu Shen in the Han dynasty dictionary Shuowen Jiezi ('Discussing Writing and Analysing Characters'): 'jade, the beauty among all stones, is endowed with five virtues: charity typified by its lustre, bright yet warm; rectitude by its translucency, revealing the colour and markings within; wisdom by the purity and penetrating quality of its note when the stone is struck; courage, in that it may be broken but never bent; equity, in that it has sharp angles which yet injure none.' The endowment of jade with five virtues attests to the literati's adoration toward the stone and their aspiration to attain such qualities.
Sotheby's. Important Chinese Art including Jades from the De An Tang Collection and Gardens of Pleasure – Erotic Art from the Bertholet Collection, Hong Kong, 29 April 2022