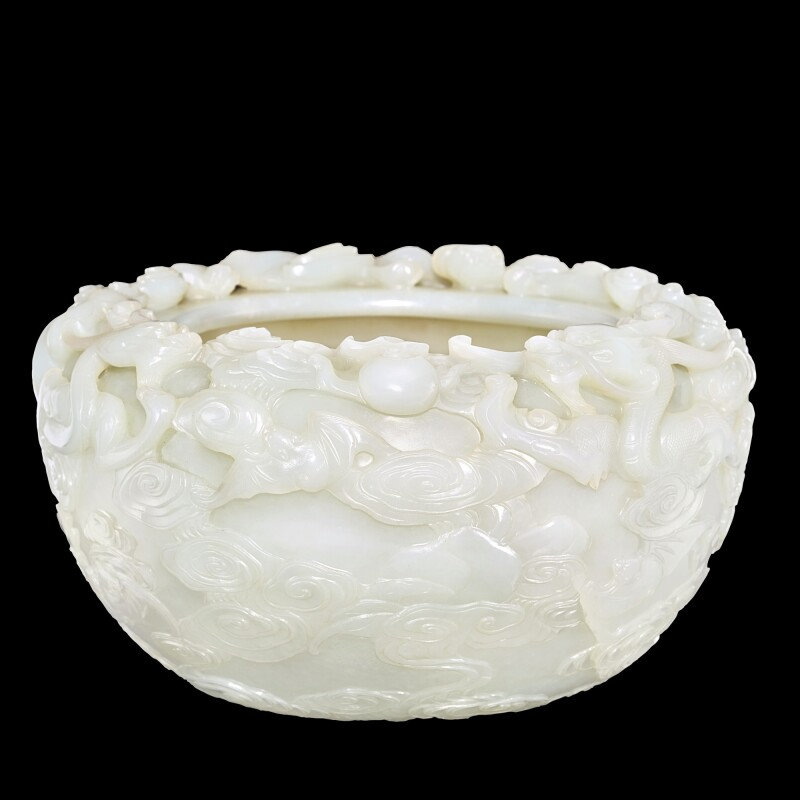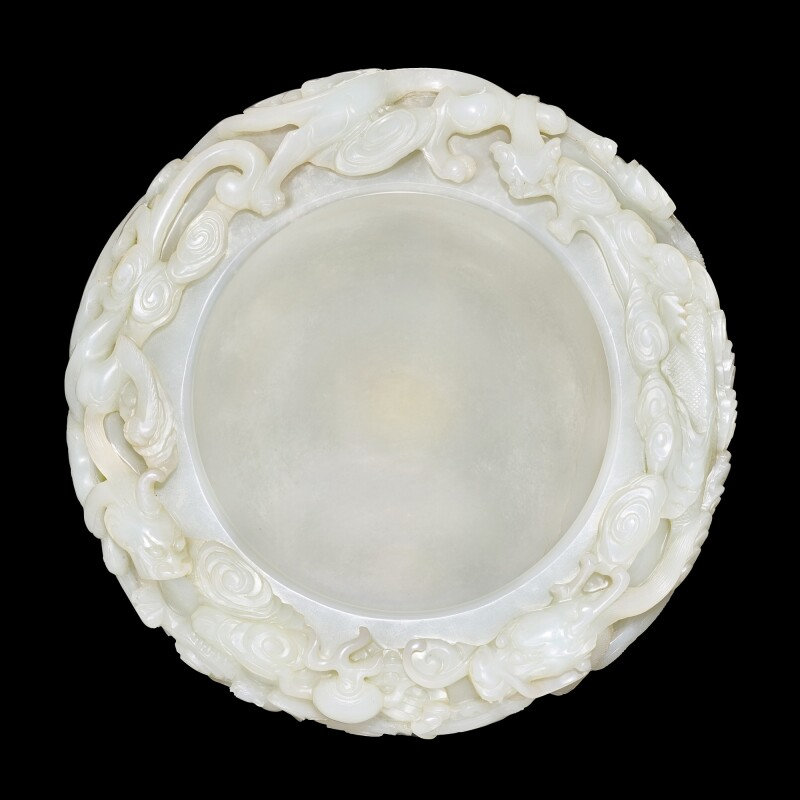 Lot 3624. A white jade 'dragon' alms bowl, Qing dynasty, Qianlong period (1736-1795); 16.3 cm. Lot sold 3,150,000 HKD (Estimate : 2,500,000 - 5,000,000 HKD). © Sotheby's 2022
Property from the De An Tang Collection.
Provenance: Christie's London, 7th June 1993, lot 152.
Christie's Hong Kong, 30th April 2000, lot 602.
Exhibited: A Romance with Jade: From the De An Tang Collection, Yongshougong, Palace Museum, Beijing, 2004, cat. no. 5.
Note: This bowl is notable for the rich and dynamic rendering of a ferocious long dragon and two animated chilong amongst swirling clouds. From the bold and striking high-relief carving of dragons and clouds around the mouth rim, to the intricately worked low relief of bats and cloud scrolls towards the lower part of the body, the present vessel is a showcase of the virtuosity of the jade craftsmen during the Qing dynasty (1644-1911).
Bowls of this type appear to have been inspired by the massive black jade wine bowl attributed to the Yuan dynasty (1279-1368), still preserved in Beijing today, which was considered as one of the wonders of the Mongol court. Modelled with an incurved rim and carved with dragons above waves, the bowl was discovered at a Daoist temple during the Qianlong reign (1736-95), was then sent to the Imperial Court and is now housed in the Round Fort in Beihai Park, see Zhongguo meishu quanji. Yuqi / The Complete Collection of Chinese Art. Jade, vol. 9, Beijing, 1991, pl. 264.
A smaller celadon jade vessel, carved in high relief with two dragons contesting a flaming pearl against a background of low-relief cloud scrolls, from the Qing Court collection and still preserved in the Palace Museum, Beijing, is illustrated in The Complete Collection of Treasures of the Palace Museum: Jadeware (III), Hong Kong, 1995, pl. 165, where the author suggests that, despite it being in the form of an alms bowl, the vessel would have served as a brush washer in a scholar's studio. Another slightly larger spinach-green vessel, carved with a design of three dragons amidst stylised clouds, with the dragon heads protruding from the mouth rim, is preserved in the National Palace Museum, Taipei (accession no. gu-yu-8817). Inscribed with the name of the Hall of Mental Cultivation on the inside of the vessel, this Taipei piece, like the Beijing example, might have been used as a brush washer in the court during the Qing dynasty.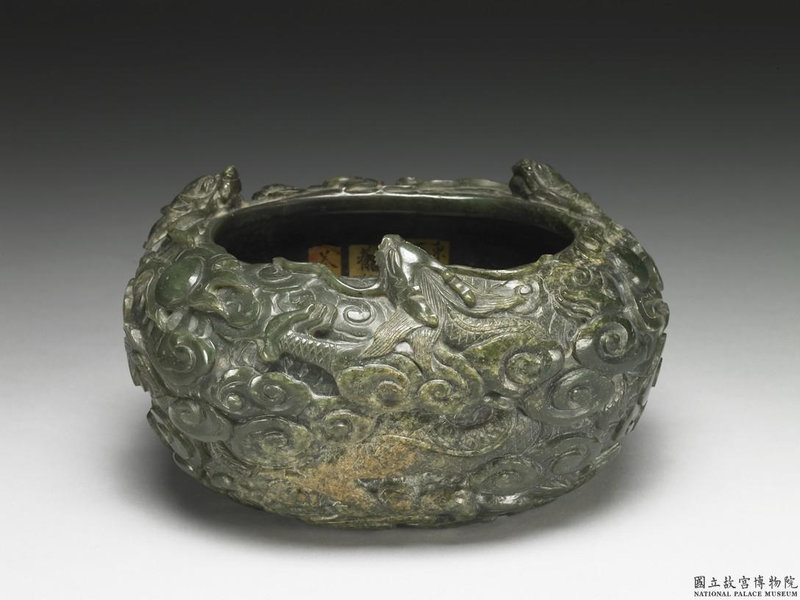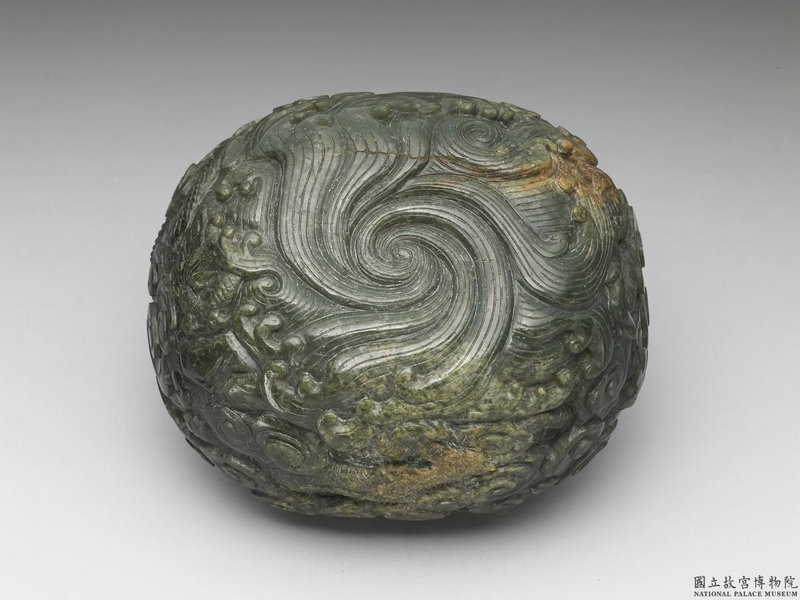 Spinach-green jade brush washer with cloud and dragon pattern, Qing dynasty (1644-1911), National Palace Museum, Taipei (accession no. gu-yu-8817).
See also a celadon jade dragon bowl, decorated with a pair of chilong and a long dragon chasing a flaming pearl amidst swirling clouds like the present piece, but carved in low relief only and with a flattened shoulder, sold at Christie's New York, 9th May 1981, lot 250.
Sotheby's. Important Chinese Art including Jades from the De An Tang Collection and Gardens of Pleasure – Erotic Art from the Bertholet Collection, Hong Kong, 29 April 2022