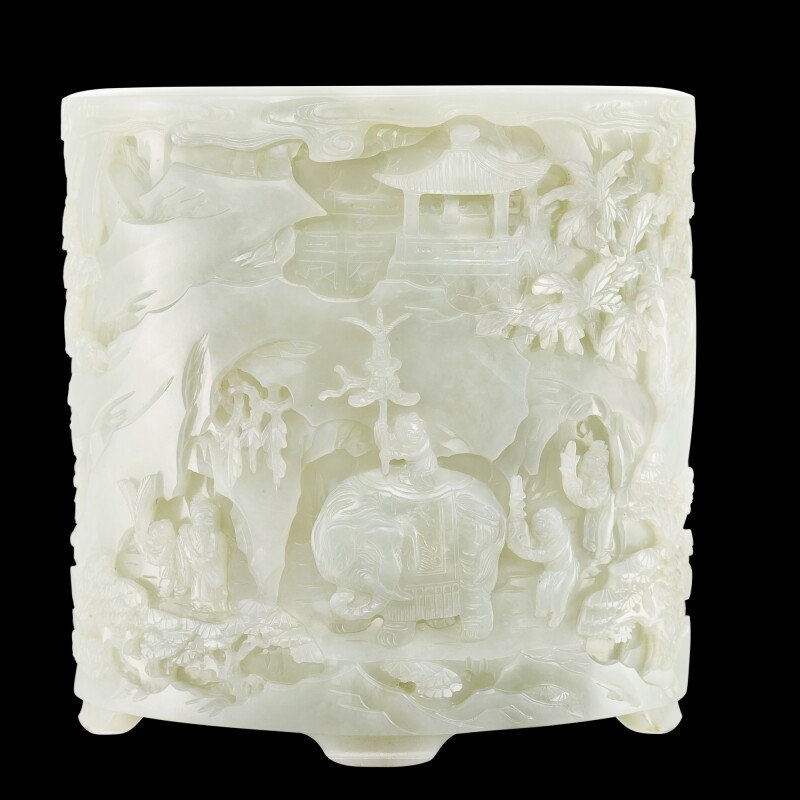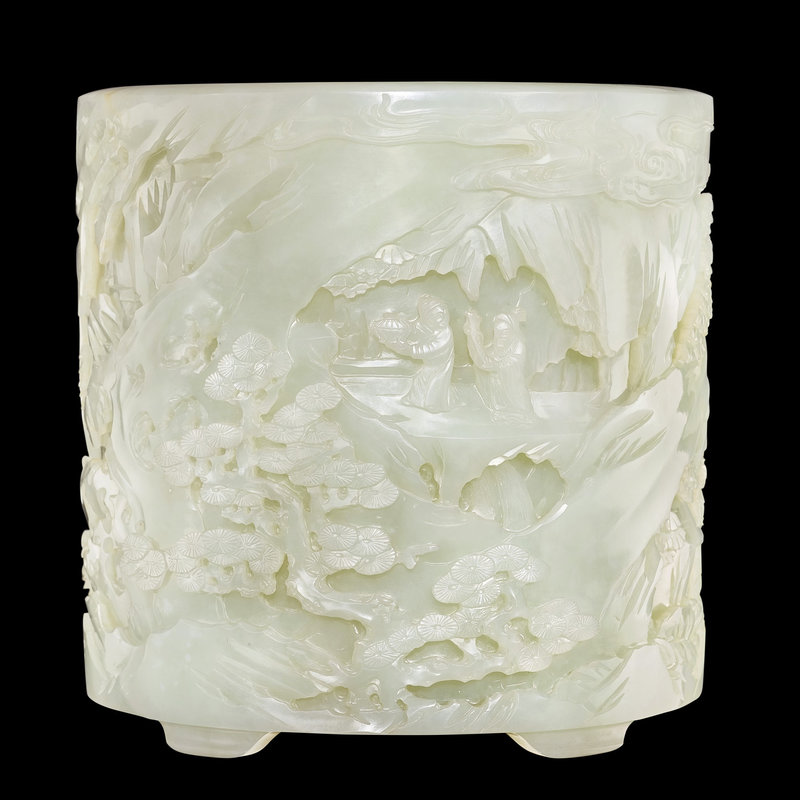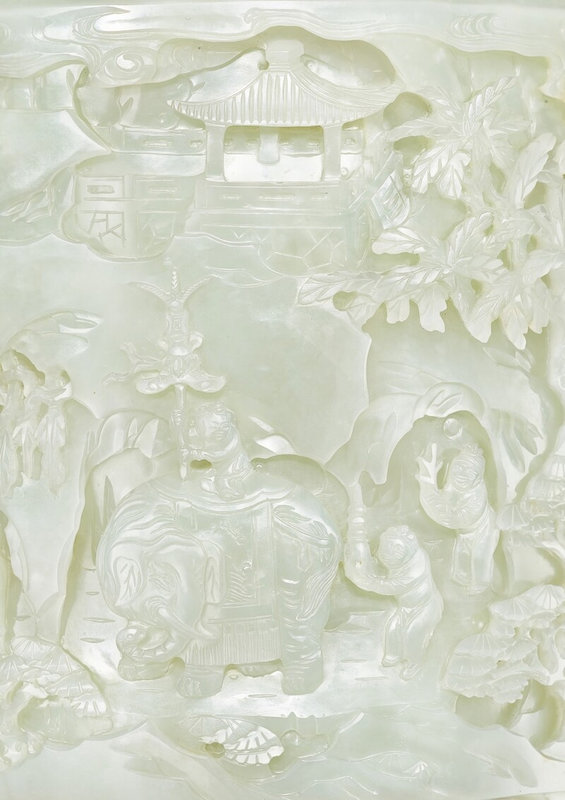 Lot 3624. A white jade 'dragon' alms bowl, Qing dynasty, Qianlong period (1736-1795), later inscribed Qianlong nian zhi mark; h. 13.5 cm. Lot sold 2,646,000 HKD (Estimate : 2,000,000 - 4,000,000 HKD). © Sotheby's 2022
Property from the De An Tang Collection.
Provenance:

Sotheby's Hong Kong, 2nd December 1976, lot 731

.
Christie's Hong Kong, 29th April 2002, lot 557

.
Literature: Sotheby's Hong Kong – Twenty Years: 1973-1993, Hong Kong, 1993, pl. 512.
Exhibited: A Romance with Jade: From the De An Tang Collection, Yongshougong, Palace Museum, Beijing, 2004, cat. no. 14.
Note: This exquisite brushpot is notable for its lively depiction of a lavish envoy scene, finely carved by the skilful craftsmen of the Qianlong period (1736-95). Foreigners bringing elephants and tributes were a motif popular as early as the Tang dynasty (618-907), when there was a large influx of foreign traders coming from the Silk Road, some of them bearing tributes to the Tang court. Designs of this type continued to be favoured by the emperors of the Qing dynasty (1644-1911), as they served as testimony of the power of the Qing court over neighbouring countries. Tribute bearing scenes were depicted in a variety of media then, such as jades, paintings and cloisonné works.
A larger spinach-green jade brush holder, carved with a scene of tribute bearers in procession, including an elephant carrying a precious plant, a lion and a two-wheeled cart laden with treasures, formerly in the collection of Heber Reginald Bishop, now preserved in the Metropolitan Museum of Art, New York (accession no. 02.18.683a), is included in the Museum's exhibition Extravagant Display: Chinese Art in the Eighteenth and Nineteenth Centuries, New York, 2010-11. These foreigners, according to the Museum, possibly travelled to China from a Southeast Asian country. Another pale celadon jade brush pot from the Qing dynasty, carved with a scene of a tribute envoy, is preserved in the Palace Museum, Beijing (accession no. gu-96447).
Brush holder with tribute scene, Qing dynasty (1644–1911), 18th century.Jade (nephrite), H. 7 1/16 in. (17.9 cm); Diam. 7 7/8 in. (20 cm), Gift of Heber R. Bishop, 1902 (02.18.683a). © 2000–2022 The Metropolitan Museum of Art.
See also two Qianlong spinach-green brushpots sold at auction: a vessel carved with an elephant bearing a howdah carrying the 'Three Fruits' and gold ingots, inscribed with four characters reading tian fang lu gong ('bringing tribute from Central Asia') on one of the overhanging rocks, sold twice in our London rooms, 3rd April 1951, lot 189 and 5th May 1959, lot 164, and again in these rooms, 4th October 2011, lot 1910A; and a larger piece, decorated with a sleeping elephant bearing a large archaic bronze vessel holding branches of peony and lingzhi on its back, representing the rebus tai ping you xiang ('when there is peace, there are elephants'), sold in these rooms, 25th April 2004, lot 11.
Sotheby's. Important Chinese Art including Jades from the De An Tang Collection and Gardens of Pleasure – Erotic Art from the Bertholet Collection, Hong Kong, 29 April 2022