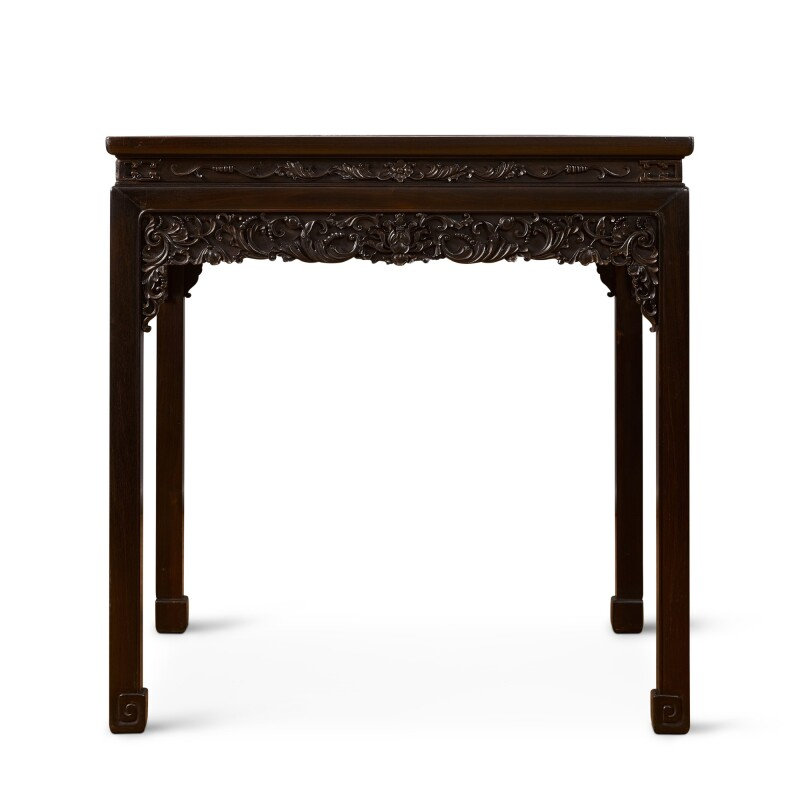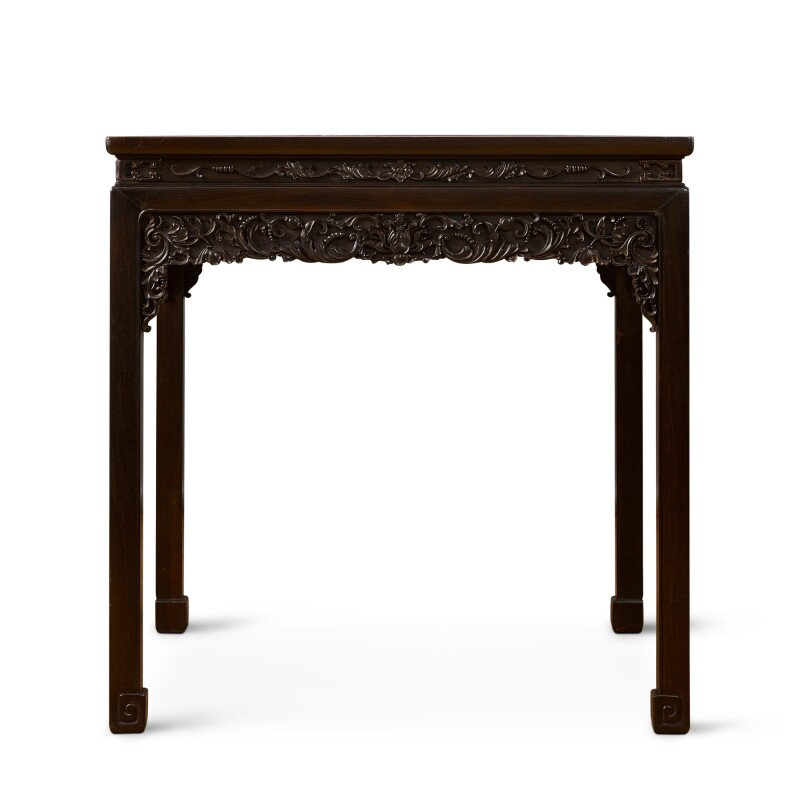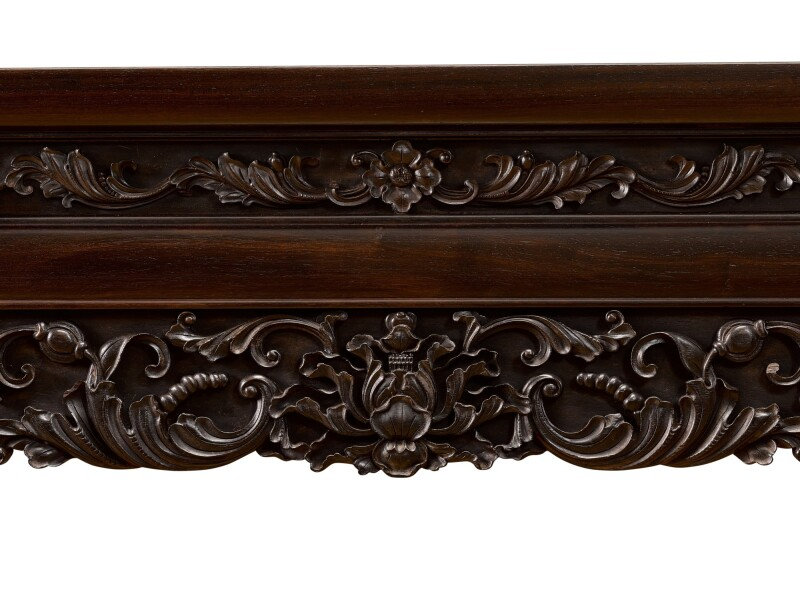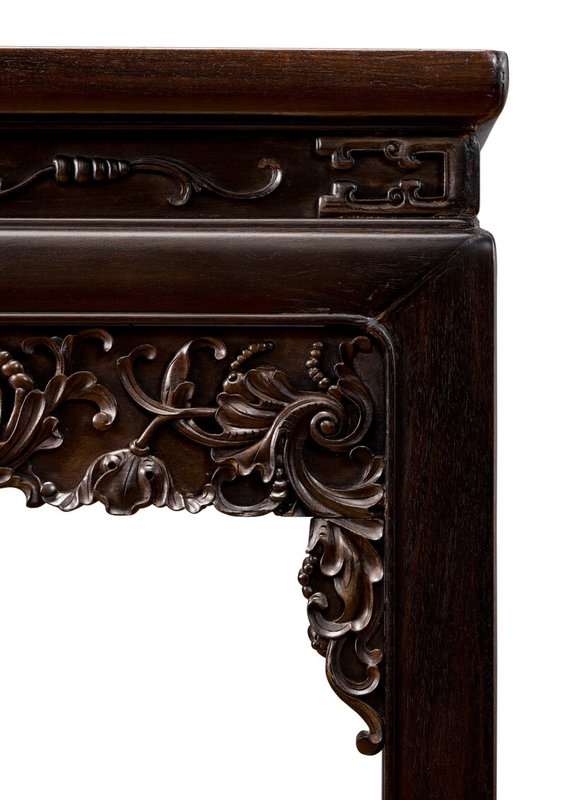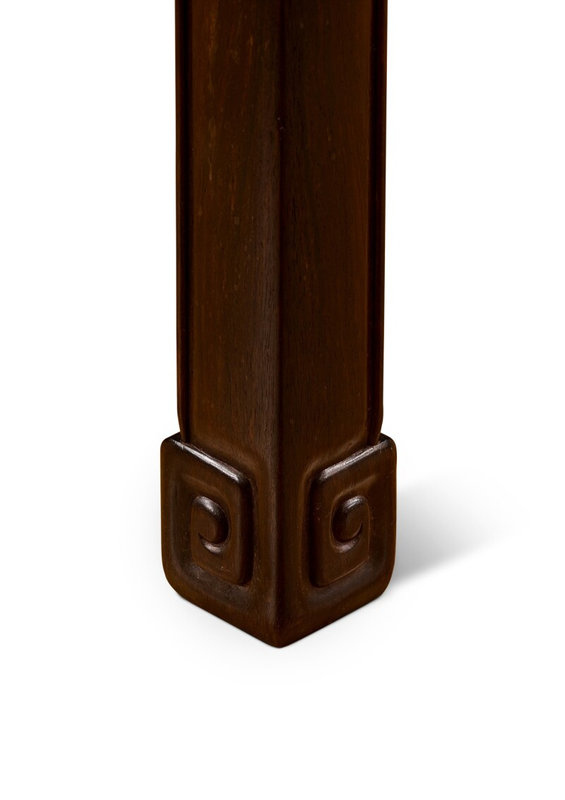 Lot 3615. A superb pair of carved zitan square corner-leg tables, Qing dynasty, late 18th-19th century; 87 by 87 by h. 87.5 cm. Lot sold 6,930,000 HKD (Estimate : 8,000,000 - 12,000,000 HKD). © Sotheby's 2022
Provenance:
Collection
of Y.C. Chen (1922-2012).
Christie's Hong Kong, 29th May 2013, lot 1953.
Note: Masterfully executed using the highly prized material of zitan (red sandalwood), these tables are exceptionally impressive for harmoniously combining European design elements with a Chinese form. Square tables such as the present pair are in China coined with the graceful term 'Eight Immortals Tables' (baxian zhuo) and typically represent the central pieces of furniture in a hall or room where dining and social gatherings take place. The present lot, with its excellent quality of carving on the waists, aprons and spandrels, is rare for having been preserved as a pair.
Thanks to the growing global trade and increased visits by Jesuit missionaries, cultural exchanges between China and Europe became much more frequent since the late Ming dynasty (1368-1644). European designs, such as the scrolling foliage as seen on the present pair of tables, were gradually incorporated into the decorative repertoire of works of art in China. The Qing Emperors Yongzheng (r. 1723-35) and Qianlong (r. 1736-95) were particularly fascinated by these exotic decorative arts introduced to the imperial court. It was then, during the 18th century, when the reception of European art led to elaborate projects such as the European buildings in the Yuanmingyuan complex in Beijing, whose furniture was specially commissioned to form a harmonious blend with the Western-style architecture. The archives of the Qing palace workshops show that some 'Western' designs were co-created by European and Chinese artists at the court, including the Italian Jesuit painter Giuseppe Castiglione (1688-1766) (see Tian Jiaqing, 'The Art of Decorative Carving on Qing Dynasty Furniture', Chinese Furniture: Selected Articles from Orientations 1984-1999, Hong Kong, 1999, p. 219). Western-style furniture continued to enjoy popularity after the reign of Qianlong.
Ornaments of this type can be found on several pieces of furniture preserved in the Palace Museum, Beijing. Compare, for example, two zitan long tables; one with its waist, aprons and legs carved in relief with European-style floral and foliage designs; and the other from the Qing Court collection, embellished with aprons featuring openwork with scroll patterns in Western style, illustrated in The Complete Collection of Treasures of the Palace Museum. Furniture of the Ming and Qing Dynasties (II), Hong Kong, 2002, pl. 119.
Perhaps the most highly esteemed timber at the Ming and Qing courts, zitan is exceptional for its colour and lustre, which, after long exposure, develops a subtle, appealing, natural purplish-black shine. It is an extremely dense and durable wood and the fine texture of the grain is particularly suitable for intricate carving. Because of the long growth period of the trees, it became a scarce material by the Qing dynasty, so that large objects made of zitan were especially rare and expensive. It was primarily reserved for imperial use and, according to Yangxindian zaobanchu ge zuo cheng zuo huoji qingdang / The Qing Archives of the Imperial Workshops at Yangxin Hall, its use was closely supervised by the Qianlong Emperor (see Tian Jiaqing, 'Zitan and Zitan Furniture', Chinese Furniture, op.cit., pp. 193-9).
See a closely related zitan square table, illustrated in Chenyang Cai, Zitan: The Most Noble Hardwood, Taipei, 1996, p. 82-3, sold twice at Christie's Hong Kong, 30th April 1995, lot 566A and 27th November 2007, lot 1673. Compare also two similarly carved zitan long tables; one illustrated in Tian Jiaqing, Zitan yuan / The Essence of Zitan, Beijing, 2007, pl. 4, p. 22-5; and the other sold in our New York rooms, 15th September 2010, lot 352.
Sotheby's. Important Chinese Art including Jades from the De An Tang Collection and Gardens of Pleasure – Erotic Art from the Bertholet Collection, Hong Kong, 29 April 2022