Parisian 17th century bookbinding, OFFITIO DELLA CHIESA. Paris, Étienne Chardon for Jacques Hérissant, 1689-1690, in-24. Silver, porcelain and amethyst binding from the Louis XIV period. Decorated with chased silver and openwork on a red paillon background, ten cut amethysts set on each plate. The plates are decorated with painted porcelain medallions, 8.5 x 4.5 cm. Courtesy D'ARSCHOT & CIE.
Literature: Paul Micio, Filigranes d'or et d'argent du Grand Siècle, in l'Objet d'Art Juin 2003, n° 381, pp. 66-73.
Gimmel pokal. Engraved and gilded silver, Nuremberg, 1603-1609. Maker's mark: Hieronymus Bang. Inscriptions: on both feet 'frau ellenna carl scheirlin sellingen gedechtnus 1621'. H 23.8 cm - Weight 240 gr. Courtesy D'ARSCHOT & CIE.
Literature: another cup by the same Master, dated 1615-1620, is held in London, V&A Museum, inv. n° M.64-1953.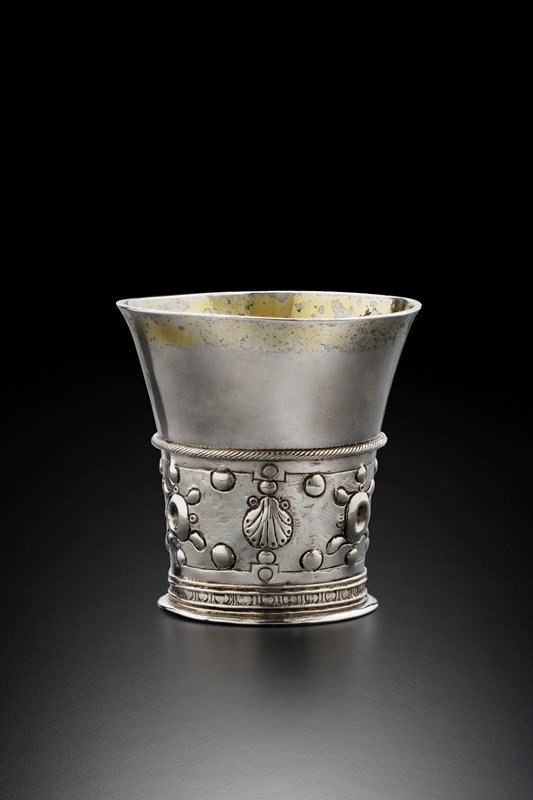 An early Belgian silver beaker. Silver and silver-gilt. Liege, double-headed eagle with the year 1631. Maker's mark: F.S in monogram for François Stevaert le Vieux. H 7.5 cm - Weight 76 gr. Courtesy D'ARSCHOT & CIE.
Reproduced in: L'orfèvrerie ancienne du Pays de Liège, 1991, p. 248
D'ARSCHOT & CIE at BRAFA Art Fair 2022, Stand 47. t. +32 (0)2 649 56 21 m. +32 (0)475 78 35 05 www.darschot.com