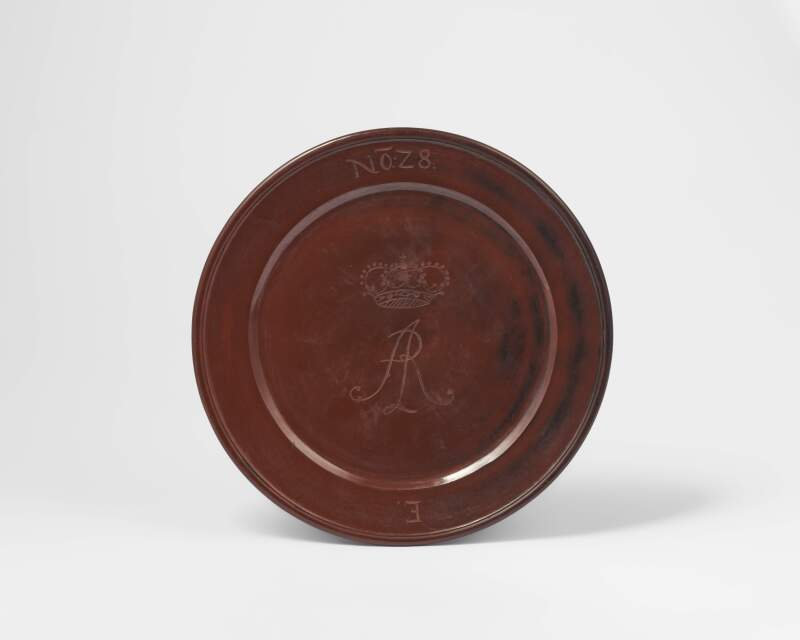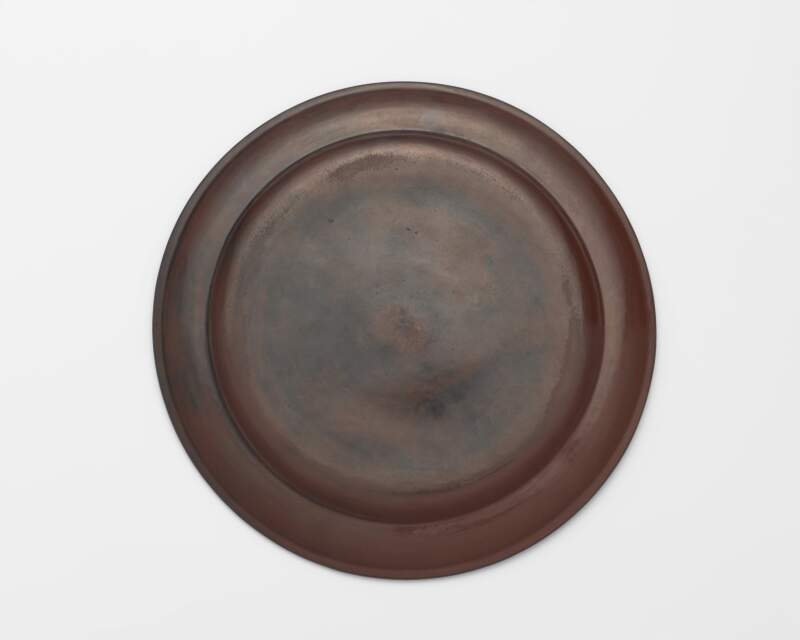 Lot 1. A Rare Böttger Stoneware Polished and Engraved "Augustus Rex" Plate or Stand, 1710-13; 9 in., 22.8 cm. diameter. Lot sold: 52,920 EUR (Estimate: 20,000 - 30,000 EUR). © Sotheby's
circular with a reeded rim, engraved with the crowned monogram AR to the centre, the border with the initial E. and NŌ:28:.
Provenance: Annemarie Röver Collection, Berlin.
Literature: Claus Boltz, 'Steinzeug und Porzellan der Böttgerperiode - Die Inventare und die Ostermesse des Jahres 1719', Keramos, No. 167/168, 2000, p. 87, Ill. 110.
Note: The Meissen manufactory employed glass engravers from Bohemia to apply their skills of polishing, engraving, and incising to use on Böttger's newly invented stoneware vessels; and as early as 5th August 1710, twenty-nine glass-cutters are recorded in the list of workers at Meissen. However, with the continuing development of a porcelain body at Meissen, interest in brown stoneware began to diminish, and by 1712 only four glass workers remained employed at the factory.
The inventory number NŌ:28: seen on the present plate, almost certainly refers to the extent of the pieces included in the group of tablewares. An associated plate or stand, engraved with the initial E. and NŌ:37. recently sold at Koller Zürich, 24 September 2020, lot 1220, so presumably at least 37 pieces, or plates, were included in this group. This is further corroborated by surviving pieces from the silver-gilt so-called 'Double-Gilded Service' of about 1718 made for the use Augustus the Strong, marked with similar inventory numbers, from which three pieces are now in the Metropolitan Museum of Art, New York. They comprise a caddinet, attributed to Augsburg silver-smith Gottlieb Menzel, engraved with No. 4; and two silver-gilt plates, respectively engraved No. 223 or No. 224, ca. 1730, made as additions for the service, inv. nos. 1974.356.775 and 1976.155.40/41, illustrated in Wolfram Koeppe, Vienna Circa 1780 An Imperial Silver Service Rediscovered, New York, 2010, p. 11, cat. nos. 3-4.
Very few examples of Böttger stoneware engraved with the initials of the King appear to be recorded. A teapot with crowned AR monograms is in the Wark Collection, illustrated in Ulrich Pietsch, Early Meissen Porcelain: The Wark Collection from the Cummer Museum of Art & Gardens, 2011, p. 60. A polished teabowl and saucer, engraved with foliate strapwork reserving AR monograms, was sold at Christie's New York, Property from The Estates of Bernard. and Helga Kramarsky, 5 April 2022, lot 73.
Sotheby's. Transformed by Fire A Private Collection of Early Meissen, Cologne, 1 July 2022