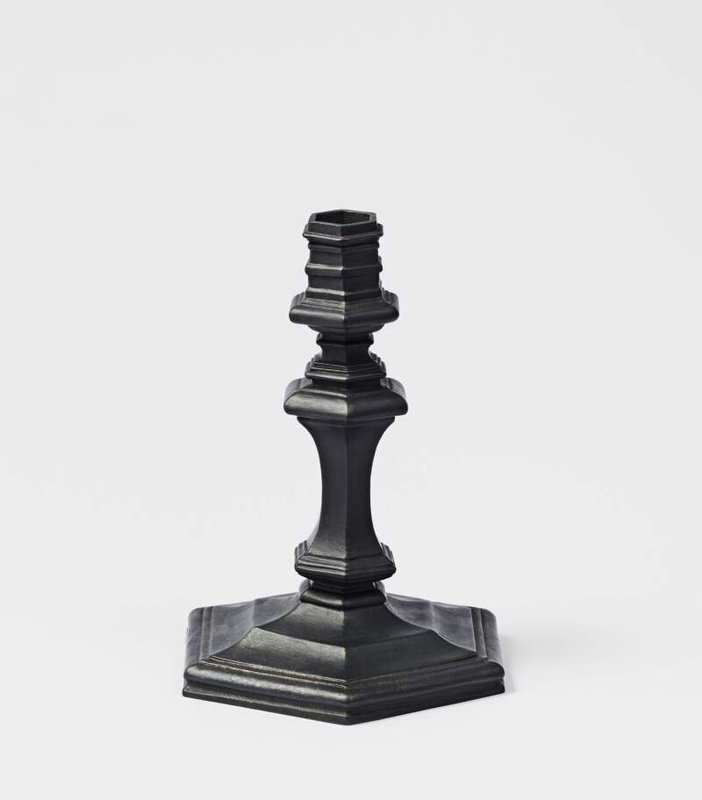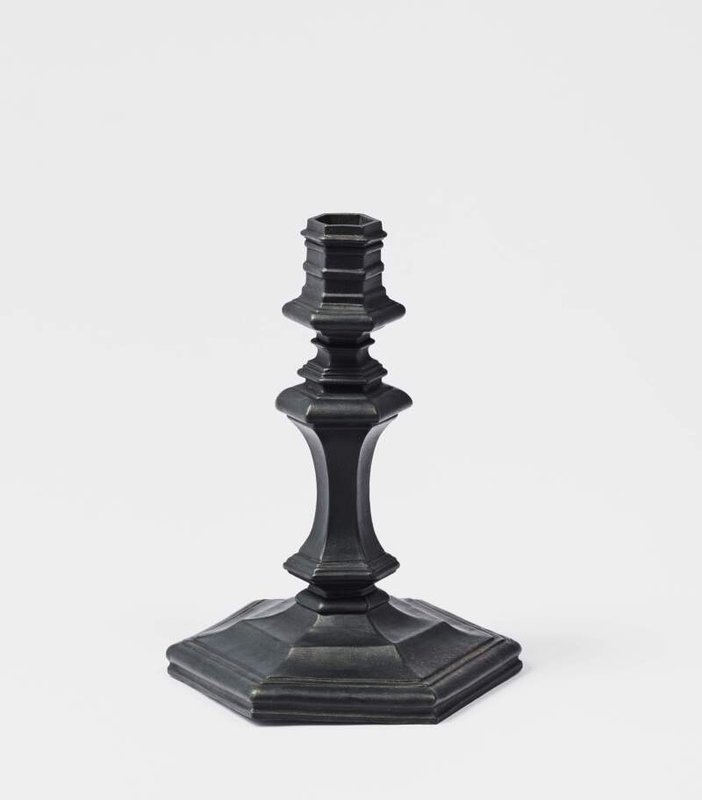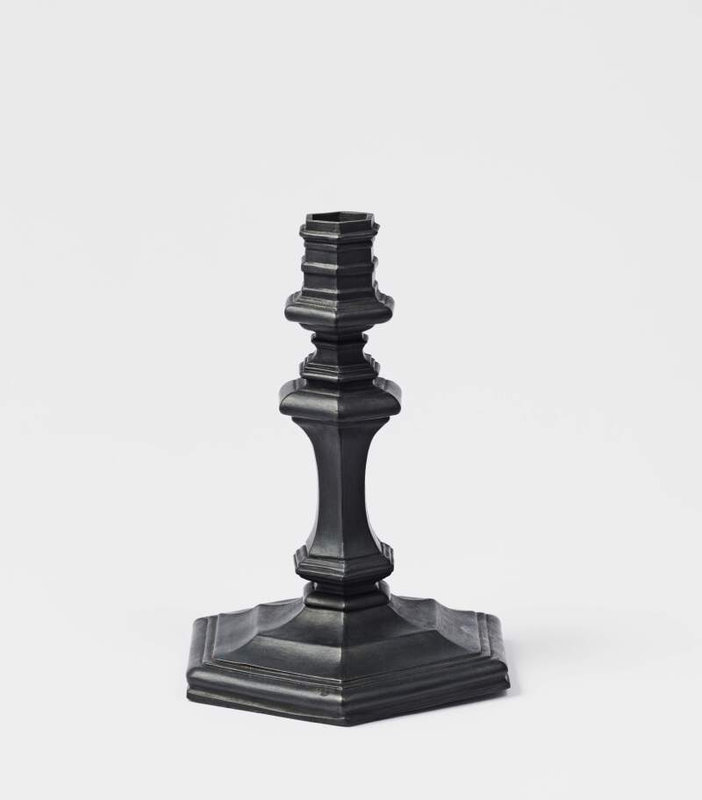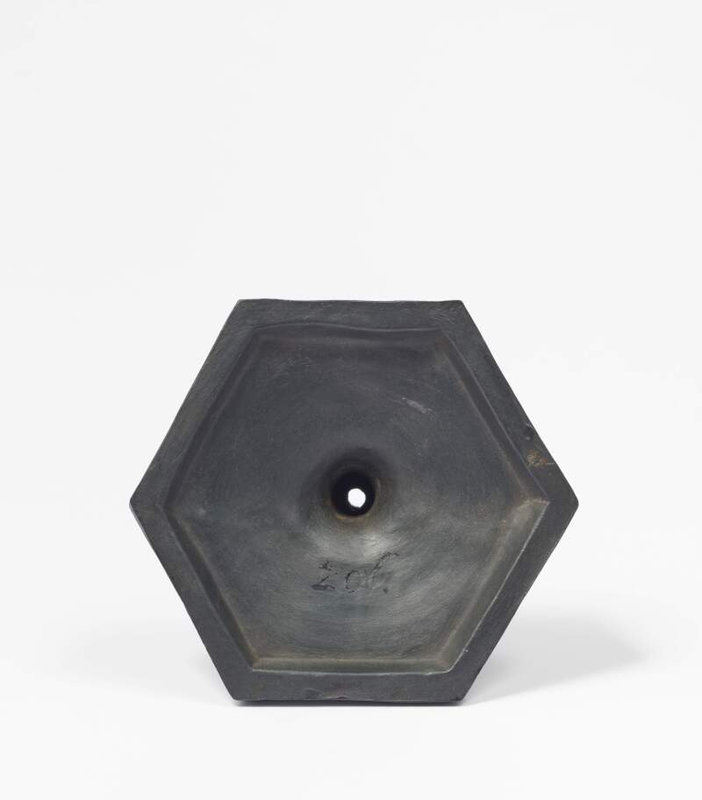 Lot 13. A Böttger Stoneware 'Eisenporzellan' Candlestick, Circa 1710-12; 5 5/8 in., 14.2 cm high. Lot sold: 30,240 EUR (Estimate: 15,000 - 20,000 EUR). © Sotheby's
based on a metal form, of hexagonal section, with waisted stem, partial Japanese Palace inventory number 206 in black.
Provenance: The Royal Collections of Saxony, Japanese Palace, Dresden;
Porzellane und Waffen aus den Kgl. Sächsischen Sammlungen in Dresden, Rudolph Lepke's Kunst-Auctions-Haus, Berlin, 12-14 October 1920, lot 94.
Literature: Ulrich Pietsch, Frühes Meissener Porzellanaus einer Privatsammlung, exhibition catalogue, Lübeck, 1993, pp. 30-1, no. 17.
Exhibited: Museum für Kunst und Kulturgeschichte der Hansestadt Lübeck St. Annen-Museum, 14 November 1993-31 January 1994.
Museen der Stadt Aachen, Couven Museum, 26 February 1994-30 April 1994.
Note: 'Eisenporzellan', [iron-porcelain] is a rare dark-grey surface finish adopted to some pieces in the first years of production at Meissen. It has been argued the effect was achieved by overheating the kiln resulting in iron oxidation in the clay. Johann Georg Theodor Graesse wrote in Führer durch die Räume der Königl. Sächs. Porzellan-und Gefäß-Sammlung, Dresden, 1878, that these pieces were not sold but were kept by Augustus the Strong, (quoted by Pietsch, op. cit. 1993, p. 30).
In the 1770 inventory of the Japanese Palace six candlesticks are recorded under number 206:
'Sechs Stück niedrige Tisch-Leuchter, 6. Zoll hoch, No. 206', [six low candlesticks, 6 zoll high...], Claus Boltz, 'Japanisches Palais- Inventar 1770 und Turmzimmer- Inventar 1769', Keramos, No. 153, 1996, p. 107.
Of these, four remain in the Porzellansammlung, Dresden, which comprises two Eisenporzellan examples (inv. nos. PE 1702/1703), and two in red-stoneware (inv. nos. PE 839/840). The fifth, an Eisenporzellan example, was sold alongside the present at Rudolph Lepke's, 12-14 October 1920, lot 83, its current whereabouts unknown. The Dresden collection includes three further examples of the form in red-stoneware, comprising one polished (inv. no. PE 1704), bearing Japanese Palace inventory number 157, and two polished and gilt (inv. no. PE 1705/1706), bearing Japanese Palace inventory number 153. According to the 1770 inventory these were the only examples recorded under their respective numbers.
Sotheby's. Transformed by Fire A Private Collection of Early Meissen, Cologne, 1 July 2022