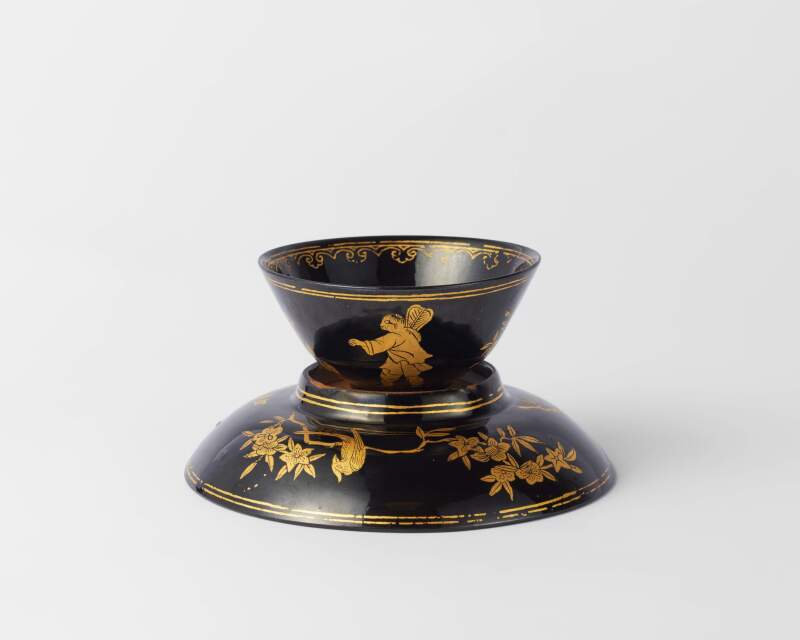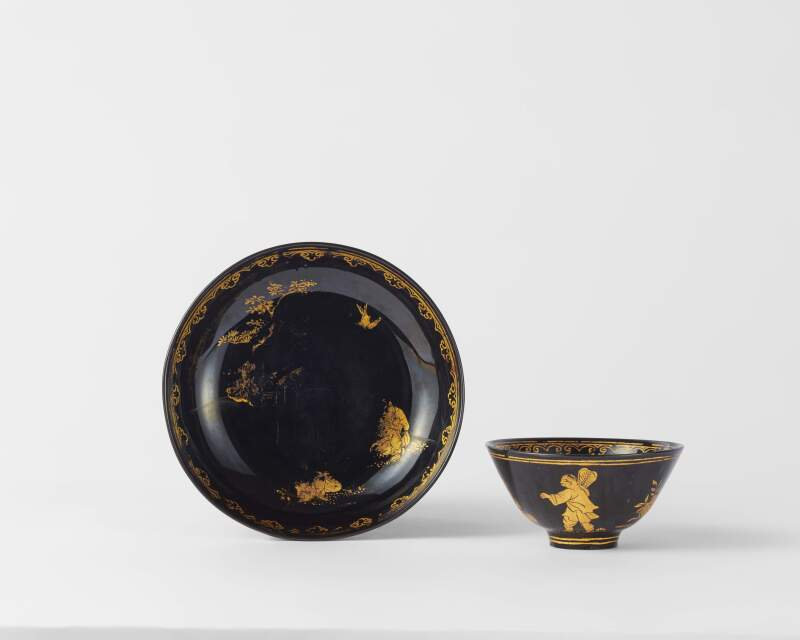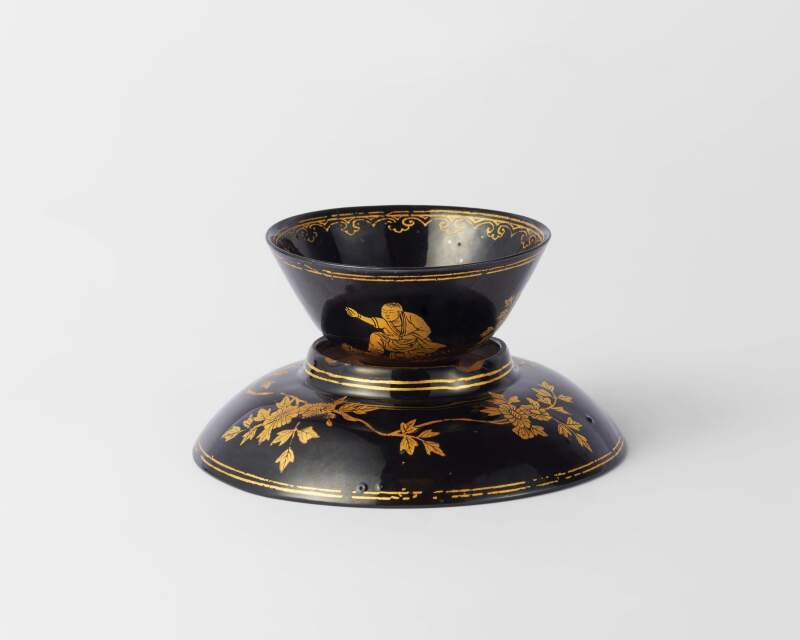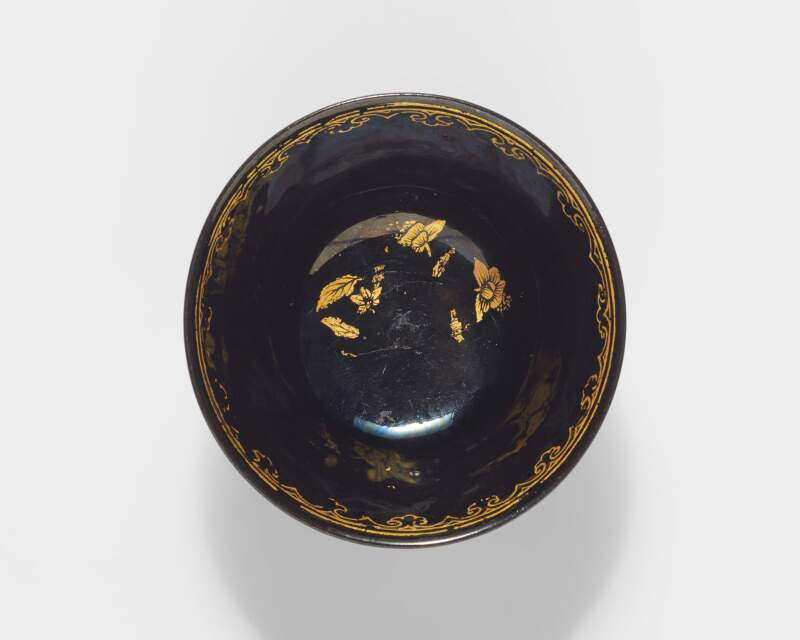 Lot 14. A Böttger Stoneware Black-Glazed and Gilt Teabowl and Saucer, 1711-15; the saucer 4 5/8 in., 11.9 cm diameter. Lot sold: 23,940 EUR (Estimate: 20,000 - 30,000 EUR). © Sotheby's
probably decorated by Martin Schnell and his workshop in imitation of Japanese lacquer, the surface excluding the inside of the saucer foot covered in a manganese/black lustrous glaze gilded to the bowl with a boy seated, another standing holding a fan, a two-handled jar and two volumes stacked, the saucer with flowers and insects, the underside with a bird perched on a flowering prunus and a chrysanthemum branch, between concentric lines, the interior rims with bands of trefoil leaf pattern.
Literature: Ulrich Pietsch, Frühes Meissener Porzellanaus einer Privatsammlung, exhibition catalogue, Lübeck, 1993, pp. 30-1, no. 18.
Exhibited:
Museum für Kunst und Kulturgeschichte der Hansestadt Lübeck St. Annen-Museum, 14 November 1993-31 January 1994.
Museen der Stadt Aachen, Couven Museum, 26 February 1994-30 April 1994.
Note: The Meissen Manufactory Inspector Johann Melchior Steinbrück included in his 1717 report:
"…Apart from this, he (inventor Böttger) has coated some of the red ware with a black glaze, and thus again produced a completely new kind of porcelain such as has not been seen from India…; and has partly had it lacquered in gold and paints, which has given it a very attractive appearance.", Anette Loesch in, Dirk Syndram and Ulrike Weinhold (ed), Böttger Stoneware, Johann Friedrich Böttger and Treasury Art, Munich, 2009, p. 123.
Regarded as one of the greatest lacquerers of early 18th century Europe, Martin Schnell (ca. 1675-1740) was active in Berlin from 1703 to 1709, following which he was appointed to the position of Hoflackierer to the court in Dresden in January 1710, where he applied lacquer decoration to furniture, room decoration and even tournament equipment. On January 22 of that year, Böttger wrote to the King, "the glaze [of the stoneware] has also achieved perfection, and is preferred by true connoisseurs to the Indian lacquer and the lacquerer Schnell employed by your Majesty expressed his special pleasure at this, and regards himself as very fortunate to have been taken into your Majesty's service", Loesch, p. 128.
Augustus the Strong, began acquiring lacquer and other exports from Asia, including black-glazed Chinese porcelain, to furnish to the Dutch Palace (Höllandisches Palais; later known as the Japanese Palace), located on the Palaisplatz in Dresden. It was here where some of the early lacquer productions from Meissen were sent. The Royal Collection of black-glazed stoneware was first listed in the 1721 inventory of the Höllandisches Palais under Schwartz Indianischen und Schwartz laquirten roth Sächß. Porcelain. The heading suggests that both black-glazed stoneware and black-glazed Asian porcelain were inventoried as a group and likewise exhibited together on the upper floor in the yellow and white room.
A teabowl and saucer from the same service or group as the present lot is in the Siegfried Ducret Collection, Zürich (by 1971), illustrated in Monika Kopplin (ed.), Schwartz Porcelain, Die Liedenscahft für Lack ihre Wirkung auf das europäische Porzellan, exh. cat., Munich, 2003, p. 180, fig. 21, where the present lot is cited, see Cassidy-Geiger, 2004, p. 47.
A teabowl and saucer from a second black-glazed service decorated with gilt-Chinoiserie figures was in the Collection of Jörg Nelte, sold at Sotheby's London, 17 June 1997, lot 4, formerly sold at Sotheby's London, 25 October 1977, lot 105.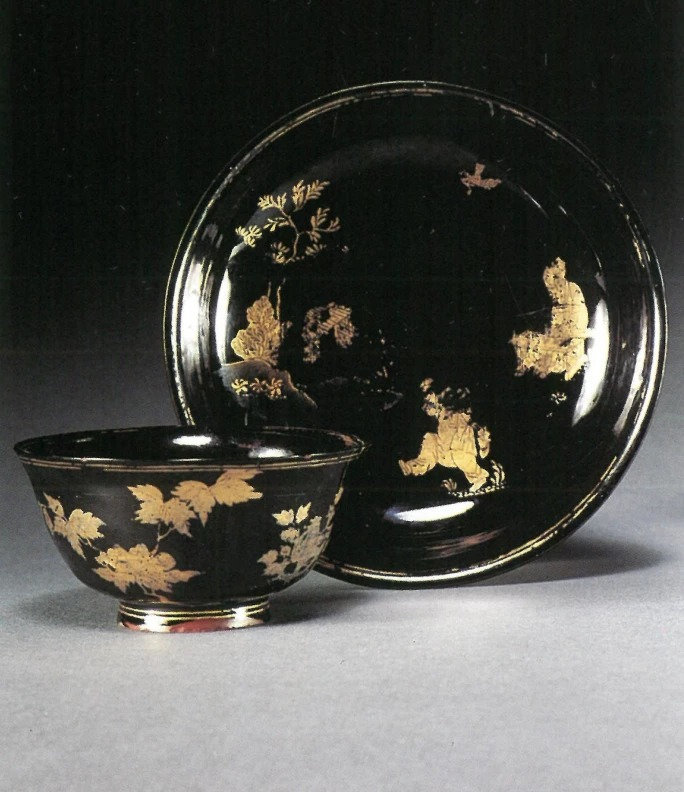 A teabowl and saucer from the Collection of Jörg Nelte, sold at Sotheby's London, 17 June 1997, lot 4.
Six teabowls and saucers from a black-glazed service, gilded with floral ornaments and dragonflies, were in the historic collection of Margravine Sibylla Augusta of Baden-Baden (1675-1733), Schloß Favorite, Rastatt, and subsequently descended through the family of the Margraves and Grand Dukes of Baden. From this service three teabowls and saucers and a single teabowl were sold at Sotheby's Baden-Baden, 7 October 1995, lot 1266, 1267, 1269-1270.
While the immediate print sources for the gilded figures are not yet identified, it likely derives from engravings by Petrus Schenk the Younger.
Sotheby's. Transformed by Fire A Private Collection of Early Meissen, Cologne, 1 July 2022