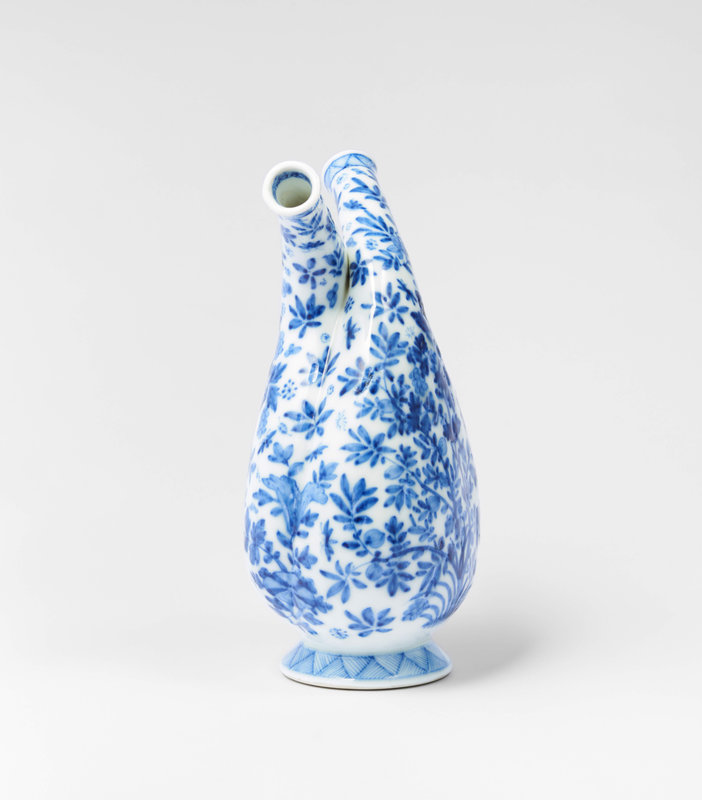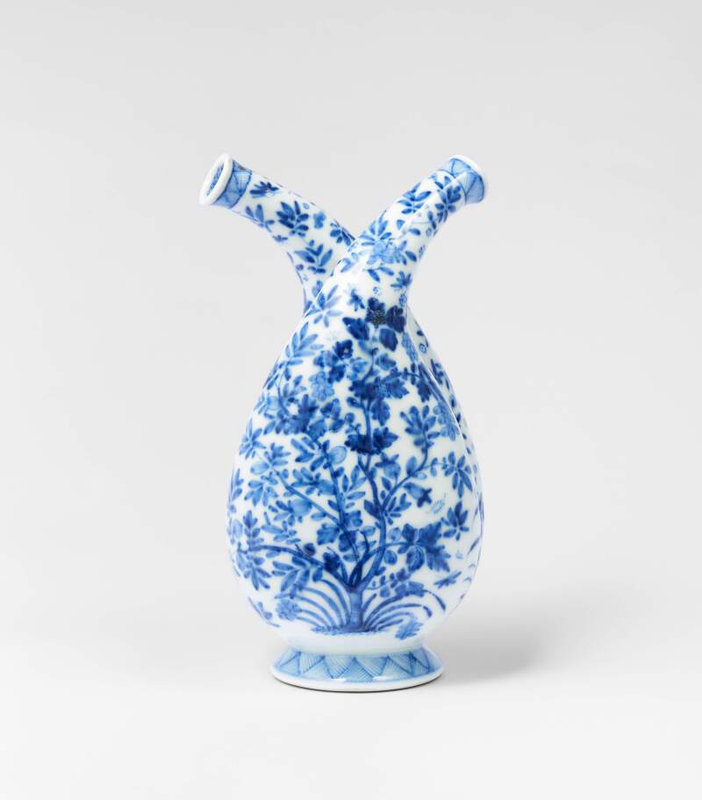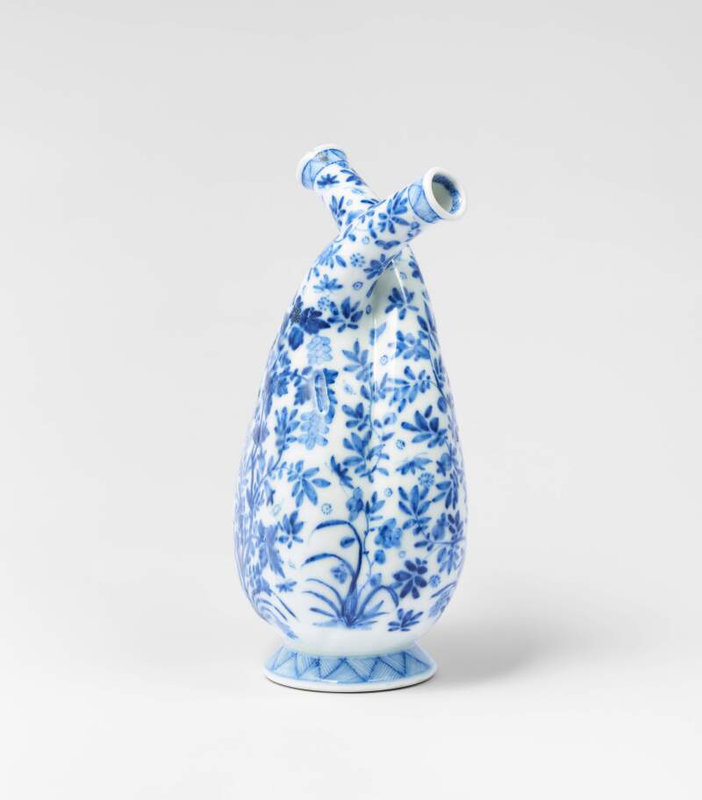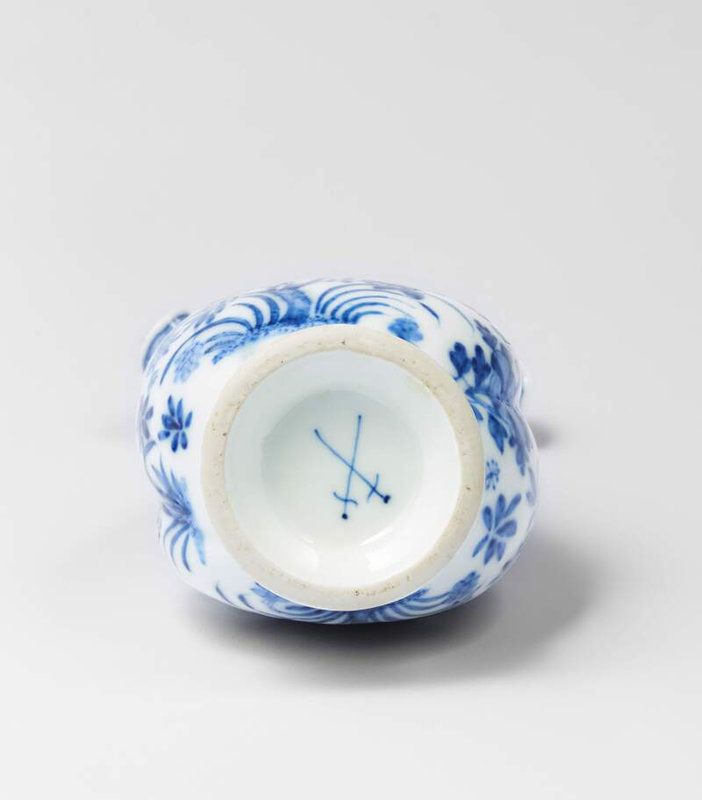 Lot 17. An Extremely Rare Meissen Blue and White Double Cruet, Circa 1725; 8 1/2 in., 21.5 cm. high. Lot sold: 88,200 EUR (Estimate: 40,000 - 60,000 EUR). © Sotheby's
the flattened pear-shaped conjoined flasks with entwining necks, painted with stylized flowering branches issuing from grassy mounds, the rims and spreading footrim with bands of fretted zig-zag, crossed swords mark in underglaze-blue, Dreher's mark X for J. D. Rehuschuh.
Literature: Ulrich Pietsch, Frühes Meissener Porzellanaus einer Privatsammlung, exhibition catalogue, Lübeck, 1993, pp. 76-7, no. 62.
Exhibited: Museum für Kunst und Kulturgeschichte der Hansestadt Lübeck St. Annen-Museum, 14 November 1993-31 January 1994.
Museen der Stadt Aachen, Couven Museum, 26 February 1994-30 April 1994.
Note: A brief but informative summary of the development of underglaze-blue decoration at the Meissen porcelain factory is provided in Maria L. Santangelo, A Princely Pursuit, The Malcolm D. Gutter Collection of Early Meissen Porcelain, 2018. The author explains on p. 89 that it was of paramount importance to Augustus the Strong that his factory be successful in achieving the brilliant underglaze-blue decoration of the Asian porcelains in his collection. And so, a prize of 1,000 thaler was to be awarded to whomever could solve the complex issues of firing blue under the glaze. In 1720, the arcanist David Köhler (1683-1723) succeeded in overcoming these issues by adapting the porcelain paste. Köhler had come to Meissen from Freiberg and by 1704 was working with Johann Friederich Böttger in the Albrechtsburg at Meissen. Following Böttger's death in 1719, he was appointed to the position of factory Obermeister. It was at this same time that he also embarked upon the experimental work that would ultimately result in the factory's ability to successfully produce the underglaze-blue decoration on Meissen porcelain that Augustus the Strong so desired.
A Chinese blue and white prototype, which served as the model for the present lot, remains in Dresden, inv. no. PO 2339, illustrated in Meissener Blaumalerei Aus Drei Jahr Hunderten, exh. cat., Leipzig, 1989, pp. 126-27, no. 3. The cruet was recorded under number 479 and a zig-zag line (the symbol applied to blue and white porcelain) in the 1779 inventory of the Japanese Palace.
Double neck bottle, China, Jingdezhen, Qing period (1644 - 1911), Kangxi era (1662 - 1722). H. 19.7 cm, W. 9.9 cm, D. 8 cm. State Art Collections, Dresden, PO 2339.
According to the literature, only two other Meissen examples of this form are recorded, both of which are in museum collections. One remains in the Porzellansammlung, Dresden, inv. no. P. R. 5582, illustrated in Meissener Blaumalerei Aus Drei Jahr Hunderten, exh. cat., Leipzig, 1989, p.202, no. 75; and the other is in the Museum für Kunst und Gewerbe, Hamburg, Inv. no. 1886. 15, illustrated in Johanna Lessmann, Porzellan Glanzstücke der Sammlung des Museums für Kunst und Gewerbe Hamburg, Hamburg, 2006, p. 31.
A Chinese prototype, with later Dutch Silver-mounts was in the Collection of Ezra & Cecile Zilkha, offered, Sotheby's New York, 20 November 2020, lot 28 (part).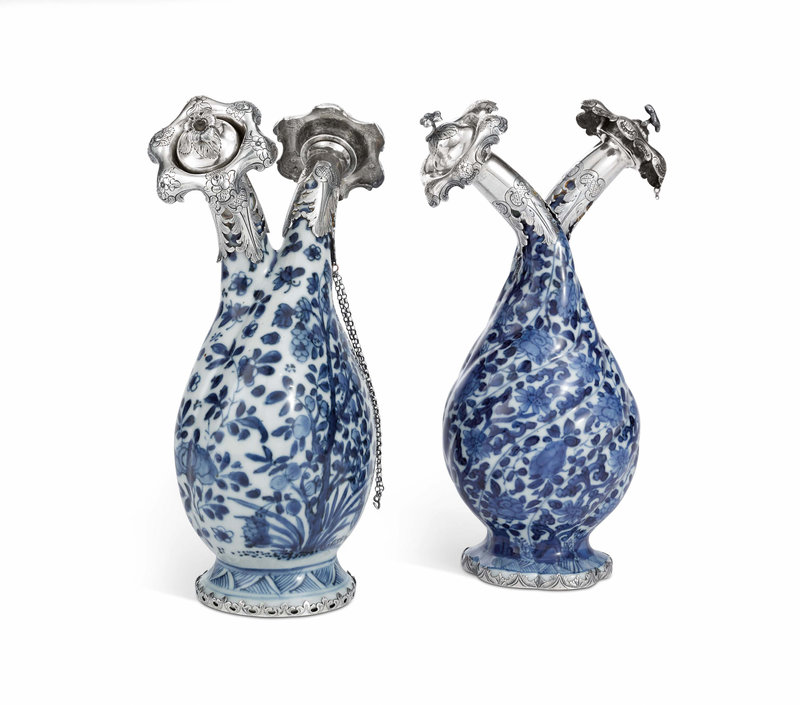 Two Chinese blue and white porcelain double flasks with silver mounts, the porcelain early 18th century; the silver Dutch, mid 19th century; heights 8 1/2 in., 21.7 cm. Sold for 12,600 USD at Sotheby's New York, 20 November 2020, lot 28. © Sotheby's
Sotheby's, China - 5000 Years, New York, 17–29 June 2022