NEW YORK, NY.- Artists of all periods have been drawn to depicting flowers, using their natural variety of form as a basis for experimentation with line and color. As varied as the flowers themselves, these artworks reveal so much about the artists and their different worlds.

The title of this show is a poem by Emily Dickinson (1830-1886) whose written works echo the aesthetics of the artists included here. Her works were published posthumously in 1890 just as the painters in our exhibition were coming to their artistic maturity.

On view is an early oil study by Piet Mondrian (1872-1944) titled Three Chrysanthemums dating from 1899. The catalogue raisonné of Mondrian's works records only 4 oils, and 16 works on paper depicting chrysanthemums. It is thought that throughout Mondrian's career, he completed approximately 100 pictures of flowers, always preferring to depict them individually or in pairs, as opposed to in bunches or arrangements.

In this early painting Three Chrysanthemums, Mondrian uses an avant-guard technique called passage, allowing the brushwork to go beyond the designated edges of the object depicted, an interesting technique given the strictly geometric compositions he produced later in his career. The paint here is thickly applied with heavy impasto, showing the influence of Van Gogh, whose work Mondrian admired. Mondrian was also interested in different types of philosophical and theoretical concepts, particularly theosophy, a type of philosophical mysticism focused on revealing the concealed essences of reality. He later wrote : "I .. find flowers beautiful in their exterior beauty, yet there is hidden within a deeper beauty."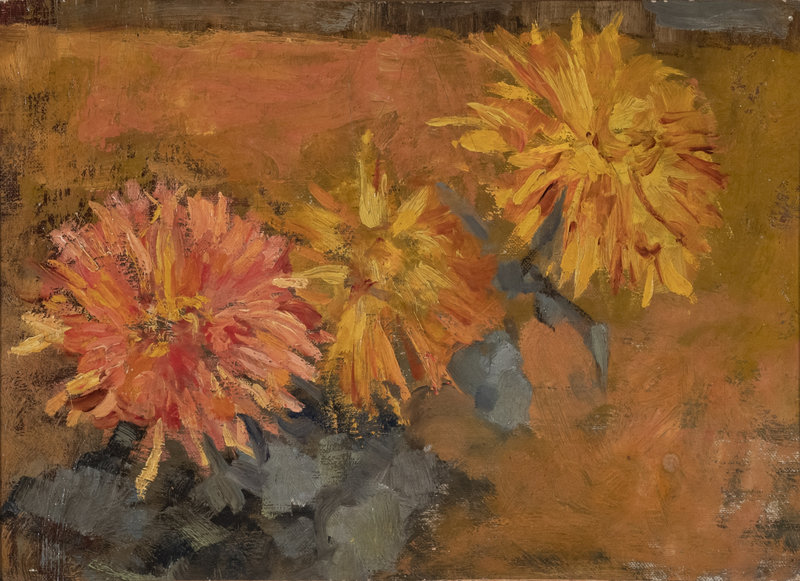 Piet Mondrian (1872-1944), Three Chrysanthemums, c. 1899-1900. Oil on canvas laid down on board, 9 5⁄8 x 13 3⁄8 inches. Courtesy Jill Newhouse Gallery.
Odilon Redon's (1840-1916) Vase de coquelicots et mimosas is a small oil on cardboard painted by the artist after 1895. As a student of the engraver Rodolphe Bresdin, Redon's early work was comprised primarily of drawings done in black and white, using heavy charcoal. Known as "noires", these works often portrayed grim and grotesque subject matter, recalling the images of Goya. After the 1890s however, Redon began to create works in vibrant colors in both pastel and oil, often depicting imagined floral arrangements set in various vases. As a youth he had enjoyed a close friendship with Armand Clavaud, the curator of the botanical gardens in his hometown of Bordeaux. His flowers retain the mystical and other-worldly atmosphere of his earlier works, as this intimate work in which the vase seems to float in an amorphous space. In 1905, Redon wrote to a patron: "I am still wrapped up in flowers, painting, with its limitless resources, is an infinitely enjoyable art."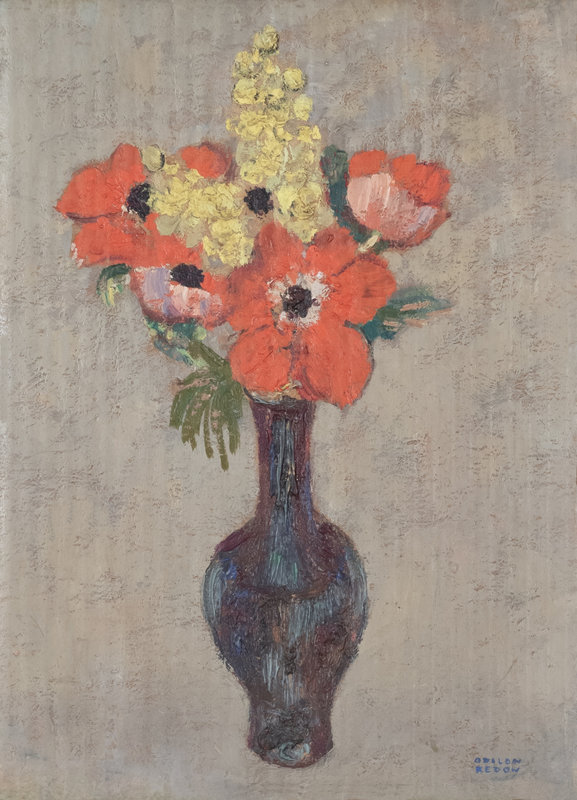 Odilon Redon (1840 – 1916), Vase de coquelicots et mimosas. Oil on corrugated card laid down on cradled panel, 9¾ by 7¼ in. (24.8 by 17.8 cm) Signed lower right. Courtesy Jill Newhouse Gallery.
The French-Polish artist and provocateur Balthasar Klossowski de Rola, known simply as Balthus (1908-2001) developed a repertoire of controversial and erotic subject matter unique in art history. By combining elements of the actual world with the aesthetics of past artists - such as Poussin and Piero della Francesca - Balthus produced art filled with paradox, creating haunted worlds that are provocative and poetic.
In 1961, Balthus began his 18-year tenure as the director of the Académie Française at the Villa Medici in Rome. Inspired by the long history of its decoration, Balthus embarked on a campaign to restore the Villa Medici in the Renaissance tradition, placing sculpture in the garden, building a façade, and restoring the frescoes. Fleurs is one of only 4 finished oil paintings sold in 2020 in Paris from the collection of Frédérique Tison, the artist's model and muse, that was housed in Balthus' home at the Château de Chassy in the Morvan. The dry surface, muted tones and flat stylized renderings of fruit and flowers are all present in Fleurs, in which the colorful bouquet of flowers is related to a larger work La Vase Bleu, 1963-64. In both paintings, Balthus incorporates favorite objects from his studio, the checkerboard tray and wavy mouthed vase, into a Roman aesthetic. In imitation of the surface of a fresco, Balthus experimented with casein, eventually using it, along with tempera, to paint his masterpiece from this period, La Chambre turque, 1965-6 (Centre Pompidou).
"Painting is the passage from the chaos of the emotions to the order of the possible." Balthus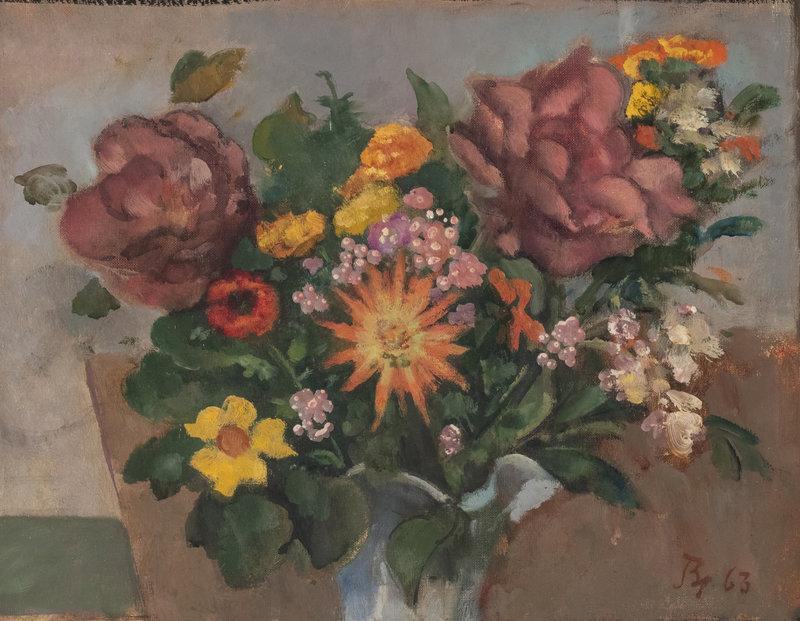 Balthus (1908-2001), Fleurs, 1963. Oil and casein on canvas, 13 3/4 x 17 5/8 inches. Courtesy Jill Newhouse Gallery.
The rare artist Sigisbert Chrétien Bosch Reitz, known as Gijs (1860-1938) was born to a wealthy Dutch family and began to paint at the age of 23. He travelled extensively to France, the United States and Japan in 1900, becoming a world-renowned connoisseur. In 1914 he was invited to curate the Asian collection at the Louvre, but due to the War, he left instead for New York. In June 1915, he was appointed the first curator of the newly created Department of Far Eastern Art at the Metropolitan Museum of Art, where he remained until 1927 when he returned to Amsterdam. Gijs's slow process and incredible attention to detail limited the number of works completed. In Morning Glory a colored chalk on paper done in 1900 and signed with a Japanese monogram, we see the influence of Hiroshige in the highly stylized forms placed against a stark background. In contrast to his contemporary, Vincent van Gogh, who never travelled to Japan, Gijs's work shows not only the deep understanding of the movement of Japonism then so fashionable amongst European artists, but also the deep knowledge of someone who is an expert in Asian art.

Sigisbert Chrétien Bosch Reitz (1860-1938), Morning Glory, c. 1900. Colored chalk on paper, 21 5/8 by 7 1/2 inches. Courtesy Jill Newhouse Gallery.
Gerhild Diesner (1915-1995) was the most important mid-century female painter of the Tyrol region. Born in 1915 in Innsbruck, in the Tyrol region of Austria, to a civil servant father and an Italian mother, her interest in art began in high school. Trained as a fashion illustrator and graphic artist in England and in Germany, Diesner was drafted into service in Dresden during World War II, from 1940-41. She returned to the art world in 1941 with a position at the Tyrolean Folk Art Museum and at this time became interested in French art, studying for a year in Paris with André Lhote. Unfortunately much of her work of this period was destroyed, but once the War was over and she settled back in Germany, Diesner developed it into the style that she would become known for, creating colorful landscapes and still lifes in the style of French and Dutch post-impressionist masters. She had her first solo show at the Alpbach University Weeks which was followed by solo shows at the Kunsthalle Bremen in 1952 and at the Stadtischen Museum Braunschweig in 1960. She taught painting, eventually attaining the title of professor in 1970 and won awards from the State in honor of her work and influence.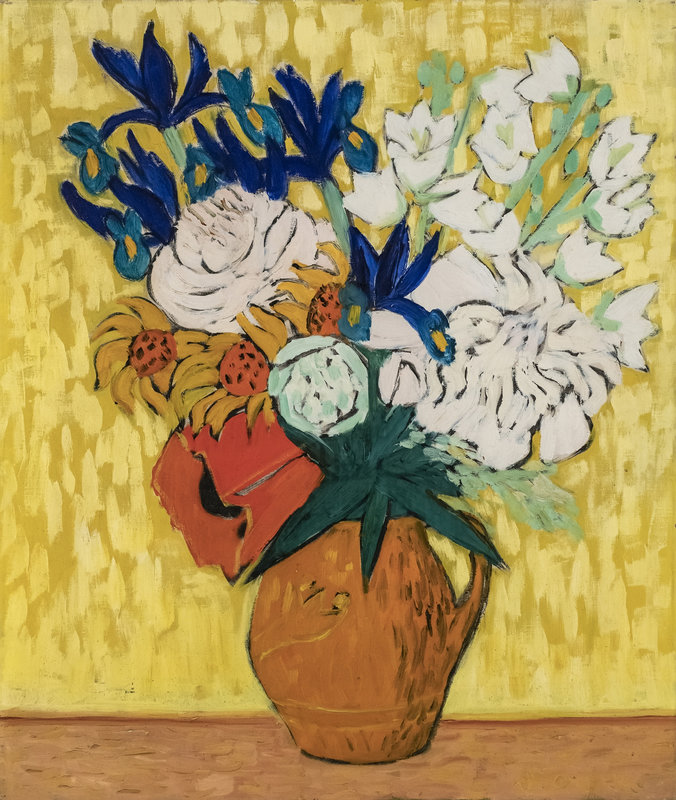 Gerhild Diesner (1915–1995), Bouquet in a Pitcher, c. 1960s. Oil on canvas, 23 1/2 x 19 7/8 inches. Courtesy Jill Newhouse Gallery.
The painter Léon Riesener came from a family of well-known artists and craftsmen: his German-born grandfather Jean-Henri Riesener (1734/8-1806) was ébéniste to Louis XVI, and his father Henri-François Riesener (1767-1828) a favorite portraitist of Napoleon. Through his grandmother, Riesener was a first cousin of Eugène Delacroix, who was also a close friend and important mentor to the younger artist. The two men traveled and painted together during the 1820s and 1830s, including a trip to Normandy in 1829 which Delacroix recorded in a sketchbook. In 1835 Delacroix painted a well-known portrait of Riesener now in the Musée du Louvre, Paris (Portrait de Léon Riesener, RF 1960 58). Our image of the Romantic Delacroix – with his handsome leonine features, dashing neckerchief, and oiled curls – is thanks to Riesener, who captured his cousin in two famous daguerreotypes (the artist was an enthusiastic amateur photographer, though he eventually abandoned the medium).
Riesener's oeuvre is quite varied in scope, as he worked across a variety of media including watercolor, pastel, and oils and experimented with a range of genres including nudes, landscapes, portraiture and still lifes. Riesener's swiftly brushed landscape and cloud studies demonstrate his interest in light effects and the division of tones, prefiguring Impressionism. Riesener also received numerous official commissions from the French government during his career, including decorative murals for the Hôtel de Ville and Palais du Luxembourg, as well as religious paintings commissioned by the Ministry of the Interior.
Still life compositions are rare within Riesener's oeuvre. Bouquet de fleurs dans un vase bleu is clearly indebted to traditional Dutch 17th-century masters like Jan Davidsz de Heem yet the lively brushwork and profusion of wild and cultivated flowers (some already dropping their petals) are Romantic in feel. Painted in the late 1840s, the work's first owner was the artist Louise Rang-Babut (1805-1884), a former pupil and friend of Delacroix whose first husband, Sander Rang (1793-1844), survived the sinking of the Medusa in 1816. Several of Rang-Babut's works were exhibited at the Paris Salon between 1831 and 1842
Louis Antoine Leon Riesener (1808-1878), Bouquet de fleurs dans un vase bleu, c. 1849. Oil on canvas, 32 x 25 1/2 inches. Courtesy Jill Newhouse Gallery.
Another selected works: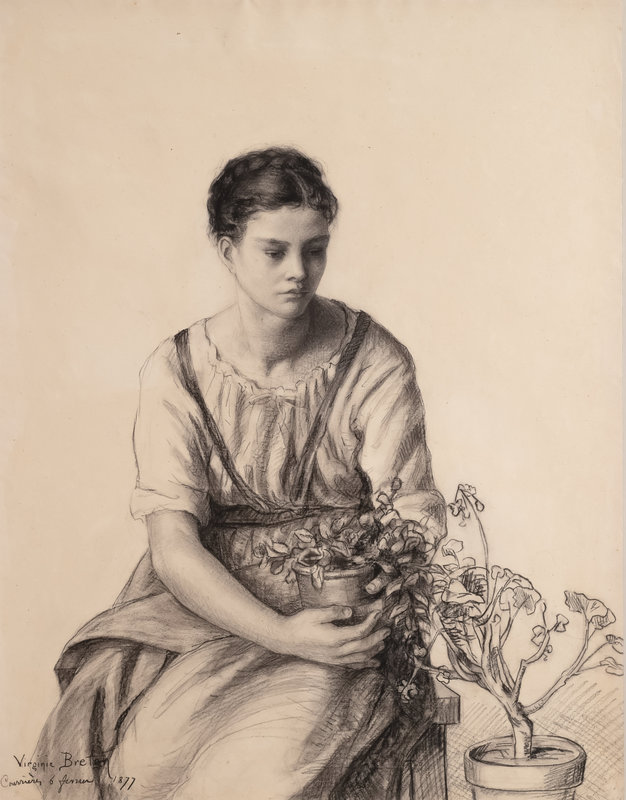 Virginie Demont-Breton (1859-1935), Young Woman with Geranium, 1877. Pencil and charcoal on paper, 25 3/8 x 19 1/2 inches. Courtesy Jill Newhouse Gallery.
Edouard Vuillard (1868-1940), Studies of Madame Vuillard and Foliage, c. 1895. Pencil on paper, 6 7/8 × 4 1/8 inches. Courtesy Jill Newhouse Gallery.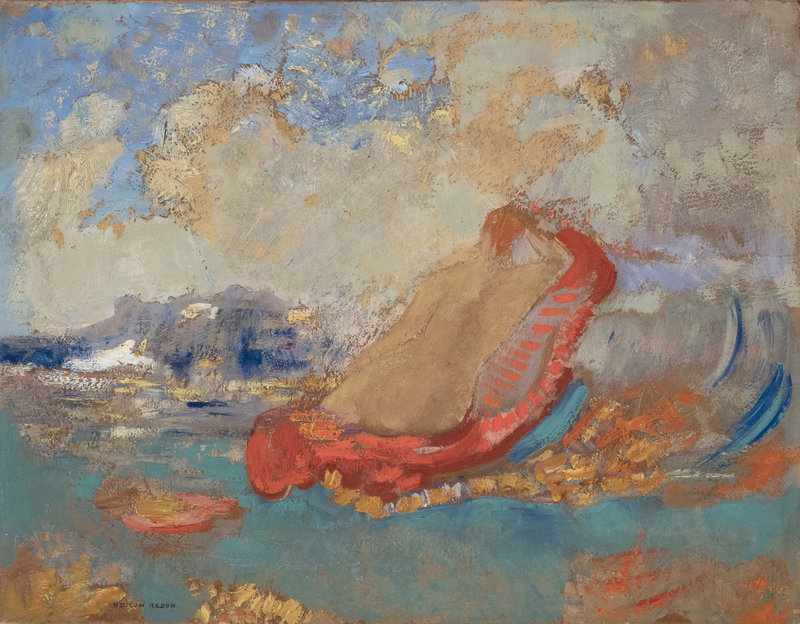 Odilon Redon (1840-1916), The Birth of Venus (La Naissance de Vénus), c. 1910. Oil on paperboard laid down on cradled panel, 9 3/4 x 12 1/2 inches. Courtesy Jill Newhouse Gallery.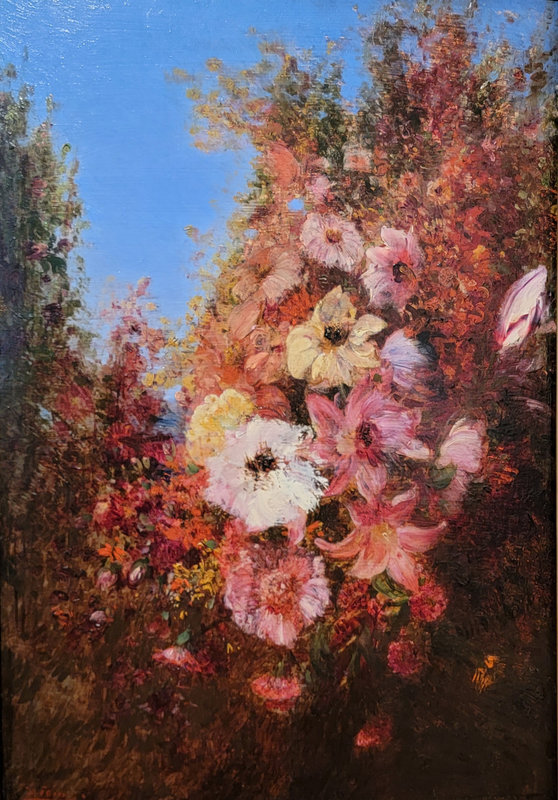 Felix Ziem (1821-1911), Flowers. Oil on panel, 30 3/8 x 21 inches. Courtesy Jill Newhouse Gallery.