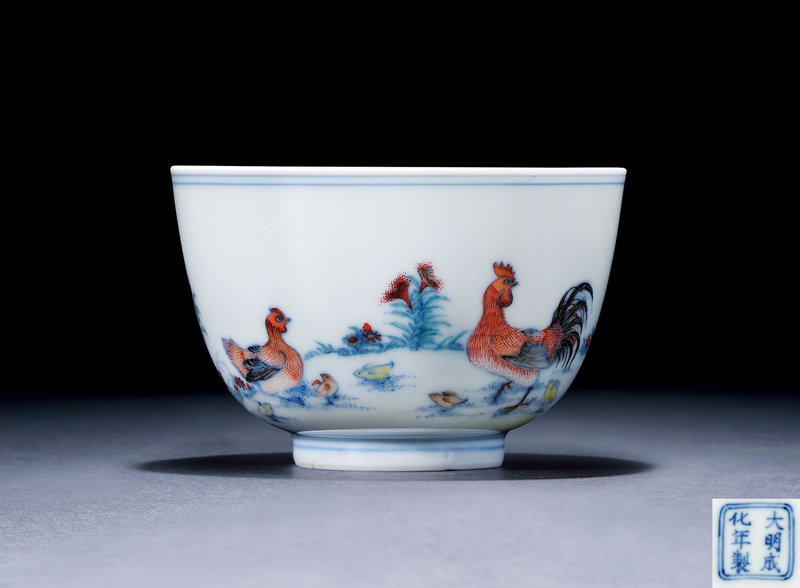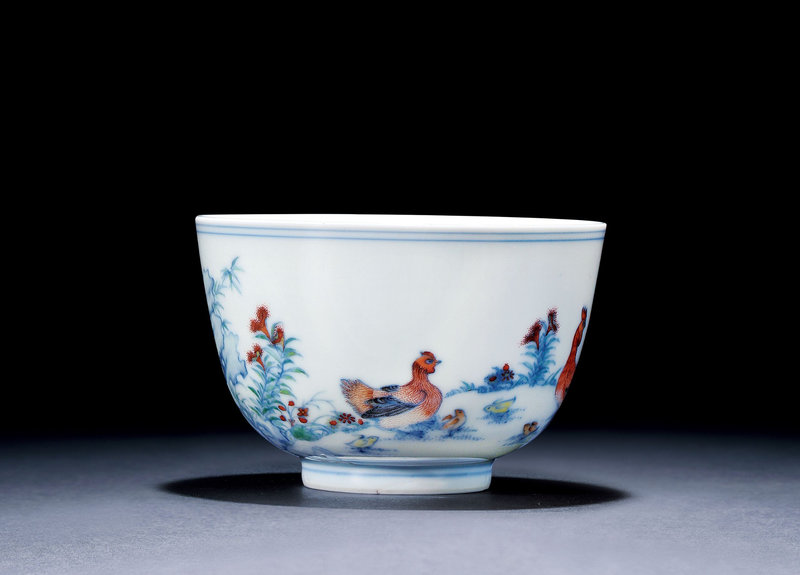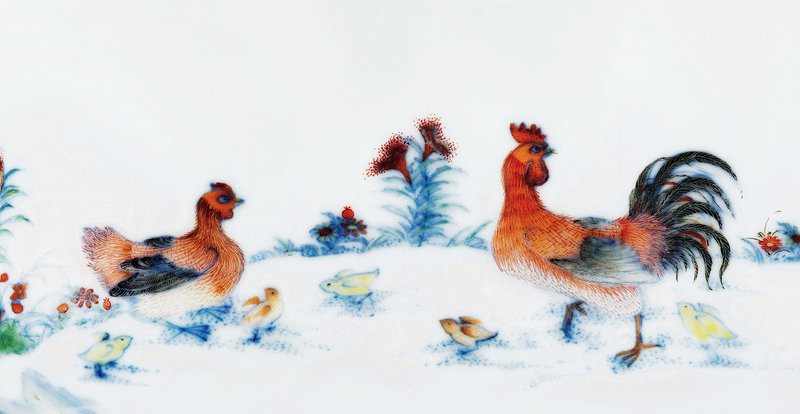 Lot 3310. An important doucai 'chicken' cup, Yongzheng period (1723-1735). H 5.8cm. Sold for HKD 3,000,000 (Estimate 1,200,000 - 1,800,000). © Poly Auction Hong Kong Limited 2022.
Provenance: 1. Collection of N.C. Harrison
2. Sotheby's London, 16 May 1967, lot 153
3. Collection of J. Harris Phillips and Harris
4. Collection of Mr. Evans, acquired on 23 February 1970 (with record of purchase)
5. The Canterbury Auction Galleries, 22-23 May 2012, lot 77.
Literature: Soame Jenyns, Later Chinese porcelain: The Ch'ing Dynasty, 1644-1912, London, 1951, pl.CX, fig. 3B.
Note: This cup is finely painted with a cockerel, hen and five chicks among flowering plants. The deep rounded sides are further decorated with a gnarled and pierced rocky outcrop issuing coxcomb plants, all within pencilled underglaze blue outlines coloured in a soft palette of iron red, shades of green and yellow, between two double-line borders. The base is inscribed with six-character Chenghua mark enclosed within a double-square.

This exquisitely painted piece is an extremely rare version of chicken cups produced during the Yongzheng reign that were directly inspired by the treasured Chenghua originals. In form, composition and style of reign mark on the base, it closely follows the Chenghua prototype but with the slightest variation on the design, such as the more elaborate tails of the cocks instead of three long feathers. Furthermore, the proportions of the flowers and rocks have also been rendered in a more refined manner in accordance with the taste of the Yongzheng Emperor. Compare another cup sold at Christie's Hong Kong, 31 October 2000, lot 911.

The design of a cock and a hen with chicks in a garden setting was a design innovation of the Chenghua reign, although the subject was a well-known topic of Song dynasty painting. By the Yongzheng period, developments in enamel technology saw the invention of glossy black enamel that was added to the tails of the cocks to capture the richness of the birds as well as provide an attractive calligraphic contrast with the doucai palette. The black on Chenghua cups was actually a dark colour derived by adding khaki-green enamel to underglaze blue, while the black enamel developed in the Kangxi period was matt and relatively unstable so required a layer of clear pale green or purple to be applied over the top.

See one from the collection of Mrs Walter C. Sedgwick, included in the Oriental Ceramic Society exhibitions Enamelled Polychrome of the Manchu Dynasty, London, 1951, cat. no. 100, and Arts of the Ch'ing Dynasty, London, 1964, cat. no. 194, illustrated in Regina Krahl, Chinese Ceramics from the Meiyintang Collection, vol. 4, pt. II, London, 2010, pl. 1745, sold in Sotheby's Hong Kong, 14 November 1989, lot 230.

Further cups without foot ring include one sold in Sotheby's Hong Kong, 28 April 1998, lot 815; one sold at Christie's Hong Kong, 29 April 2002, lot 608, and again in Sotheby's Hong Kong, 2 May 2005, lot 608; another sold in Sotheby's Hong Kong, 15 May 1990, lot 284, and again at Christie's Hong Kong, 27 May 2009, lot 1822; and a fourth cup sold at Christie's Hong Kong, 3 June 2015, lot 3144.
Poly Auction. Colours Beyond Landscapes: Important Chinese Art including European and American Collections, Hong Kong, 14 July 2022