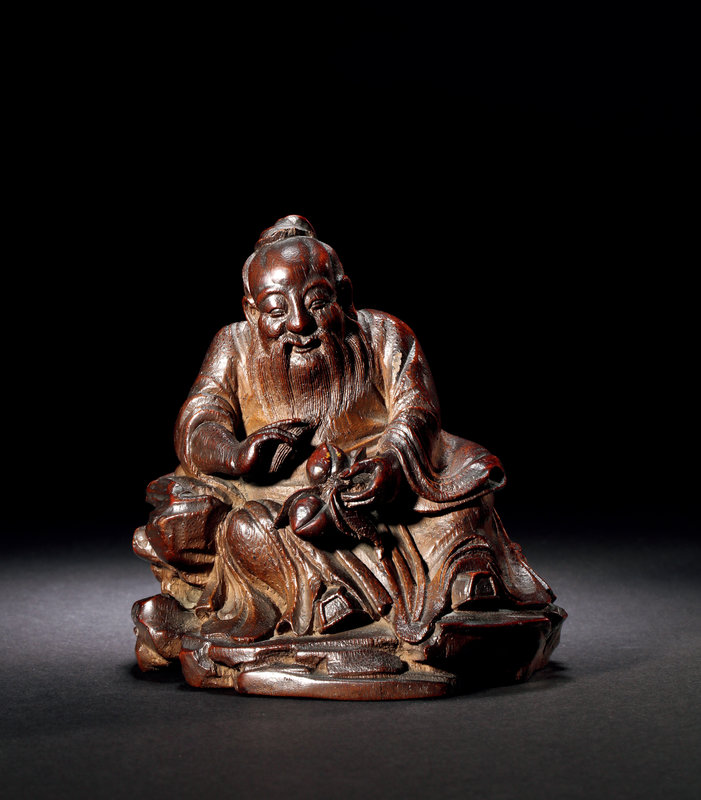 Lot 3327. A Carved Seated Bamboo Figure of Dongfang Shuo, Ming Dynasty (1368-1644). H 14.5cm. Sold for HKD 264,000 (Estimate HKD 200,000 - 280,000). © Poly Auction Hong Kong Limited 2022
Provenance: 1. Collection of Mr. Van Houtte, Brussels, Belgium, 1992
2. Collection of the Duchamp family, Paris, France
Note: This ornament is carved in the round from bamboo roots, with a naturalistic red skin. With a full forehead and a long beard that reaches his chest, Dongfang Shuo has a comical and delightful face. In one hand he twists his long beard, while in the other he holds a longevity peach between his knees, dressed in a broad-sleeved shirt with a naturalistic pattern, and seated on a rocky outcrop with one foot slightly bent.
The pendant is realistically executed, with the emphasis on the figure's demeanour, and the smiling face of Dongfang Shuo, with his smug expression of satisfaction, revealing his state of mind after having stolen the peach. The details are realistic and realistic, such as the sleeves of the figure's robe, the pattern of his clothes, and his long, wiry hair, all of which are finely carved and exquisitely detailed. The carving is skilled, the lines precise, and the subject matter suggestive of good fortune, wisdom, and longevity, making it a rare example of bamboo carving, suitable for use as a table setting. An example of the seated figure of Dongfang Shuo in the Shanghai Museum is illustrated in Bamboo Chasing Wenxin: A Special Collection of Bamboo Carvings, Shanghai, 2012, p. 115, plate 51.
Dongfang Shuo (154-93 BCE) was a writer of rhetoric in the Western Han Dynasty. He was often described by Sima Qian in The Records of the Grand Historian as a 'comic hero'. He was also known as the "comic hero" by Sima Qian in The Records of the Grand Historian. According to legend, on the birthday of Emperor Wu, the Queen Mother of the West brought seven peaches to celebrate the birthday of the Emperor, and Dongfang Shuo secretly left two of them. Since then, the peach has been used as a decorative element in traditional paintings and objects for the study of literature.
Translated with www.DeepL.com/Translator (free version)
Poly Auction Hong Kong. The Duchange Family Collection of Important Chinese Art II, Hong Kong, 2 December 2021