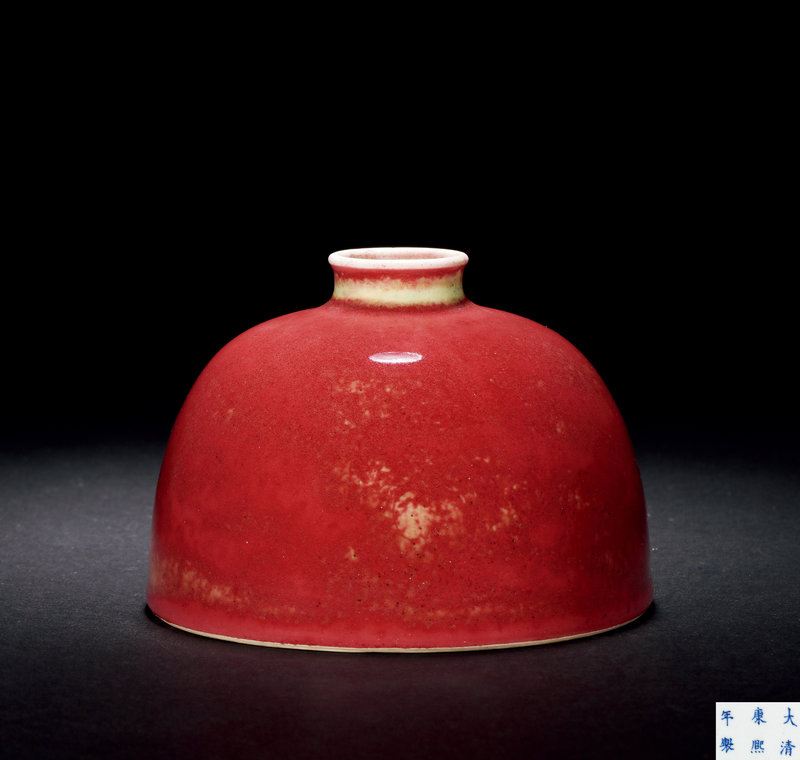 Lot 3320. A Peachbloom-Glazed 'Beehive' Waterpot, Mark and Period of Kangxi (1662-1722). D 12.6cm. Sold for HKD HKD 480,000 (Estimate HKD 400,000 - 600,000). © Poly Auction Hong Kong Limited 2022
Provenance: 1. Private collection, Bordeaux, France, 1983
2. Collection of the Duchamp family, Paris, France.
Note: This small vessel with a lavish mouth, short neck and sloping shoulders, and a bulging belly and shallow footrim is covered with a cowpea-red glaze with a concealed kui dragons design. The interior is covered with white glaze, and the footrim is covered with white glaze, with a six-character blue and white floral inscription in regular script, 'Made in the Kangxi period of the Qing dynasty'. The glaze is rich and timeless, and the dots are evenly distributed, adding to the beauty of the bottle.
The Taibai zun was a famous literary object of the Kangxi dynasty, so named because of its resemblance to Li Bai's drinking vessel, and has survived in cowpea-red and white glaze varieties, of which the cowpea-red glaze is the most famous. Cowpea red is the most valuable of the Kangxi red glazes, and because of the sensitivity of the copper-red glaze and the difficulty of firing, it was only produced in small quantities by the imperial kilns for use at the court, and no large objects were made.
"The glaze is slightly red-speckled, a characteristic of the lot. Very few cowpea red-glazed wares have survived, and most of them were dispersed overseas in earlier years and collected in prestigious museums around the world, both ancient and modern, all of which are heirlooms, making this piece even more precious.
This cowpea-red-glazed taibai zun is of the same variety as those in the collections of the National Palace Museum and the Nanjing Museum, see the Palace Museum Collection of Imperial Porcelain of the Qing Dynasty, vol. 1, pp. 292, 293, fig. 106, and the Palace Collection of Chinese Official Porcelain of the Qing Dynasty, p. 83. This shows the importance attached to the subject. Similar collections exist in the National Palace Museum, the Nanjing Museum and the Shanghai Museum on both sides of the Taiwan Strait.
Translated with www.DeepL.com/Translator (free version)
Poly Auction Hong Kong. The Duchange Family Collection of Important Chinese Art II, Hong Kong, 2 December 2021