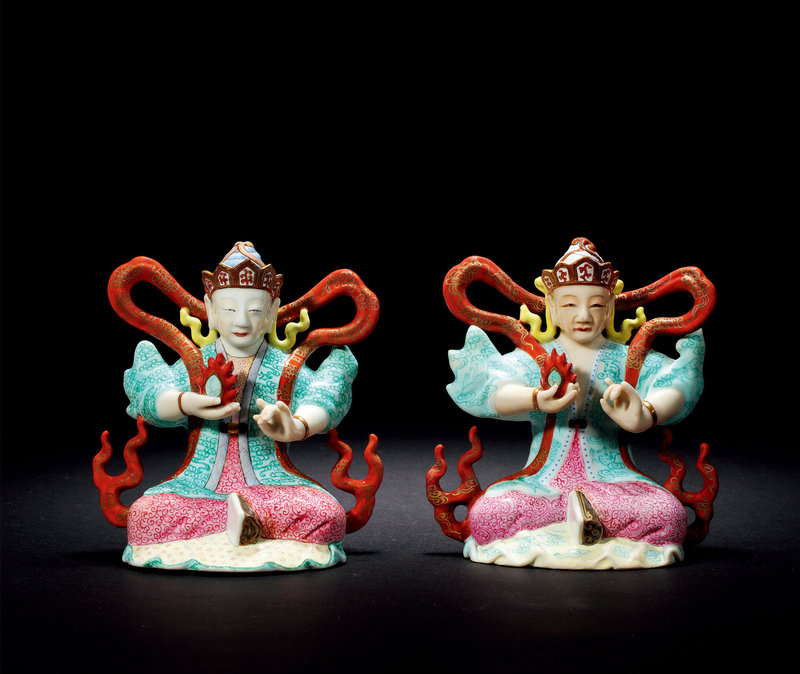 Lot 3314. A Pair of Famille-Rose 'Ministers' Altar Ornaments, Qing Dynasty, Qianlong Period (1736-1795). H 11.5cm H 12cm. Sold for HKD 132,000 (Estimate HKD 80,000 - 150,000). © Poly Auction Hong Kong Limited 2022
Provenance: 1. Private collection, Nice, France, 1988
2. Sotheby's Hong Kong, 4 October 2016, no. 104
3. Duchamp Family Collection, Paris, France.
Note: This pair of famille-rose figures is one of the seven treasures of Tibetan Buddhism, with a seated civil official wearing a crown of lotus flowers and an official's robe, holding a dharma vessel in one hand and a dharma seal in the other, surrounded by a solemn and solemn image. The artistry of the porcelain sculpture demonstrates the high standard of the Qianlong dynasty.
"The 'Seven Treasures and Eight Jewels' is a Buddhist term. "The Seven Treasures of Buddhism, also known as the Seven Buddhist Treasures of Government, are seven precious treasures, including the Golden Wheel, the Lord's Treasure, the Jade Lady, the White Elephant, the Victory Horse, and the General's Treasure, in addition to the Treasure of the Treasury.
The imperial family of the Qing dynasty believed in Tibetan Buddhism, and the Qianlong emperor was particularly fond of it. During his reign, he not only completed the engraving and printing of the Great Tibetan Sutra in Chinese, Manchu and Tibetan, but also built numerous Buddhist temples and pavilions in the Forbidden City and at various palaces. As the seven treasures were very popular with the emperor, they became an important part of the decoration of the court, and porcelain offerings and vessels were indispensable, as in the case of this example. Reference to a complete set of eighteenth-century seven treasures in the Chengde Summer Palace Collection, in Imperial China. The Living Past, Art Gallery of New South Wales, Sydney, 1992, no. 79.
Translated with www.DeepL.com/Translator (free version)
Poly Auction Hong Kong. The Duchange Family Collection of Important Chinese Art II, Hong Kong, 2 December 2021