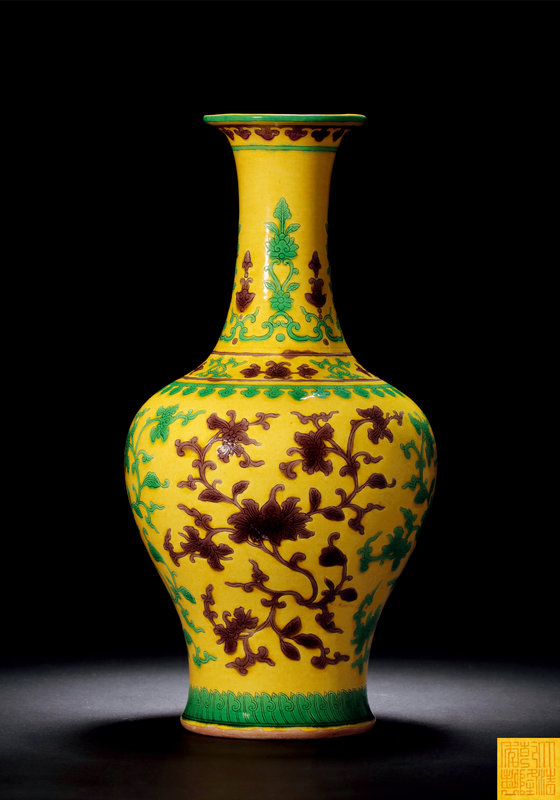 Lot 3316. A Rare Yellow Ground Green and Aubergine-Glazed Enamelled Vase, Seal Mark and Period of Qianlong (1736-1795). H 32.2cm. Sold for HKD 720,000 (Estimate HKD 600,000 - 800,000). © Poly Auction Hong Kong Limited 2022
Provenance: 1. Private collection of Mr. P, Nice, France, 1996
2. Duchamp Family Collection, Paris, France.
Note: The vase has a skewed mouth, long neck and sloping shoulders, tapering below the shoulders to the foot, with a flat footrim. The interior and exterior are covered with yellow glaze, the exterior with a yellow ground, decorated in brown and green. The outer rim of the bottle is painted with a band of green glaze, beneath which is decorated with a band of brown-coloured ruyi cloud heads, followed by a further band of green colour. The neck is painted in brown and green with an entwined floral design, and the neck and shoulders are joined by an interlocking brown and green floral design, with the shoulders painted in green with a ruyi cloud head design. Near the foot, the design is painted in green with variegated lotus petals. The footrim is covered with yellow glaze and the outer foot is inscribed in negative seal script 'Made during the Qianlong period of the Qing dynasty' in six characters and three lines.
The purple glaze was difficult to produce, and the kiln temperature and composition of the colours were difficult to control, resulting in a brownish colour in the early stages, and the technique only began to mature in the mid to late Ming. Brown-green porcelain on a yellow ground was a traditional official kiln porcelain of the Qing dynasty, and similar forms existed during the Kangxi and Yongzheng periods. A vase in the National Palace Museum, with a lotus-headed design in purple and green on a yellow ground, is similar to the present example, and is included in the collection of the National Palace Museum. Miscellaneous Glazes and Colours. The Sansai Collection, Hong Kong, 2009, p. 167, plate 132.
Translated with www.DeepL.com/Translator (free version)
Poly Auction Hong Kong. The Duchange Family Collection of Important Chinese Art II, Hong Kong, 2 December 2021