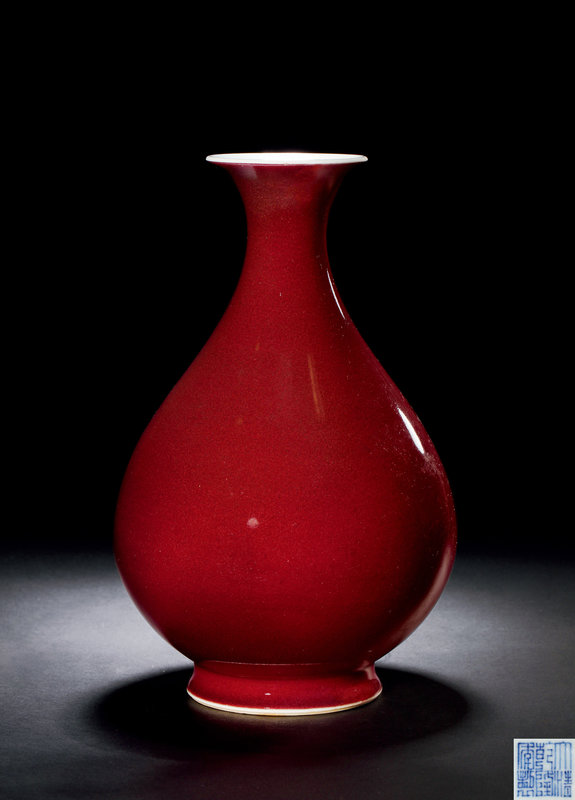 Lot 3319. A Copper-Red Vase, Yuhuchunping, Seal Mark and Period of Qianlong (1736-1795). H 30.3cm. Sold for HKD 264,000 (Estimate HKD 60,000 - 100,000). © Poly Auction Hong Kong Limited 2022
Provenance: 1. Collection of Mr. Bazin, Paris, France, 1978
2. Collection of the Duchamp family, Paris, France.
Note: The vase has an open mouth and a narrow neck, with a rounded, pendulous belly and a high, flared footrim, of beautiful and elegant form. The mouth, interior and foot of the vessel are covered with a white glaze, the glaze being white and lustrous, while the exterior is glazed with a solid, delicate and even red glaze. The foot of the vessel is inscribed in blue and white seal script, 'Made during the Qianlong period of the Qing dynasty'. This is a rare example of a red-glazed jade vase of the Qing dynasty.
The form of the vase is derived from Song dynasty wine vessels and is named after the poetic phrase 'jade jars precede spring'. The red glaze was one of the more difficult varieties of high-temperature pigmented glazes to produce during the Ming and Qing dynasties. The frosty sky and clear books were carefully combined, and the same firing was done in a hundred different ways', which shows that it was not an easy task to make a beautiful and vividly coloured red glaze. It is more rare to find a bottle of this form and glaze that is as good as the one on offer.
An example in the collection of the National Museum, Tokyo, exhibited in the catalogue of the Chinese Ming and Qing Dynasties Art Exhibition, National Museum, Tokyo, 1963, no. 440, and an example in the old Qing dynasty palace collection, a jade vase with red glaze from the Qing dynasty, now in the Nanjing Museum, in the Palace Collection, is in the collection of the Nanjing Museum. An example from the former collection of the Qing dynasty, now in the Nanjing Museum, is in The Palace Collection - Chinese Official Porcelain of the Qing Dynasty, 2003, Nanjing Museum, p. 346.
Translated with www.DeepL.com/Translator (free version)
Poly Auction Hong Kong. The Duchange Family Collection of Important Chinese Art II, Hong Kong, 2 December 2021