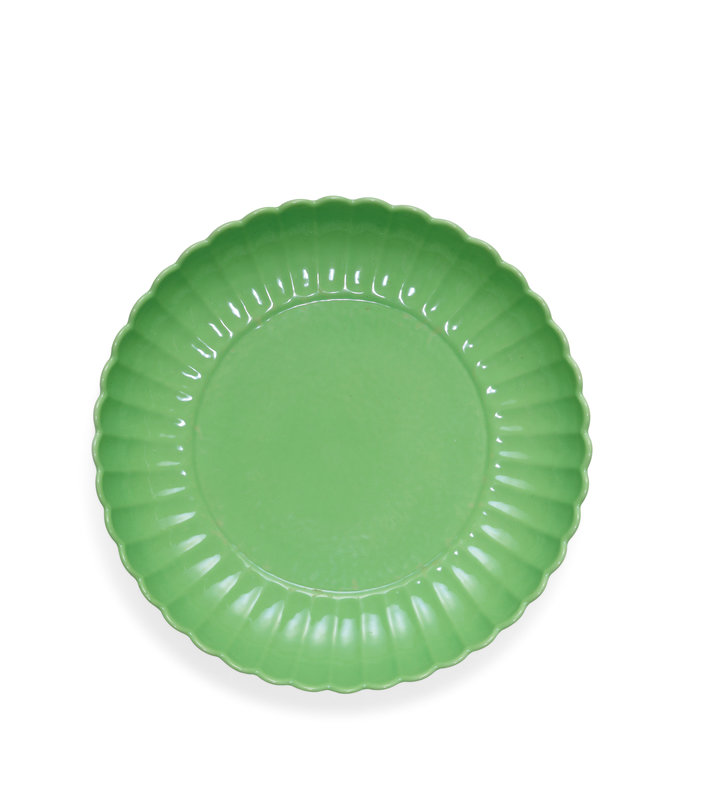 Lot 3555. A Fine Apple Green-Glazed Chrysanthemum Dish, Yongzheng-Qianlong Period (1723-1795). D 17.5 cm. Sold for HKD 900,000 (Estimate HKD 650,000 - 950,000). © Poly Auction Hong Kong Limited 2022
Provenance: 1. Collection of Enid Lodge and Brodie Lodge (1880-1967), no. M33
2. Meiyintang Collection, Switzerland.
Exhibition: The Essence of Ming and Qing Monochrome Glaze Porcelain Exhibition, Poly Art Museum, Beijing, 2018.
Published: 1. Kang Ruijun, The Meiyintang Collection of Chinese Ceramics, vol. 4 (2), London, 1994-2010, p. 394, no. 1833
2. The Essence of Ming and Qing Monochrome Glaze Porcelain Exhibition, Poly Museum of Art, Beijing, 2018, p. 298, no. 116.
Note: The dish is of chrysanthemum petal form, with a lavish mouth and curved walls, and is surmounted by a footrim. The interior and exterior of the dish are glazed with apple-green glaze, which is lustrous and glossy. The inside of the footrim is covered with a white glaze, the colour of which matches the form, making the dish look like a chrysanthemum in repose from a distance. The outer foot is glazed white, and the base is unmarked.
The 'apple green' glaze, also known as pouring green glaze, was created during the Yongxuan period in the early Ming dynasty and was very popular during the Jiajing dynasty, and by the early Qing dynasty the Jingdezhen kilns had mastered very mature formulas and firing techniques, with the glaze achieving a pleasing emerald colour. In the Kangxi period, this glaze became one of the official porcelain types. The apple-green glazed wares are not commonly found in both heirloom and museum collections, and the chrysanthemum-petal dish is even rarer, although there is a green-glazed wares in both domestic and overseas public and private sources, as recorded in The Exhibition of Famous Chinese Potteries, p. 115, plate 126; however, there are no other examples with apple-green glaze.
Translated with www.DeepL.com/Translator (free version).
Poly Auction Hong Kong Limited. A Romance Among Blooming Roses: The Meiyintang Collection of Three Dynasties Imperial Ceramics, Hong Kong, 2 Dec 2021