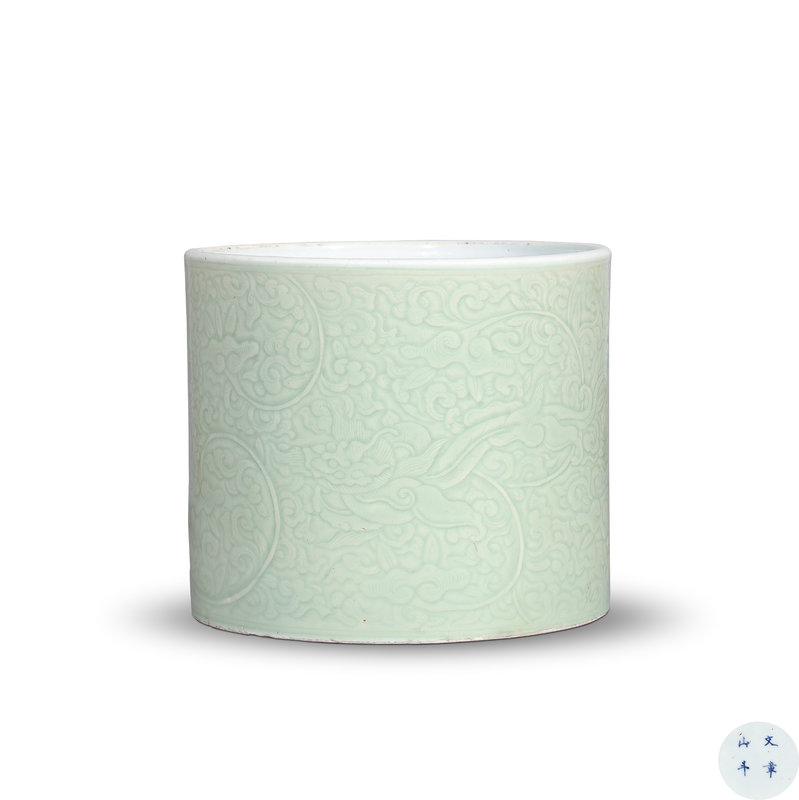 Lot 3591. A Pale Celadon-Glazed Incised 'Lotus' Brush Pot, Bitong, Kangxi Period, Wenzhang Shandou Mark. D 18.5cm. Sold for HKD 480,000 (Estimate HKD 150,000 - 250,000). © Poly Auction Hong Kong Limited 2022
This is a rounded, straight-walled brush cylinder with a ringed foot, of generous size. The interior is covered with a white glaze and the exterior with a pea-green glaze, with a concealed design of lingzhi and chi dragons. The scrolling lingzhi motifs fill the frame, with the branches and leaves spreading out in a flexible and naturalistic manner, while the chi dragon, with its athletic form, wanders amidst the scrolling grass motifs, allowing the viewer to wander through them in a relaxed manner. The entire vessel is full of composition, smoothly carved, and clearly layered, fully expressing a state of infancy and emergence during the Kangxi period, with great artistic charm. The interior and base of the bottle are glazed in white, and the foot is inscribed in regular script, 'Xuanshan dou', in blue and white.
Provenance: 1. Choate Gallery, New York
2. Meiyintang Collection, Switzerland.
Publication: Kang Ruijun, Chinese Ceramics from the Meiyintang Collection, Volume 4 (II), London, 1994-2010, p. 352, no. 1803.
Note: This type of bean-glazed spirits and dragons brushpot is also known to be inscribed with the official mark 'Made in the Kangxi period of the Qing dynasty', and there are also examples inscribed 'Made in the Xuande period' or 'Made in the Xuanhe period', the best of which, like the present example, is inscribed 'Wenshan dou'. There is a similarly sized example in the collection of the National Palace Museum, with a brush cylinder inscribed in blue and white on the outer wall with the title 'Ex-Chibi Fu', which is also inscribed 'Wenzhishan dou'. The Kangxi dynasty was the beginning of the renaissance of the Qing dynasty, when the accumulated ills and social tensions of the previous dynasty were greatly alleviated and the dynasty was filled with a sense of exuberance and pioneering spirit from the top down. It is an elegant addition to the table. A similar bottle is in the Shanghai Museum collection, in Kangxi Porcelain in the Shanghai Museum Collection, Plate 221.
Translated with www.DeepL.com/Translator (free version).
Poly Auction Hong Kong Limited. A Romance Among Blooming Roses: The Meiyintang Collection of Three Dynasties Imperial Ceramics, Hong Kong, 2 Dec 2021