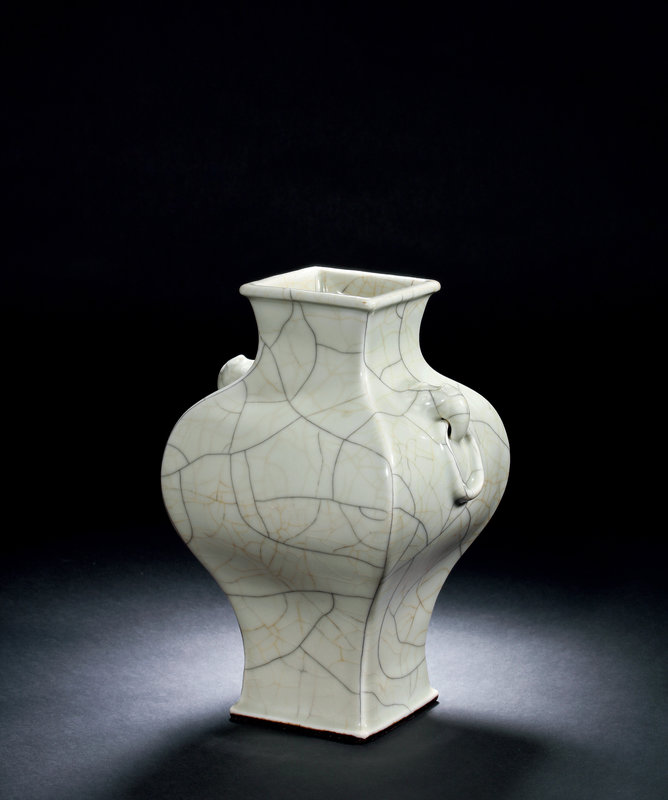 Lot 3593. A Guan-Type Vase, Qianlong Period (1736-1795). H 29.4cm. Sold for HKD 312,000 (Estimate HKD 100,000 - 150,000). © Poly Auction Hong Kong Limited 2022
Shaped in imitation of a bronze vessel with a square lip and square mouth, the short inner neck with a pair of looped doves on each side, the lower part of the belly tapering to a rectangular foot. The foot is broad and flat at the end, covered with a protective brown glaze. The flatter front of the abdomen and the graceful curves of the two sides make for a dignified and imposing form. The official glaze is almost azure in colour, with fine openings all over the vessel; the footrim is flat and painted in iron-brown, giving it an antique appearance.
Provenance: Meiyintang Collection, Switzerland.
Note: During the eighteenth century of the Qing dynasty, the art of porcelain, jade and enamels became popular, imitating ancient objects and taking their shape from bronze and Yi wares. The glaze is fat and moist, and the glaze is interspersed with lines that are unpredictable, decorating porcelain with a naturalistic open glaze that has an antique, simple and dignified aesthetic. The colour of this piece is as smooth as cream, and the openings are clear, with interlocking gold and iron lines, making it extremely aesthetically pleasing and rare.
Translated with www.DeepL.com/Translator (free version).
Poly Auction Hong Kong Limited. A Romance Among Blooming Roses: The Meiyintang Collection of Three Dynasties Imperial Ceramics, Hong Kong, 2 Dec 2021