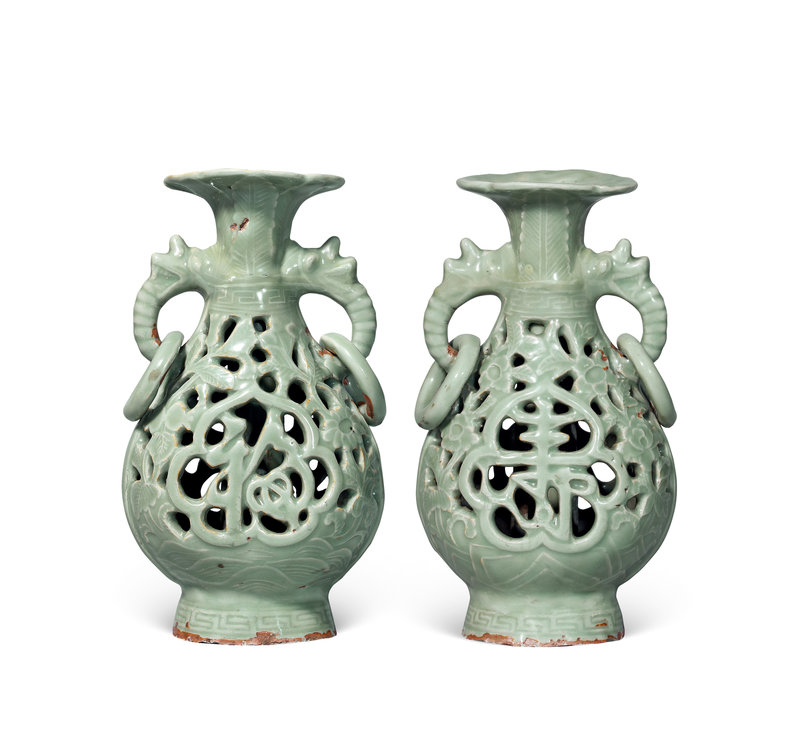 Lot 3594. A Longquan Celadon Openwork 'Felicity and Longevity' Vase With Handles, Yuan Dynasty (1271-1368). H 23.5cm. Sold for HKD 288,000 (Estimate HKD 180,000 - 250,000). © Poly Auction Hong Kong Limited 2022
A jade vase in the form of a spring overlay, with a rounded body and flared footrim, and a begonia-shaped, flared mouth, the neck with two animal-headed, ringed lugs. The two sides of the vase are chased with flower-shaped openings in the centre, each decorated with the characters 'fu' and 'shou' (longevity), accompanied by flowers of the four seasons, including peonies and camellias from the rocks and pomegranates and chrysanthemums from the waves of water. The neck is decorated with a band of banana leaves, and the foot is decorated with a band of formalized waves on the base of the neck. The entire body is glazed in blue, with thin areas of glaze revealing the white colour of the tires. The base of the footrim is exposed and of a brick-red colour. During the Yuan dynasty, the artisans aimed to add interest to the monochrome glaze through the elaborate modelling of the decoration. This vase, in the form of a set, is chased with a hollowed exterior and was a difficult one to produce. It was not until the Qianlong period that this technique was revived for use in decorating blue-glazed porcelain.
Provenance: 1. Choate Gallery, New York
2. Meiyintang Collection, Switzerland.
Publication: Kang Ruijun, Chinese Ceramics from the Meiyintang Collection, Volume 4 (I), London, 1994-2010, p. 4, no. 1605.
Note: A comparable example, with a similar pattern, was sold at Sotheby's, New York, 20 March 2002, no. 121. Carving techniques are common on similar porcelain vases, but few are chased, compare a pair of vases from the Eumorfopoulos Collection, in R. L. Hobson, The George Eumorfopolous collection of Chinese. Corea, Persian Pottery and Porcelain, London, 1925-8, vol. 2, plate XLII, no. B159; another example, from the Baur Collection in Geneva, is in John Ayers, The Baur Collection Geneva: Chinese Ceramics, Geneva, 1968-74. This style of decoration has been inherited in an orderly fashion since the Yuan dynasty, although no chasing is known. Two examples of similar bottles were excavated from the early and mid-Ming strata of the Feng Dongyan kiln site of Longquan kilns, in Porcelain Excavated from the Feng Dongyan Site of Longquan Kilns, Beijing, 2009, plates 112 and 172.
Translated with www.DeepL.com/Translator (free version).
Poly Auction Hong Kong Limited. A Romance Among Blooming Roses: The Meiyintang Collection of Three Dynasties Imperial Ceramics, Hong Kong, 2 Dec 2021