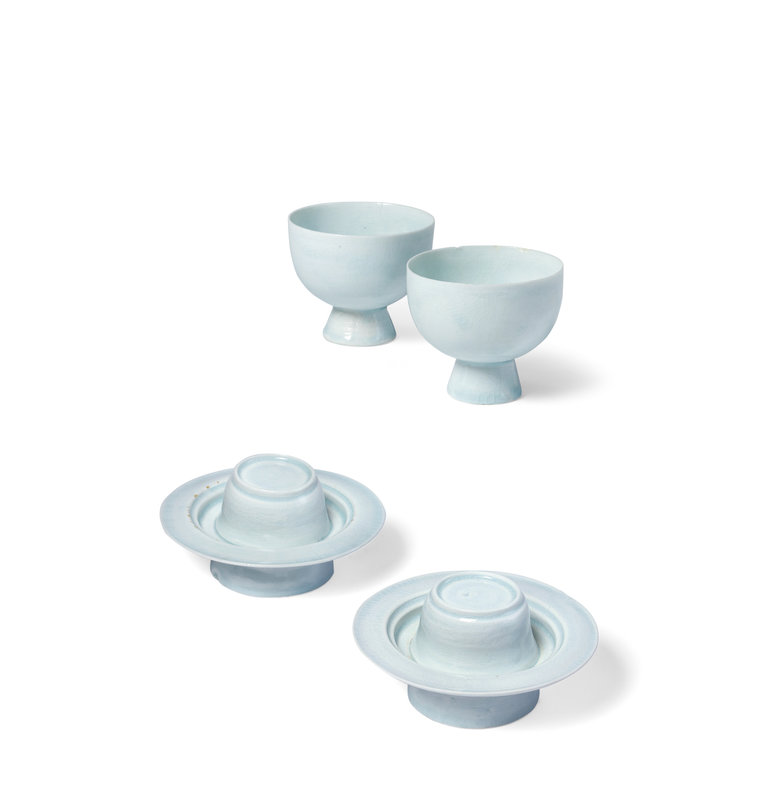 Lot 3595. A Pair of Qingbai-Glazed Cups and Cupstands, Northern Song Dynasty (960-1127). H 12.5cm Cup D 7.4cm; Cupstand D 13cm. Sold for HKD 240,000 (Estimate HKD 150,000 - 200,000). © Poly Auction Hong Kong Limited 2022
The stopper is circular in shape, with a central pedestal that tapers from the top to the bottom, the rim of the pedestal raised on a footrim to hold the cup inside for stability. The cups have open mouths and curved bellies, tapering to the base, and are supported by high, flared footrims. The glaze is rich and green throughout, and the pattern of the panels on the upper part of the cup is sparse and dense, giving it a very elegant and dignified feel.
Provenance: Meiyintang Collection, Switzerland.
Publication: Kang Ruijun, The Meiyintang Collection of Chinese Ceramics, Volume 1, London, 1994-2010, p. 317, no. 592.
Note: The style of tea drinking in China was prevalent in the Song dynasty, and the Song dynasty's Cai Tui Shan Zhongdian has the following to say: "Tea was a fashion that began with the Tang people and flourished in the present dynasty, and the present dynasty was also the time of Yuling when it became extremely new and incomparable. Meng Yuanlao "Tokyo Meng Hua Record Zhuque Men Wai Street" also states: "south of the two East and West Church Square, the rest are residents. The rest are all residents, or tea houses, and the marketplace in the centre of the street is still in full bloom at night. During this period, tea fighting was the order of the day, and the design of tea vessels was based on that of the Tang dynasty, but combined with the Song taste for 'elegance', which led to the creation of a wide variety of shapes and glazes. For example, in Li Kuang-yi's Zixianji, the Tang dynasty, there is a statement that 'at the beginning of the Zheng Yuan period, green and black oil hang was used to line tea bowls in the shape of lotus leaves, which became a separate dish. It is clear that the form of this bottle emerged as late as the Tang dynasty, and that in addition to the rounded cups and cup holders, there is also a flowered mouth for the calendula. Although the entire vessel is pure and unadorned, the interplay of the varied patterns gives it a sense of variety, and although its form and colour are simple, no one in the world can compete with it.
Translated with www.DeepL.com/Translator (free version).
Poly Auction Hong Kong Limited. A Romance Among Blooming Roses: The Meiyintang Collection of Three Dynasties Imperial Ceramics, Hong Kong, 2 Dec 2021