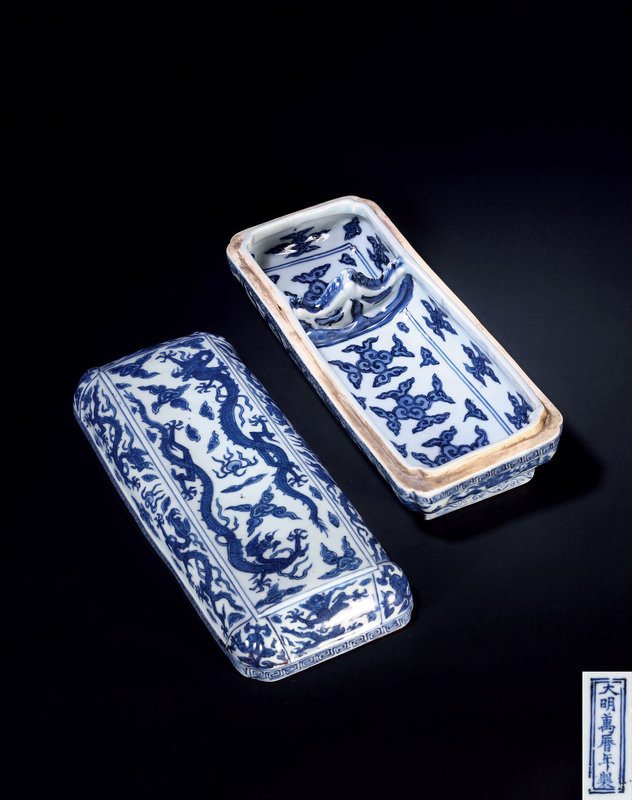 Lot 3401. A blue and white 'dragon' brush box and cover, Wanli mark and period (1573-1620). L 30cm. Sold for HKD 900,000 (Estimate HKD 300,000 - 800,000). © Poly Auction Hong Kong Limited 2022
The pen box is rectangular in shape, with a 'mountain' shaped compartment inside, and was used as a literary tool in the palace workshops to hold pens, the design being quite elaborate, but the firing was not an easy task, as the clay had to be made to a suitable size and then bonded with glazed clay. The exterior of the box and lid are painted in blue and white, the exterior of the box painted with a dragon and cloud motif, and the interior with a 'non' cloud motif. The base of the box is inscribed in regular script from top to bottom with 'Made in the Wanli year of the Da Ming dynasty'. The blue and white colours are rich and colourful, and the layout of the box is well-defined, typical of the Wanli period of the Ming dynasty.
Provenance: 1. Private collection, Japan
2. Christie's Hong Kong, 28 November 2006, no. 1638.
Publication: Kang Ruijun, The Meiyintang Collection of Chinese Ceramics, Volume 1, London, 1994-2010, p. 317, no. 592.
Note: Due to its material and construction, and its age, the pen box is extremely rare in comparison with other lidded boxes. The only other example in the collection of the Umezawa Memorial Museum in Japan that I have found is an identical Wanli blue-and-white rectangular brush box with cloud and dragon motifs, published in Longquan ji fang (Longquan ji fang), vol. 1, callusan longquan tang, 1976, p. 323, fig. 965.
During the Wanli reign, the Official porcelain wares were made with the utmost ingenuity, with an endless variety of forms, ranging from display wares such as dragon jars, jars and screens, to everyday objects such as brush stands and chess pieces.
For a long time, objects imported from China have been treasured and valued in Japan as 'Tang objects'. Nicole Coolidge Rousmaniere, for example, says that in the sixteenth century, at least on the west coast of Japan, Chinese porcelain was treasured and practised by many, see Vessels of Influence. The Japanese appreciated the beauty of Chinese porcelain for use in tea ceremonies and for everyday use. This lot, which has been in circulation in Japan for many years, was appreciated and is presented in a double wooden box, which is treasured and valued.
Translated with www.DeepL.com/Translator (free version).
Poly Auction Hong Kong Limited. Palatial Splendour: Imperial Ceramics and Works of Art, Hong Kong, 2 Dec 2021