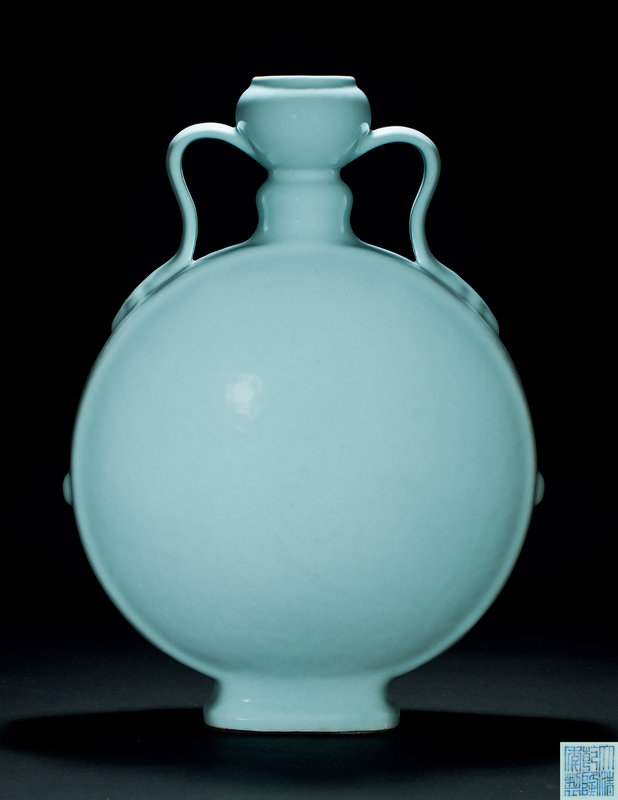 Lot 3412. A Ru-type gourd-shaped moonflask, Qianlong mark and period (1736-1795). H 51cm. Sold for HKD 1,200,000 (Estimate HKD 1,000,000 - 1,800,000). © Poly Auction Hong Kong Limited 2022
Provenance: 1. English private collection
2. Old Alice Boney Collection, acquired in the United States in the 1940s.
The Qianlong emperor was particularly fond of antiquity, so the imperial kilns of the Qianlong reign were full of copies and imitations of famous porcelains of the past. The mouth and shoulders are symmetrically decorated with ruyi lu ('wishful thinking') ears, the lines of which are smooth and graceful, giving the overall form a beautiful stability. This elegant and dignified bottle has a pure and clear colour, with a glaze that is not inferior to that of the pink and blue glazes. The delicate and soft touch of the bottle's rounded, flattened body and the graceful, flexible handles make for a stable, yet elegant form that is reminiscent of the exquisite craftsmanship of the bottle.
The entire vessel is of great size, with a rigid yet fluid form and a finely finished, almost imperceptible joint, and a very well-finished foot. The overall form is magnificent and elegant. The freshness of the glaze and the beauty of the form are a hallmark of imperial porcelain of the Qing dynasty. It is comparable to a Qianlong famille-rose blue and blue vase, no. 5711, Poly, Beijing, 6 December 2019, and an example in the Shizukado Collection, Japan, all three of the same shape and size, for reference.
The two Yin Zhen fathers and sons consciously advocated an ideal aesthetic style of craftsmanship with their personal aesthetic training and aesthetic preferences, using the famous Song wares and the Yong Xuan imperial kilns as models for their porcelain wares, devoting themselves to imitating the antique and seeking authenticity, but at the same time not confining themselves to mere imitation, focusing on innovation within the traditional composition, drawing on the original craft forms and decorations for interpretation, and combining them to create a new style with contemporary characteristics and a new auspicious meaning. This is a new style with contemporary characteristics and a new auspicious meaning, thus establishing a new classical aesthetic character. This spirit is particularly evident in fine imperial porcelain, of which the present example is a fine example. The combination of the new and bright glaze with the new antique form is rare.
Translated with www.DeepL.com/Translator (free version).
Poly Auction Hong Kong Limited. Palatial Splendour: Imperial Ceramics and Works of Art, Hong Kong, 2 Dec 2021