Reliquary in the Shape of a Stupa. China, Song dynasty, 986. Silver, 14 in. (35.6 cm). Brooklyn Museum; Gift of Mrs. Walter N. Rothschild and anonymous gift, by exchange, 2012.5a-d. Photo: Brooklyn Museum.
BROOKLYN, NY.- The new home for the Arts of Asia and the Islamic World creates cross-cultural dialogue among collection areas and highlights diverse aesthetic, creative, social, and intellectual accomplishments across Asia and around the Mediterranean, from ancient times to the present day. These newly renovated galleries on the Museum's second floor feature Asian and Islamic artworks in bespoke casework enhanced by state-of-the-art lighting. The renovations create greater flexibility, facilitating the rotation of installation objects to showcase a wider range of materials.

Arts of South Asia and Arts of the Islamic World will be the final galleries on the floor to reopen, marking the first time in ten years that artworks from across these collections—which boast more than seventeen thousand objects, including sculptures, textiles, paintings, ceramics, drawings, prints, carvings, decorative arts, metalwork, and other artifacts—will be on view. Previous openings include the Arts of Korea gallery in 2017, the Arts of China and Arts of Japan galleries in 2019, the Arts of Southeast Asia gallery in 2021, and the Arts of Buddhism and Arts of the Himalayas galleries in 2022.

"We are thrilled for the long-awaited conclusion of this project," says Joan Cummins, Lisa and Bernard Selz Senior Curator, Asian Art, Brooklyn Museum. "The new installation encourages a rich and nuanced understanding of the collections' diversity and encyclopedic scope, ranging from Japanese guardian figures to Indian miniature paintings, from Chinese cloisonné altarpieces to Korean celadons. All objects were chosen and interpreted with an eye toward deepening understandings of the many facets of Asian cultural heritage. Future rotations of artworks will reintroduce different elements of our fantastic collections to our visitors."

"It's been a pleasure to bring the entirety of the floor back on view, which hasn't been displayed in its full glory since 2012," says Anne Pasternak, Shelby White and Leon Levy Director, Brooklyn Museum.

"We are particularly eager for visitors to engage with our Arts of the Islamic World collection, which showcases the creative and intellectual diversity of Islamic art in religious and secular contexts from different periods and regions in Asia, Africa, and Europe," says Ayşin Yoltar-Yıldırım, Hagop Kevorkian Associate Curator of Islamic Art, Brooklyn Museum.
ARTS OF SOUTH ASIA

The Museum's collection of South Asian art includes extensive and important holdings of stone, metal, and wood sculptures, manuscript paintings, and decorative arts dating from the third millennium B.C.E. to the present. Particular strengths include early terracotta sculptures, Rajput miniature paintings, and Hindu temple sculptures from northern and central India. Several objects are on view for the first time in decades, including a tiny stone seal from the Indus Valley civilization of ancient Pakistan, six carved stone window screens (jalis) from a Rajasthani building, and a newly conserved, embroidered tent panel depicting scenes from romantic tales.

This gallery's presentation of 123 objects emphasizes the sacred and secular traditions that have inspired the aesthetics and symbolism of art from South Asia. A large section is devoted to the arts of Hinduism, with introductions to the religion's major deities. Other sections feature India's earliest art-making traditions and objects made in service of the Jain religion. Architectural elements from wood and stone temples and other buildings are installed in a manner that evokes their original settings. Additionally, a section on the later arts of India, including those inspired by Islam, features decorative objects, architectural elements, paintings, and textiles.
ARTS OF THE ISLAMIC WORLD
This gallery displays 143 objects from Asia, Africa, Europe, and North America spread across fourteen centuries and mediums including textiles, ceramics, works on paper, metalwork, and glass. The geographical swath represented in the galleries exemplifies the extent of Islam's wide influence. Highlights include furnishings from religious and palatial buildings, a large, low-lying case of ceramic and glass vessels for food and drink, and the Museum's important collection of Qajar paintings from Iran.
Divided into sections dedicated to religious and secular works, the gallery presents diverse artistic developments in regions where Islam became a dominant faith and political power. Objects from different areas or periods appear side by side, showing how various Islamic traditions adopted artistic concepts.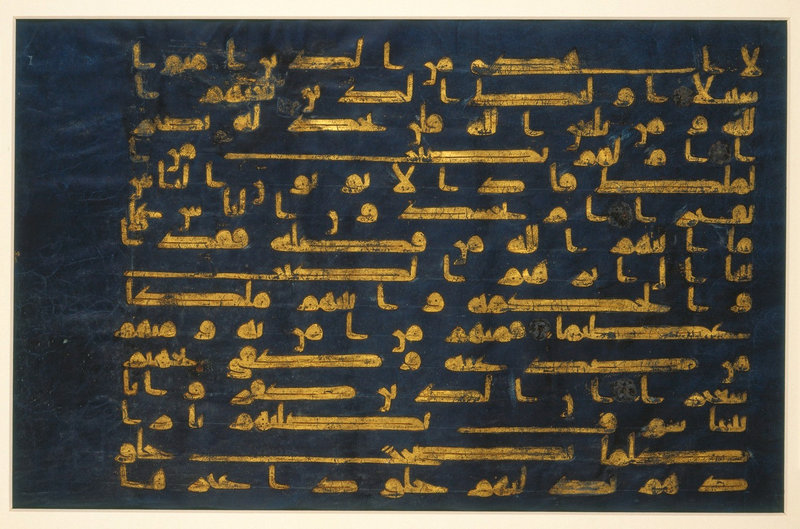 Folio from the "Blue" Qur'an, North Africa or Iraq (?), 9th-10th century. Ink, gold, and silver (now oxidized) on blue-dyed parchment, 11 3/16 x 15 in. (28.4 x 38.1 cm). Brooklyn Museum, Gift of Beatrice Riese, 1995.51a-b. Photo: Brooklyn Museum
Bowl with Kufic Calligraphy, Greater Khurasan or Northeast Iran, 10th century. Ceramic; earthenware, painted in brown slip on a white slip ground under a transparent glaze, 5 1/16 in. (12.9 cm). Brooklyn Museum, Gift of the Ernest Erickson Foundation, Inc., 86.227.8. Photo: Brooklyn Museum.
In Arabic (Kufic script), "التدبیر قبل العمل یؤمنک من الندم، الصبر مففتاح الفرج" [Planning before work protects from regrets; patience is the key to comfort]. The two proverbs written on this bowl are attributed to Imam `Ali. The proverbs were published by Abdullah Ghouchani in "Inscriptions on Nishapur Pottery" (1986, see Bibliography for full citation in English and Persian). In Arabic (Kufic script), "Planning before work protects from regrets; patience is the key to comfort." The two proverbs written on this bowl are attributed to Imam `Ali. The proverbs were published by Abdullah Ghouchani in "Inscriptions on Nishapur Pottery" (1986, see Bibliography for full citation in English and Persian). Inscription read by Abdullah Ghouchani.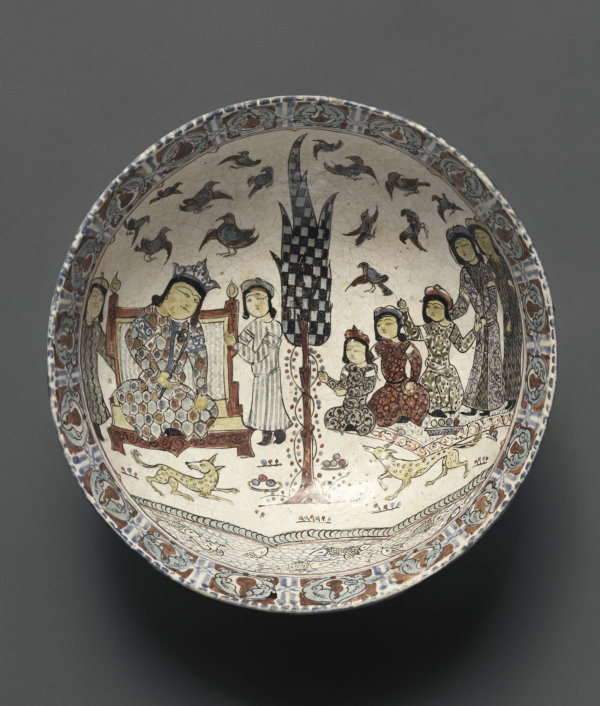 Bowl with an Enthronement Scene, Iran, Seljuq Period, late 12th-early 13th century. Ceramic, mina'i (enameled) or haft rangi (seven colors) ware; in-glaze painted in blue, turquoise, and purple on an opaque white glaze, overglaze painted in red and black, with leaf gilding, 3 3/16 x 8 1/4 in. (8.1 x 21 cm). Brooklyn Museum, Gift of the Ernest Erickson Foundation, Inc., 86.227.61. Photo: Brooklyn Museum.
Top Section of a Water Jug, Irak, Syria or Turkey (Jazira region), late 12th-early 13th century. Ceramic; earthenware, pierced decoration, 12 x 14 1/4 x 14 1/4 in. (30.5 x 36.2 x 36.2 cm). Brooklyn Museum, Gift of The Roebling Society, 73.30.6. Photo: Brooklyn Museum.
Top of a large water cistern or cooler of porous clay. It has an elaborate molded and incised ornament of human and animal figures in vegetative motifs in ogival panels, which constitute a decorative screen for an air space 1 1/4" thick. Center motif is of a seated figure on a throne with a cup, a symbol of office in his left hand, perhaps in the manner of a Seljuk sultan. He is dressed in a long embroidered robe, riding boots and a conical fur brimmed hat from which 2 pigtails dangle. Surrounding the seated figure is an open-work intertwined arabesque ornament. Surmounting this are two confronting birds with heads turned towards their tails. Flanking the seated figure to right and left are standing guards dressed in early 13th century Seljuk fashion, one of whom carries a sword. The standing figure on the right is faceless and probably was also carrying a sword, but it is absent. Next to the guards are crowned, winged sphinxes with tails terminating in a dragon head. The handle emerges from a straight piece is jagged with several missing sections.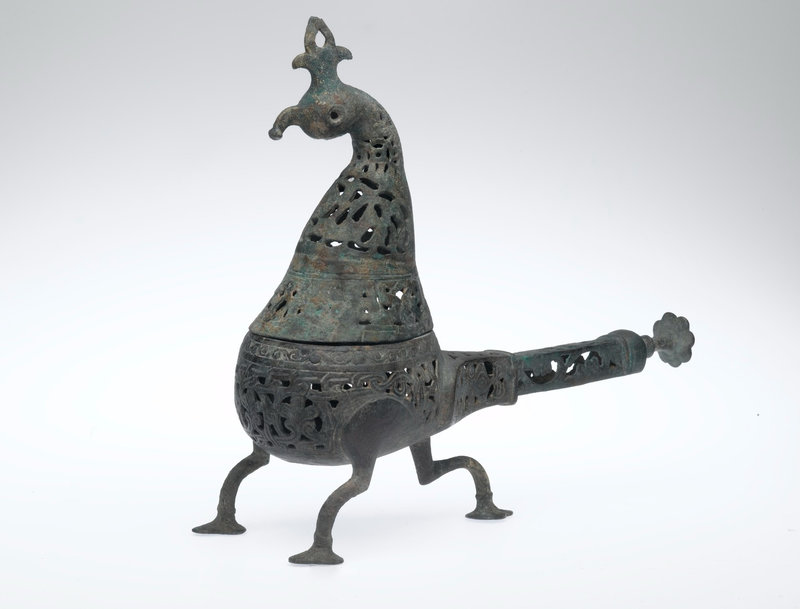 Incense Burner in Shape of a Peacock, Iran, Seljuk period, 12th-13th century. Copper alloy, pierced and engraved, 10 1/2 x 11 1/2 in. (26.7 x 29.2 cm). Brooklyn Museum, Special Middle Eastern Art Fund, 70.98.1. Photo: Brooklyn Museum.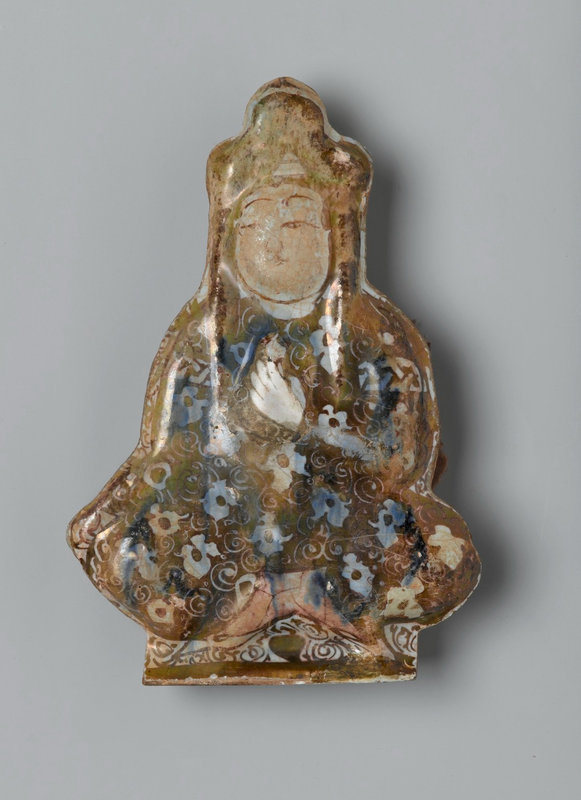 Tile in the Shape of a Seated Figure, Iran (probably Kashan), early 13th century. Ceramic; fritware, molded and painted in luster and cobalt blue on an opaque white glaze, 5 1/2 x 4in. (14 x 10.2cm). Brooklyn Museum, Gift of the Ernest Erickson Foundation, Inc., 86.227.69. Photo: Brooklyn Museum.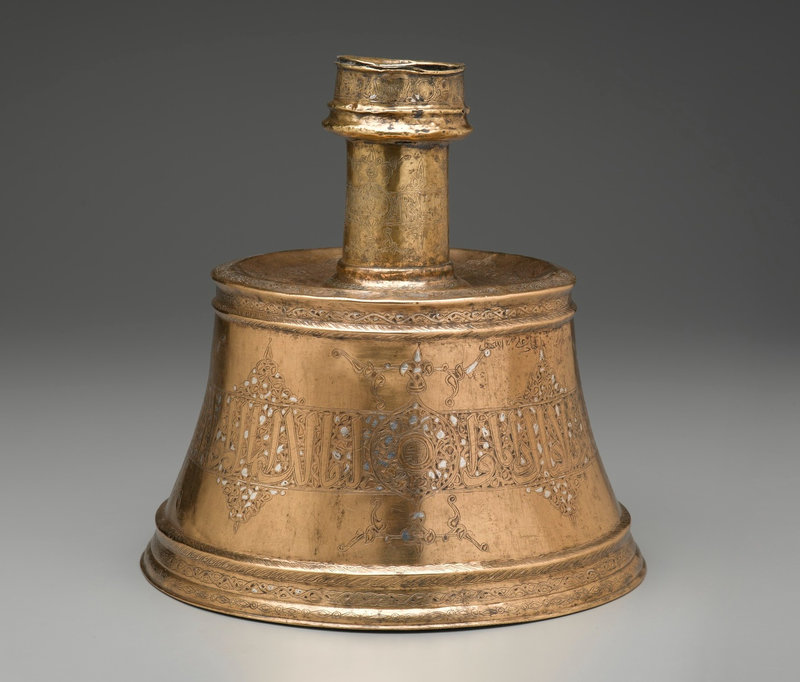 Candlestick with Arabic Inscriptions in Thuluth, Naskh, and Kufic Scripts, Egypt or Syria, Mamluk Period, first half of the 14th century. Copper alloy, punched, engraved, and inlaid with silver, 11 3/4 in. (29.8 cm). Brooklyn Museum, Gift of the Ernest Erickson Foundation, Inc., 86.227.197. Photo: Brooklyn Museum.
The Arabic inscription on the base of this candlestick reads, "Perpetual glory and prosperity and long life to you, O great master [of] long lived fame. Fame and glory and long life. Nobility everlasting." An abbreviated inscription appears above on the candlestick's socket: "Glory and prosperity and and [sic] long life to you, O great master of long-lived fame."
Celestial Sphere, possibly Iran, 18th century. Copper alloy, height: 7 in. (17.8 cm). Brooklyn Museum, Museum Collection Fund, 20.993. Photo: Brooklyn Museum.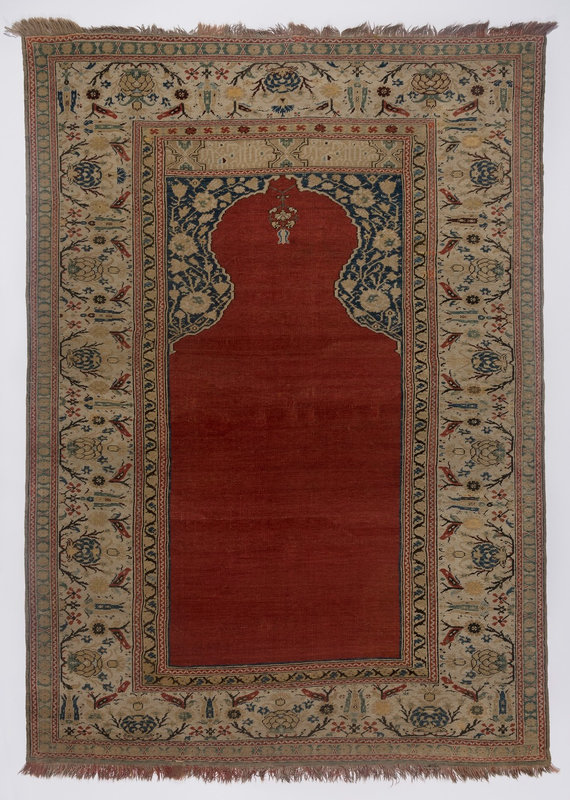 Prayer Rug, Turkey (Gördes), Ottoman period, 18th century. Wool warp, weft and pile, New Dims 2005: 73 1/2 x 51 in. (186.7 x 129.5 cm). Brooklyn Museum, Gift of the Ernest Erickson Foundation, Inc., 86.227.120. Photo: Brooklyn Museum.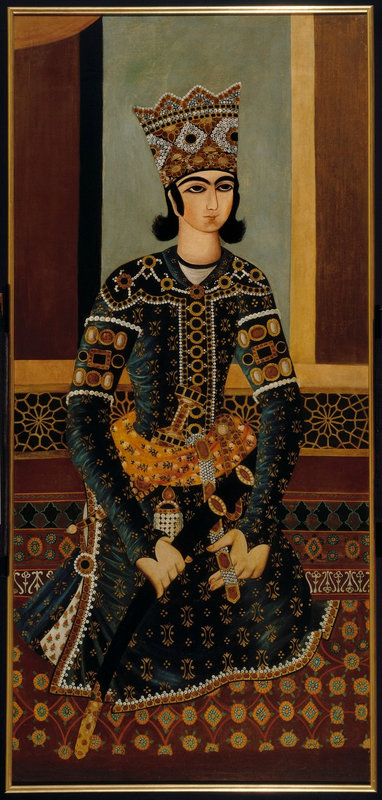 Seated Prince, Iran, Qajar period, ca. 1825. Oil on cotton (framed, conserved), 62 x 29 in. (157.5 x 73.7 cm). Brooklyn Museum, Gift of Mr. and Mrs. Charles K. Wilkinson, 70.62.2. Photo: Brooklyn Museum.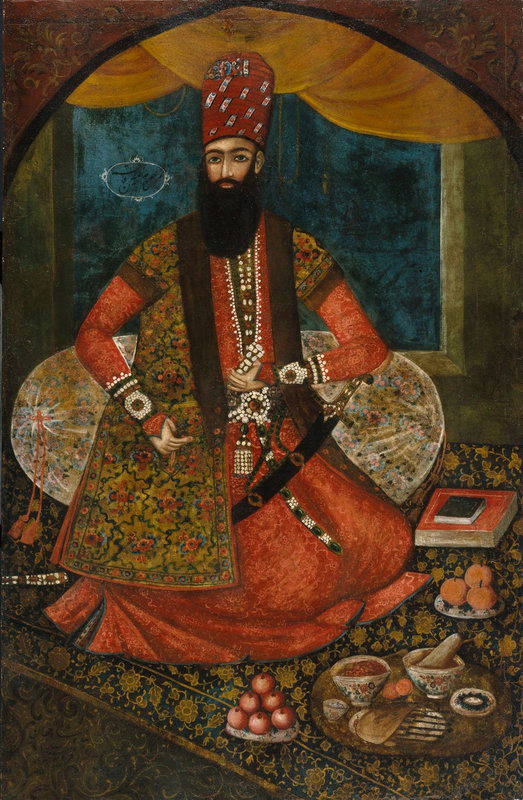 Portrait of the late Emir Qasim Khan, Iran, Qajar period, 1855. Oil on canvas, 59 x 37 in. (149.9 x 94 cm). Brooklyn Museum, Gift of Mr. and Mrs. Charles K. Wilkinson, 73.145. Photo: Brooklyn Museum
Water Pitcher, Iran, (Qum), Qajar Period, 19th century. Translucent deep blue glass; free blown, applied, pinched, and gilded; tooled on the pontil, 10 1/4 x 7 1/2 x 4 5/16 in. (26 x 19 x 11 cm). Brooklyn Museum, Henry L. Batterman Fund, 47.203.19. Photo: Brooklyn Museum.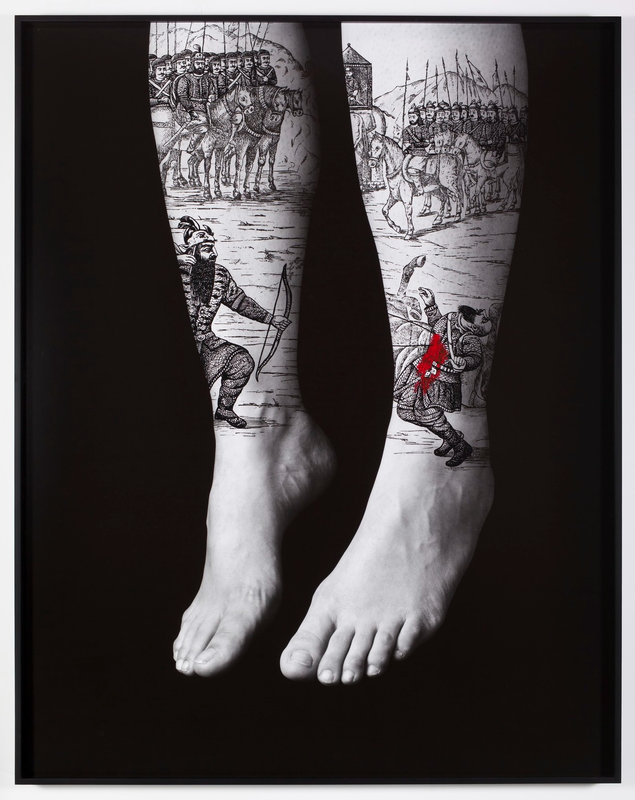 Shirin Neshat (Iranian, born 1957). Divine Rebellion, 2012. Acrylic on laser-exposed gelatin silver photograph, 62 x 49 in. (157.5 x 124.5 cm). Brooklyn Museum, Bequest of Samuel Zachary Gitlin and Mary Hayward Weir, gift of Dr. Richard Bassin, Bessemer Trust Company, IBM Gallery of Science, and David Saks, by exchange and Alfred T. White Fund , 2012.22. © artist or artist's estate. Photo: Image Courtesy the artist and Gladstone Gallery, New York and Brussels.
ARTS OF BUDDHISM
Drawing on multiple areas of the Asian art collection, the 68 objects in the Arts of Buddhism gallery focus on the exchange of ideas between regions and cultures, serving as an introduction to the tenets and history of the religion. Through the juxtaposition of images from diverse traditions and historical periods, the installation illustrates the mix of continuity and innovation that has characterized Buddhist art throughout Asia.
Among the objects on view are several of the Museum's masterpieces, including a rare eighth-century image of the goddess Tara from Odisha, India; a Chinese silver reliquary dedicated by a Buddhist monk and his mother; and a gilt bronze seated Buddha from southern China. As part of the inaugural installation of the gallery, a pair of rare, beautifully preserved fourteenth-century Japanese mandala paintings is on view for the first time in twenty-five years.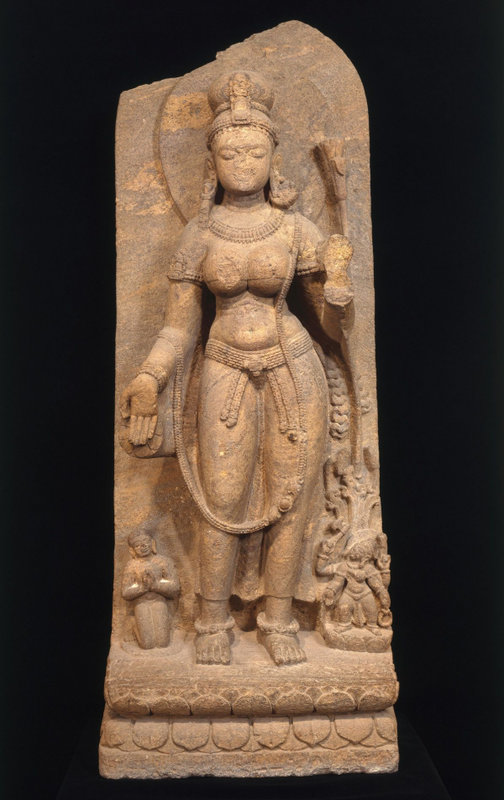 Green Tara, India, 8th century. Khondalite or gneiss, 67 3/8 x 26 x 17 1/2 in., 1109 lb. (171.2 x 66 x 44.5 cm, 503.04kg). Brooklyn Museum, Carll H. de Silver Fund and Ella C. Woodward Memorial Fund, 60.138. Photo: Brooklyn Museum.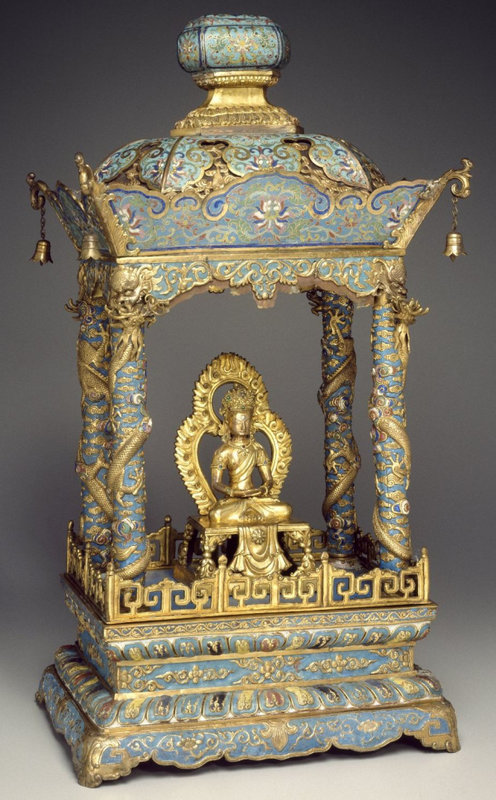 Shrine with an Image of the Buddha Amitayus. China, Qing dynasty, Qianlong period, 1736–95. Enamel on copper alloy, gilt bronze, semiprecious stones, 25 1/4 ×14 3/8 ×10 5/8 in. (64.1 ×36.5 ×27 cm). Brooklyn Museum; Gift of Samuel P. Avery, Jr., 09.520a-b. Photo: Brooklyn Museum.
ARTS OF THE HIMALAYAS

In March 2022, the Museum opened a gallery devoted to Himalayan art for the first time. Himalayan Asia, which includes the Tibetan Plateau and surrounding regions, is a geographic and cultural crossroads between South, East, and West Asia. The Museum's small but significant collection of 23 Himalayan artworks reflects the region's diverse influences and distinctive cultures and traditions. The approximately thirty standout objects on display are mostly devotional in nature, representing both Buddhist and Hindu traditions. They include a painted wood sculpture of a Nepalese goddess, stone reliefs, and smaller treasures including bronze, stone, and ivory sculptures as well as a rare bone apron.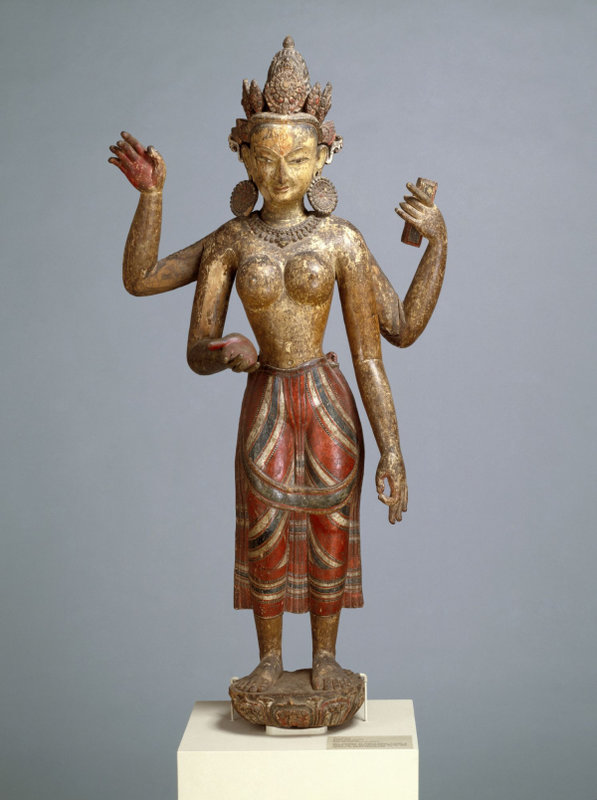 Vasudhara, Nepal, 16th century. Polychromed wood, 53 3/4 x 24 x 15 1/2 in. (136.5 x 61 x 39.4 cm). Brooklyn Museum, Gift of Dr. Bertram H. Schaffner, 86.137. Photo: Brooklyn Museum.
ARTS OF SOUTHEAST ASIA

The 35 objects in the Arts of Southeast Asia gallery represent nearly a millennium of history, celebrating the distinct cultural, aesthetic, and religious traditions of the lands now called Thailand, Cambodia, Vietnam, and Indonesia. The Museum's collection focuses on the remains of important ancient kingdoms, which built large stone or brick temples dedicated primarily to the deities of Hinduism and Buddhism. At the gallery's center is a trio of standing figures, sculpted in stone in Cambodia between the tenth and twelfth centuries. Also notable is a handsome fragment of a Thai bronze Buddha sculpture dating to the late fourteenth or early fifteenth century.

Interpretation of the objects focuses on how they were made and used, and by whom. In the case of figural imagery, interpretative text examines religious and royal iconography. While the objects are arranged by region of origin, labels point to moments of intersection when regions traded ideas and forms.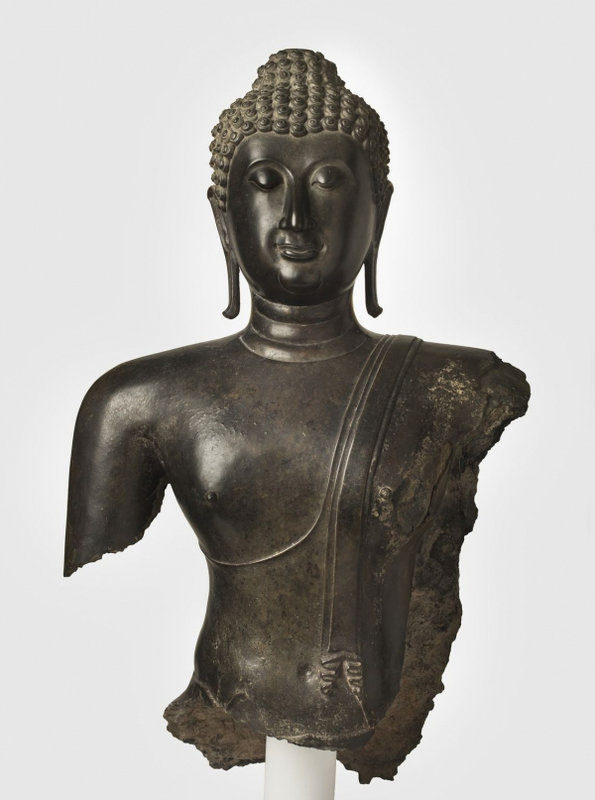 Head and Torso of a Buddha, Thailand, 14th century. Bronze, 38 x 22 1/2 x 11 in., 189 lb. (96.5 x 57.2 x 27.9 cm, 85.73kg). Brooklyn Museum, Purchased with funds given by the Charles Bloom Foundation, Inc., in memory of Mildred and Charles Bloom, 88.94. Photo: Brooklyn Museum.
ARTS OF CHINA

Highlighting five thousand years of Chinese artistic accomplishments and their rich diversity, this gallery includes bronzes, ceramics, paintings, and selections from the Museum's unrivaled collection of cloisonné enamels. Many of the installation's 135 works had not been on view for decades prior to the gallery's reopening in 2019. Key subjects include funerary arts related to early Chinese tombs and burials; ritual objects related to ancestor worship, Buddhism, and Daoism; and the arts of the imperial court and scholar-officials.

Notably, this nearly encyclopedic display of Chinese artworks includes contemporary art. Since 2014, the Museum has acquired over fifty contemporary paintings and sculptures by artists of Chinese descent, which are displayed on a rotating basis in the gallery, often in conversation with historic works.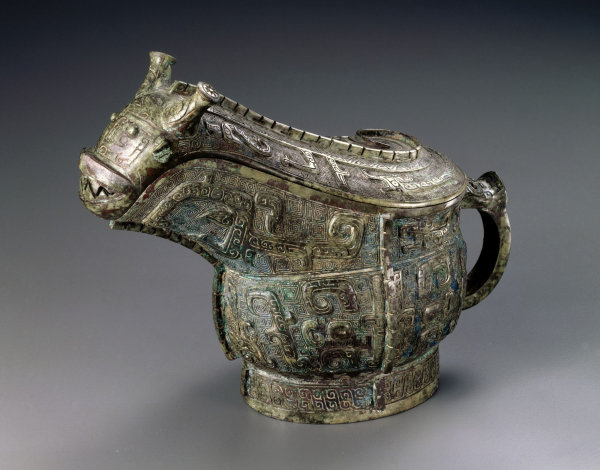 Ritual Wine Vessel (Guang), China, late Shang dynasty, 13th-11th century B.C.E. Bronze, 6 1/2 x 3 1/4 x 8 1/2 in. (16.5 x 8.3 x 21.6 cm). Brooklyn Museum, Gift of Mr. and Mrs. Alastair B. Martin, the Guennol Collection, 72.163a-b. Photo: Brooklyn Museum.
This Shang-dynasty guang is the finest Chinese ritual bronze in the Museum's collection. The lid is shaped like a dragon with a maniacal, toothy grin and protruding horns while the handle forms another beast. On the sides are two demon masks (taotie) with horns, fangs, and bulging eyes, and another two are found under the chin and tail of the beast. In total, twenty dragons, birds, and mythical creatures morph into each other on the lid and body of the vessel, illustrating the spiritual transformation that the ancient Chinese believed occurs when communicating with ancestors, or when leaving this world for the afterlife to become an ancestor oneself. Such vessels were used for pouring wine offerings on ancestral altars or during ritual banquets by Shang kings, who served as the communication links between the living and their ancestors.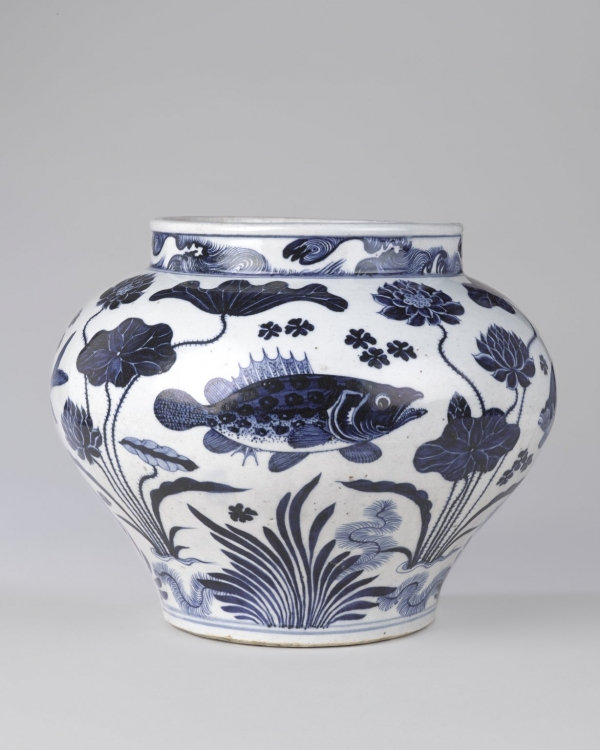 Wine Jar with Fish and Aquatic Plants, China, Yuan dynasty, 14th century. Porcelain with underglaze cobalt blue decoration, 11 15/16 x 13 3/4in. (30.3 x 34.9cm). Brooklyn Museum, The William E. Hutchins Collection, Bequest of Augustus S. Hutchins, 52.87.1. Photo: Brooklyn Museum.
This masterpiece of Chinese porcelain is an important example of early blue-and-white ware from the imperially sponsored kilns of Jingdezhen in Jiangxi province. Four fish—mackerel, whitefish, carp, and freshwater perch—are depicted swimming along the hip of the vessel; their Chinese names form a rebus for the phrase "honest and incorruptible" (qingbai lianjie). The visual wordplay suggests that the jar may have been made for an elite clientele who, it was hoped, would be inspired by the rebus's message of rectitude while drinking their wine. The twisting leaves and stems of the eelgrass, blossoming lotuses, and other flora elegantly frame the fish and evoke the teeming pulse of the ocean. The mineral cobalt for the rich blue color was imported from western Asian sources, and similar porcelains were often made for the Middle Eastern export market.
The wine jar was part of a large bequest of Chinese ceramics from the Hutchins family collection in Long Island. The Brooklyn Museum curator George Lee (active 1949–59) described finding the vessel when he went to survey the collection in 1952: After other ceramics were loaded onto the Museum's truck, he went to the garage to wash his hands. There, he found this wine jar below the sink, catching water drops. It was put on the truck and would become one of the Museum's greatest treasures.
ARTS OF JAPAN

This gallery's 66 artworks trace over two thousand years of innovation in Japanese art, including Buddhist temple sculptures, ukiyo-e prints, paintings, and lacquerware. Among the masterworks on display is an oversized painted wood head of a thirteenth-century guardian figure, with bared teeth and glinting crystal eyes, that stood in a Buddhist temple to ward off enemies. A large area has been set aside for the Museum's growing collection of ceramics by contemporary artists, often juxtaposed with related historic pieces. Displayed prominently is a presentation of Ainu artifacts, unparalleled outside Japan, that points to the cultural diversity within the country—an important facet often overlooked by Western scholars.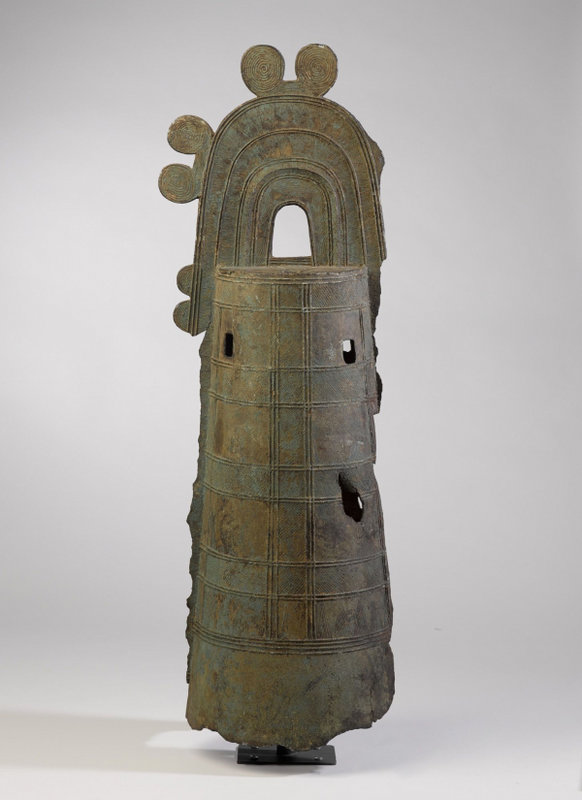 Bell-Shaped Ritual Object (Dotaku), Japan,Middle to Late Yayoi Period, 100-300 C.E. Bronze, 34 1/2 x 11 1/2 in. (87.6 x 29.2 cm). Brooklyn Museum, Gift of Mr. and Mrs. Milton J. Lowenthal, 67.198. Photo: Brooklyn Museum.
Bronze objects known as dōtaku have been found deliberately buried along with other ritual objects at ancient agricultural sites throughout the western part of Honshū Island. Although their shape is clearly inspired by that of a hanging bell, they do not ring when struck because their walls are too thinly cast. The purpose of the dōtaku remains mysterious, but the fact that they were buried suggests that they were offerings for the earth, probably made as part of rituals to ensure bountiful crops.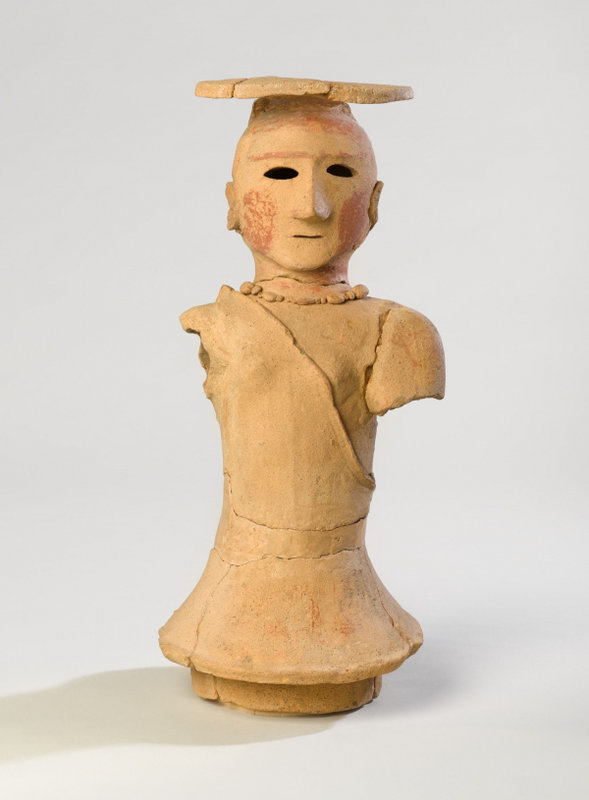 Haniwa. Figure of a Woman, Japan, Kofun period, 5th-6th century. Earthenware with traces of pigment, 18 x 8 3/4 x 7 1/2 in. (45.7 x 22.2 x 19.1 cm). Brooklyn Museum, Gift of Mr. and Mrs. Stanley Marcus, 79.278.1. Photo: Brooklyn Museum.
Clay cylinders called haniwa were set into the ground around the large funerary mounds created during Japan's Kofun period (circa 300–538 C.E.). Their original purpose was probably to mark and protect the periphery of the tomb. Many haniwa have been decorated to resemble houses, animals, or people; these likely represented the entourage and possessions that the deceased would need in the afterlife.
The figural haniwa appears to represent a female of high status, with jewelry and a shelf-like headdress. It is unusual that the pigment on her face and body survives. Because of her distinctive facial markings, she is sometimes identified as a holy woman or shaman, but it may be that many different types of women marked their faces during this period.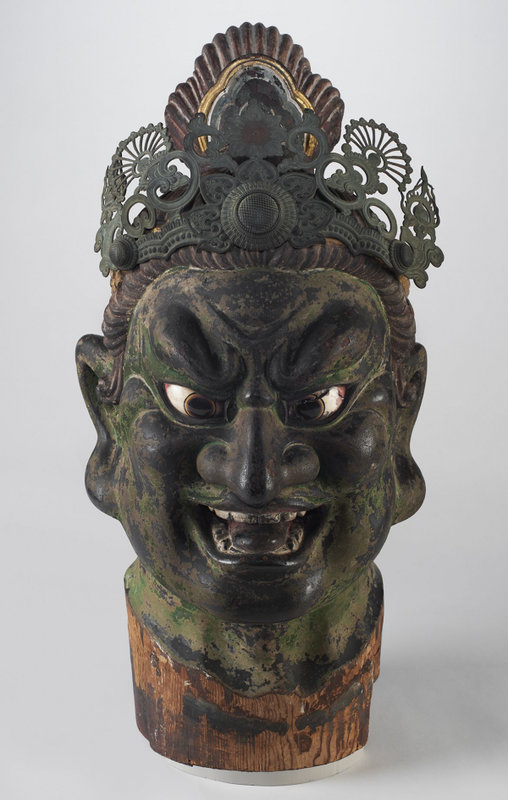 Head of a Guardian, Japan, Kamakura period (1185-1333), 13th century. Hinoki wood with lacquer on cloth, pigment, rock crystal, metal, 22 1/16 x 10 1/4 x 13 15/16 (56.0 x 26.0 x 35.5 cm). Brooklyn Museum, Gift of Mr. and Mrs. Alastair B. Martin, the Guennol Collection, 86.21. Photo Brooklyn Museum.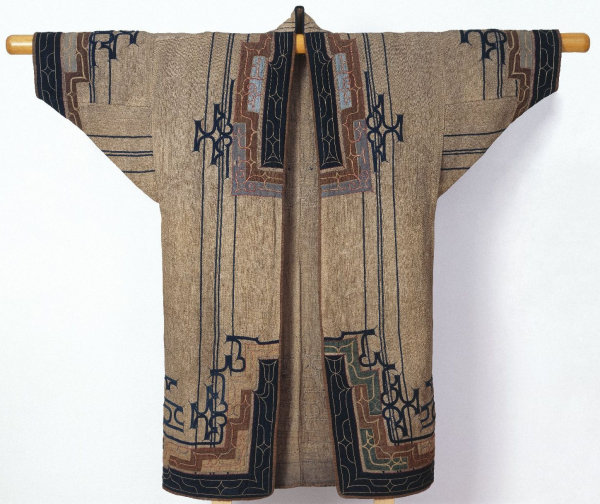 Ainu. Woman's Robe, late 19th-early 20th century. Elm bark fiber cloth (attush) with appliqué and embroidery, 49 5/8 x 52 3/8 in. (126 x 133 cm). Brooklyn Museum, Gift of Herman Stutzer, 12.690. Photo: Brooklyn Museum.
ARTS OF KOREA

A pioneer in the collection and display of Korean art, the Museum has amassed one of the country's premier Korean art collections and was one of the first U.S. museums to establish a permanent Korean art gallery. The approximately ninety-five objects on view occupy a gallery triple the size of the original space and include ceramics, paintings, textiles, costumes, furniture, sculptures, metalwork, glass, arms and armor, and other decorative arts from the Three Kingdoms period to the early twentieth century. Objects of note include the twelfth-century Ewer in the Shape of a Lotus Bud, considered one of the world's finest Korean ceramics on account of its delicate modeling and restrained decoration, and elaborate sixth-century earrings that demonstrate the diffusion of art-making techniques across the Silk Routes that connected East and West.
Pair of Earrings, Korea, Unified Silla period, 6th century C.E. Gold, probably over a lacquer core, Length of each earring: 3 9/16 in. (9 cm). Brooklyn Museum, Gift of Theodora Wilbour and Jane Van Vleck, by exchange and Designated Purchase Fund, 2013.3a-b. Photo: Brooklyn Museum.
Royal tombs near the Silla capital city, Gyeongju, in southeast Korea, have yielded sophisticated gold adornments including crowns and earrings. Elaborate pendants like these were either worn as earrings or suspended from the sides of royal crowns to mimic earrings. Granulation, or decoration with small individual gold beads, is applied to the sheathing of the earrings' upper segment and used to outline the individual leaf shape of the gold spangles and lower leaves. The technique is thought to have developed in Mesopotamia around the eighteenth century B.C.E. and then spread to the Persian, Greek, and Roman empires, eventually traveling across the great Central Asia trade routes to China and the rest of East Asia. Its diffusion demonstrates the importance of Silk Road trade to East Asian material culture.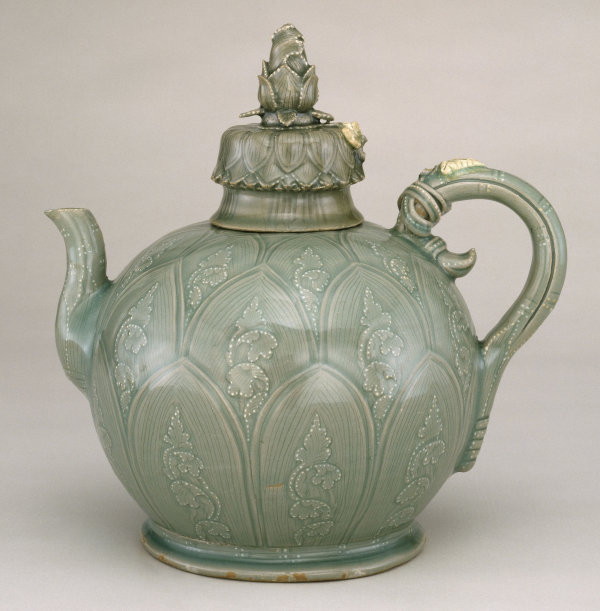 Ewer with Cover, Korea,Goryeo dynasty, first half 12th century. Stoneware with underglaze slip decoration and celadon glaze, 9 7/8 x 9 1/2 x 5 1/2 in. (25.1 x 24.1 x 14 cm). Brooklyn Museum, Gift of Mrs. Darwin R. James III, 56.138.1a-b. Photo: Brooklyn Museum.
With its delicate modeling and restrained decoration, this botanically inspired vessel is considered one of the finest Korean ceramics in existence. The lid and body have fired to slightly different tones of green—probably because they were in separate areas of the kiln—but we know that they belong together, because the tiny white moth on the lid appears directly opposite the cocoon, from which it has just emerged, on the handle. Whereas the body of the ewer is made of light gray clay, the moth and cocoon are in white porcelain, a material that was new to Korean potters at the time. Also new was the addition of tiny white spots of slip (liquid clay) to highlight various elements of the vessel: these are a precursor to the inlaid decoration that would become the signature ornamentation on later Goryeo celadons.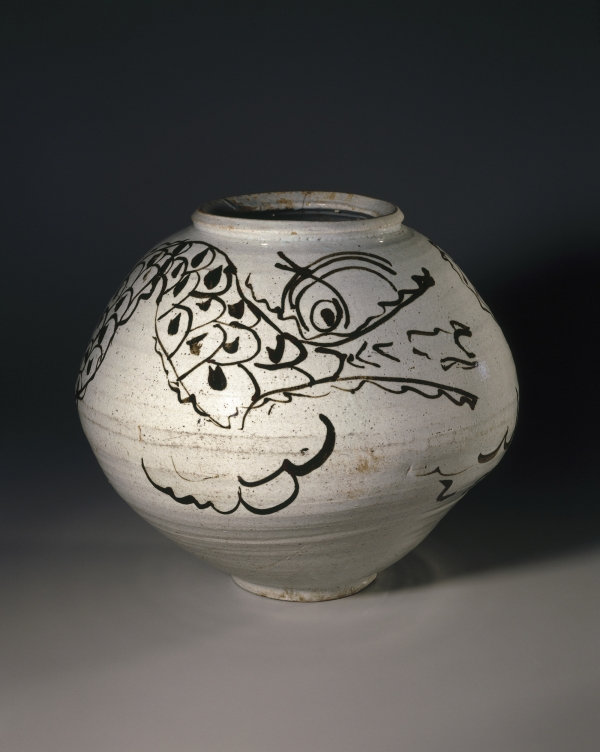 Dragon Jar, Korea, Joseon dynasty, mid 17th century. Porcelain with iron-painted decoration under clear glaze, overall: 12 11/16 x 14 9/16 in. (32.2 x 37 cm). Brooklyn Museum, Gift of the Asian Art Council, 86.139. Photo: Brooklyn Museum.
By the seventeenth century, porcelain had overtaken stoneware as the ceramic of choice for wealthy Koreans and underglaze brown—once favored for decoration of Buncheong stonewares—enjoyed a brief revival, this time on porcelain vessels. These large, bulbous storage jars were formed by joining two bowls, one inverted on top of the other. The swelling surfaces of the jars give dimension and energy to curvilinear forms, as seen in particular in the swirl of the highly abstracted dragon.