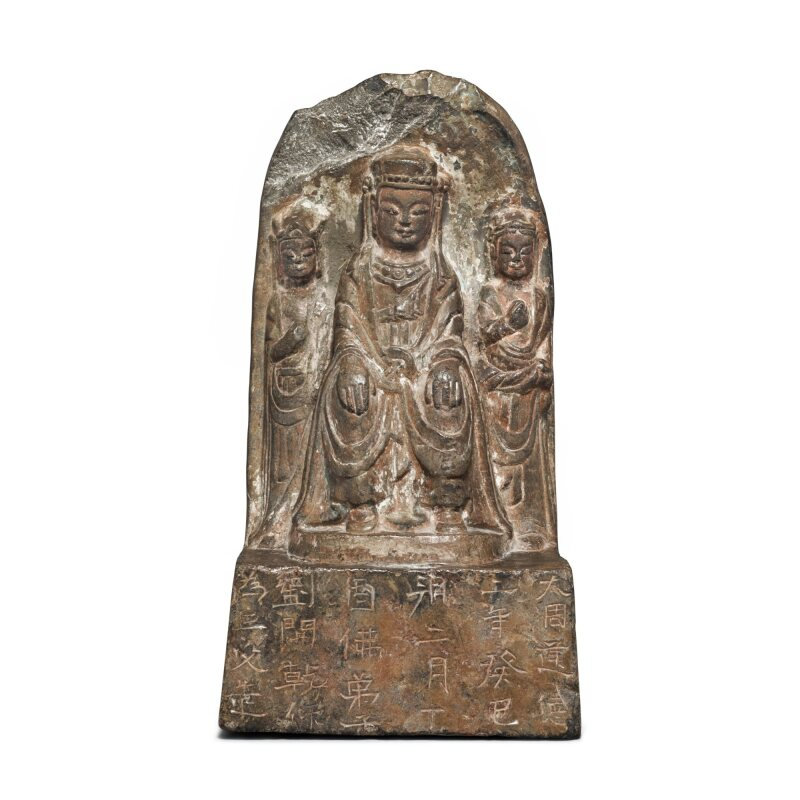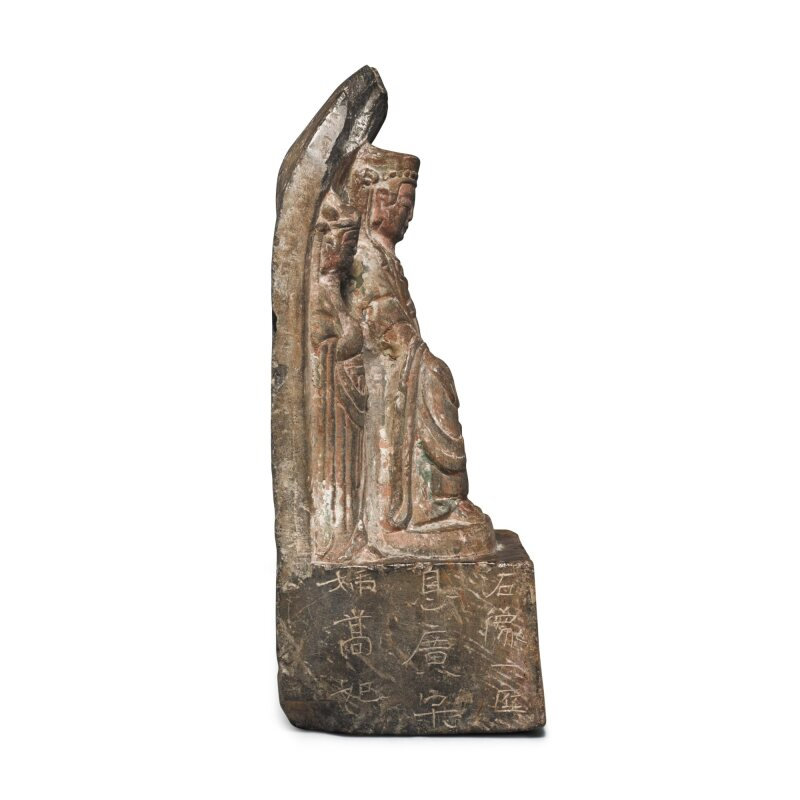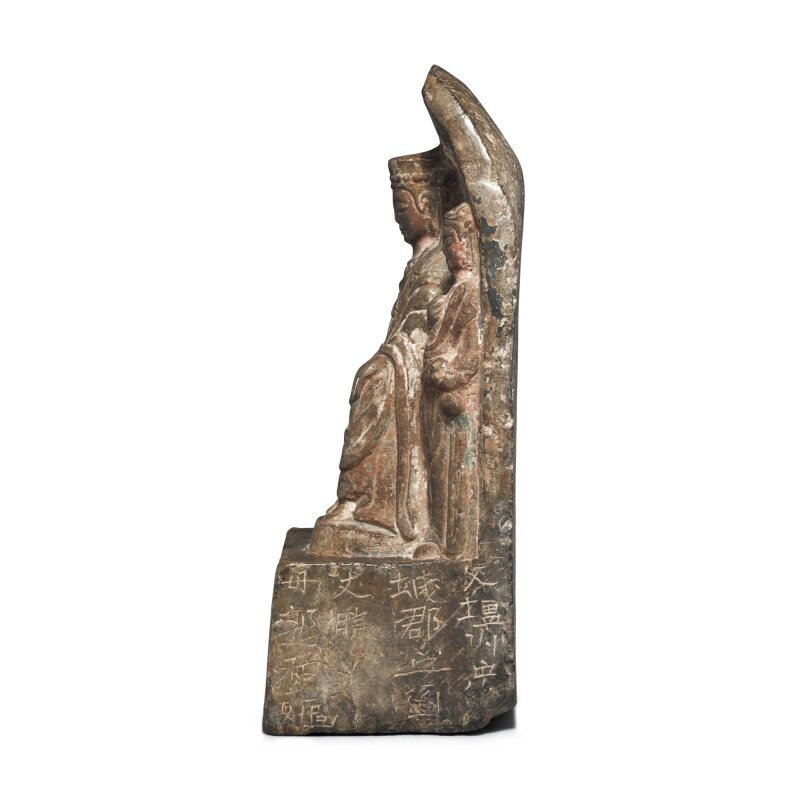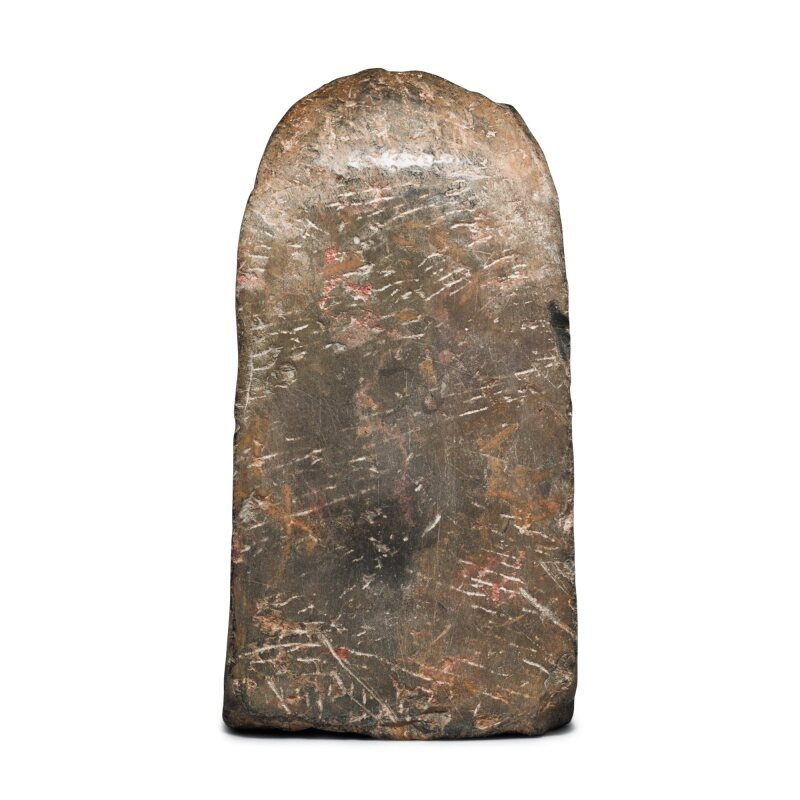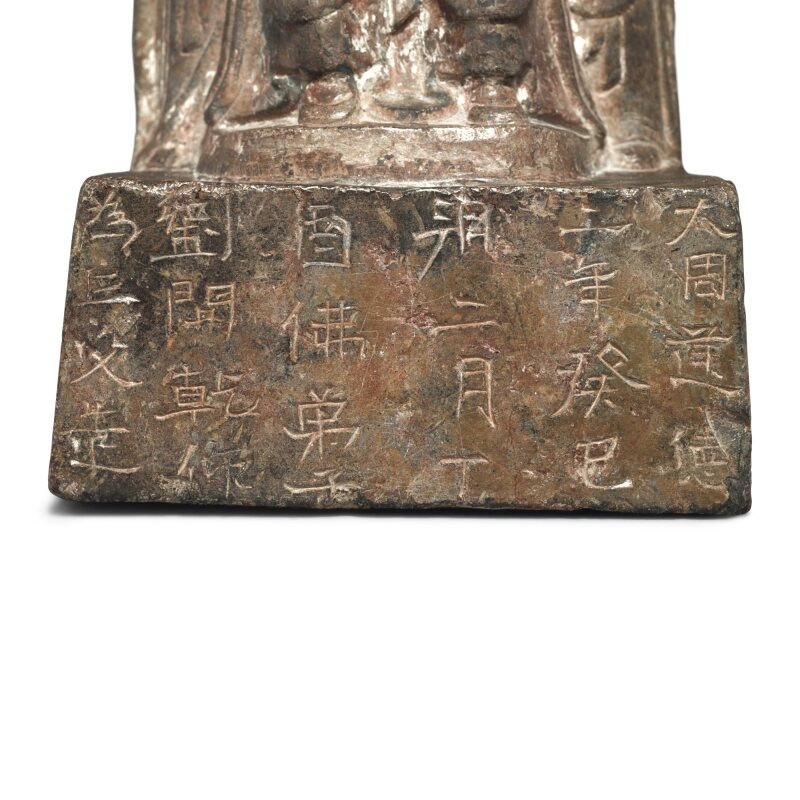 Lot 263. A limestone stele of a Buddhist triad, Northern Zhou dynasty, dated jiande 2nd year, corresponding to 573. Height 13 in., 33 cm, wood stand (2). Lot sold: 25,200 USD (Estimate: 20,000 - 30,000 USD). © Sotheby's 2022
Provenance: Collection of Walter Beck (1864-1954).
Collection of Dr. Edwin E. Gordon (1927-2015).
Sotheby's New York, 18th March 2008, lot 239.
Note: The inscription can be translated as: 'On the dingyou day of the second month of the guise year, the second year of the Jiande reign of the Great Zhou, Buddhist disciple Liu Kaiqian respectfully built a stone statue for the deceased father. [Established by] son Guangsong and sister Gaofei.'
Richly decorated stele became an important Buddhist sculptural medium from the 5th century A.D., when Buddhism spread throughout China and gave rise to the formation of Buddhist devotional societies. These societies held an important role in the development of regional religious art. During the Northern Wei dynasty, state-sponsorship of Buddhism enabled the rapid spread of the religion throughout Northern China. Lay Buddhists organized themselves into voluntary groups and associated with local temples. These groups were among the first to adopt stone tablets to record their faith. The popularity of steles is attributable to the easy accessibility of stone and its relatively small size. By the 6th century, these devotional groups became the chief patrons of steles, with a smaller number sponsored by individual donors and families.
Dated Buddhist steles from this reign are rare. See a related stele of a slightly larger size, carved from a huanghua stone with a central seated Buddha accompanied by two bodhisattvas, dated Jiande 1st year, corresponding to 572, illustrated in Saburo Matsubara, Chinese Buddhist Sculpture. A study based on bronze and stone statues other than works from cave temples, Tokyo, 1966, pl. 190-c, together with another stele, dated Jiande 3rd year (574), now in the Graduate School of Letters, Kyoto University, pl. 192-a; and a more elaborate stele of a larger size, also dated Jiande 3rd year, in the Shaanxi Museum, Xi'an, published in Shaanxisheng bowuguan cang shike xuanji [Selection of stone carvings from the Shaanxi Museum], Beijing, 1957, pl. 23.
Sotheby's. Important Chinese Art, New York, 21 september 2022