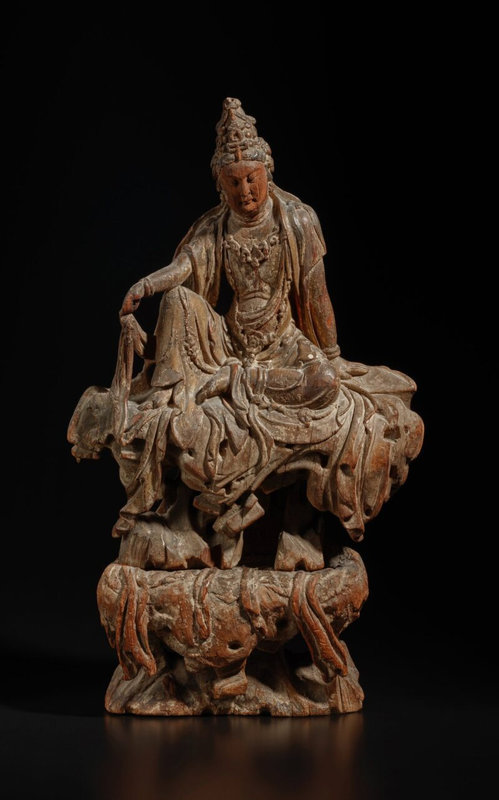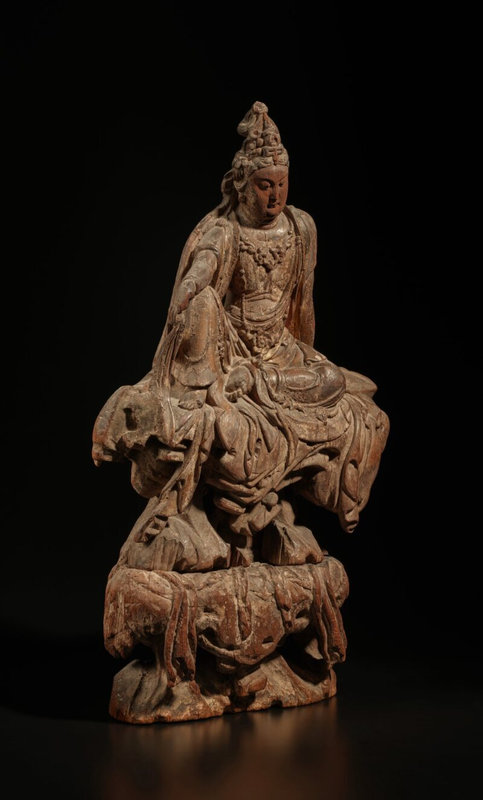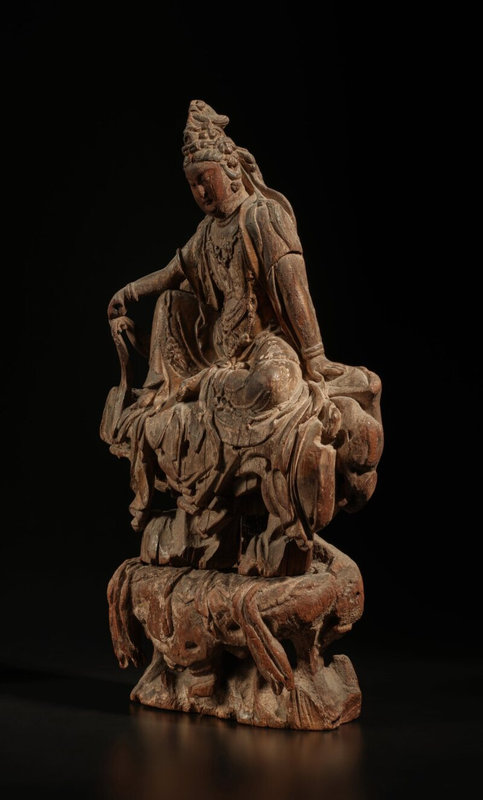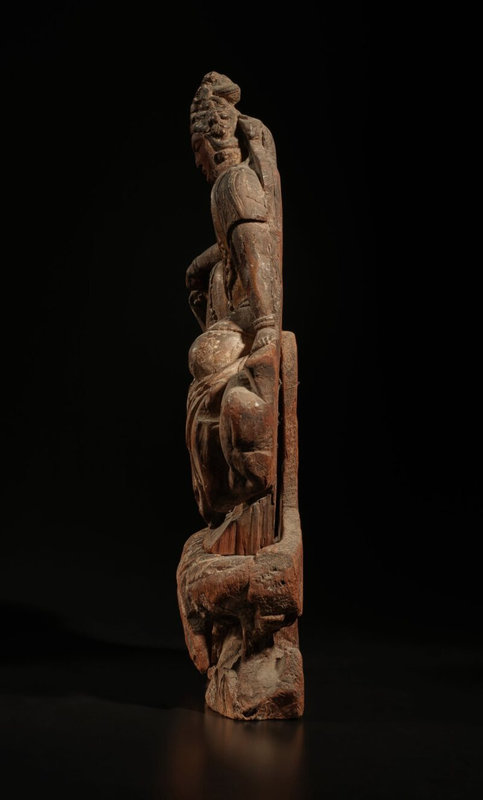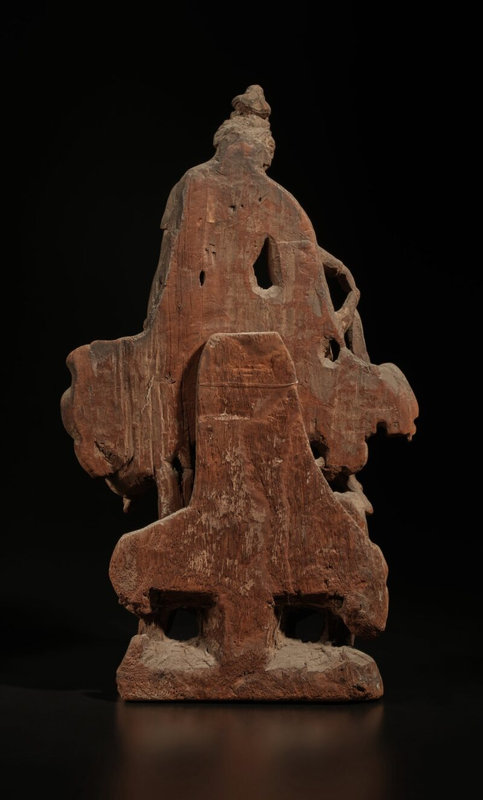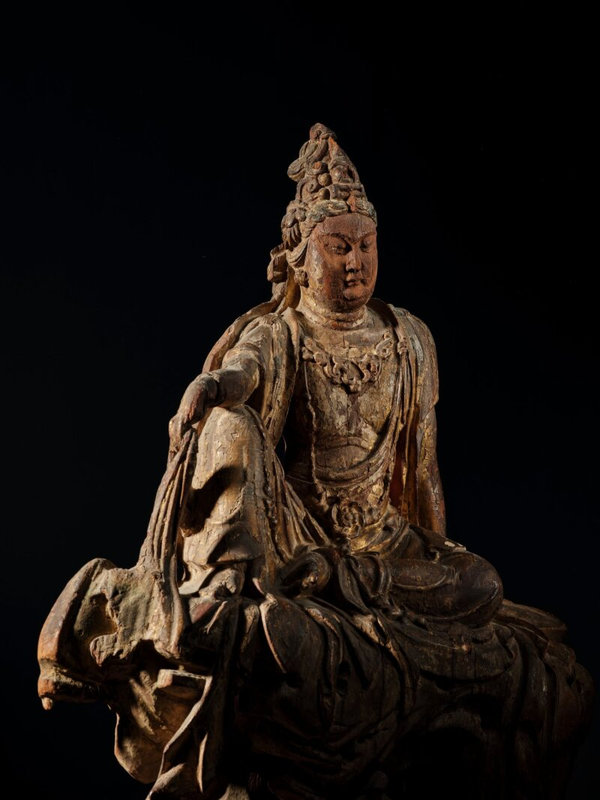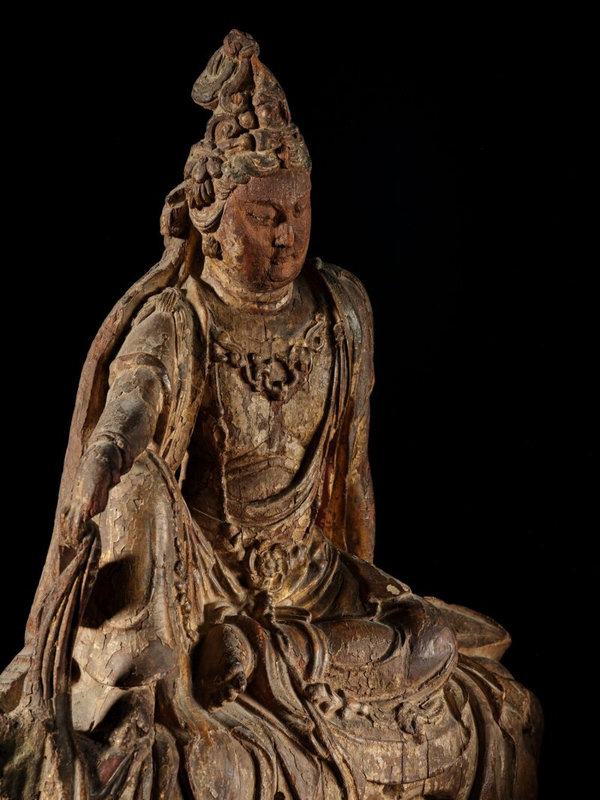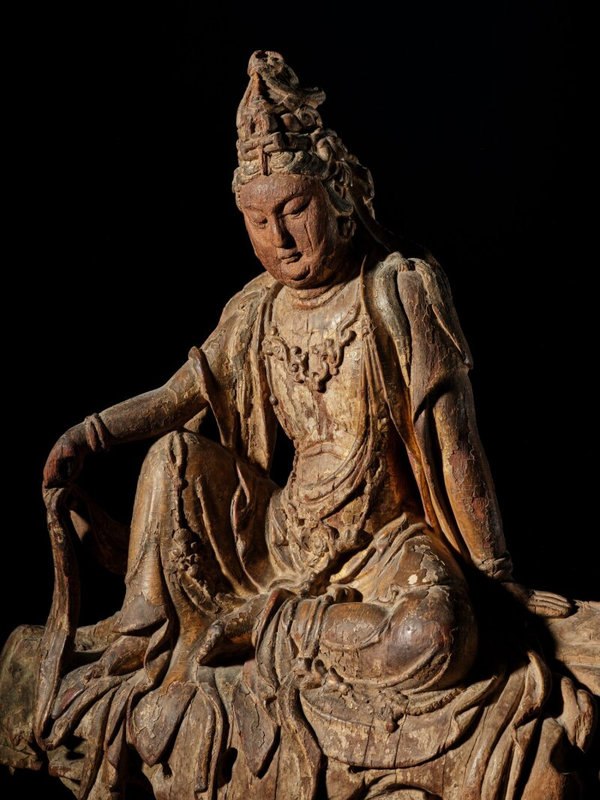 Lot 266. A gilt-lacquered wood figure of Guanyin, Song-Jin dynasty (960-1234). Height 26⅝ in., 67.7 cm. Lot sold: 214,200 USD (Estimate: 100,000 - 150,000 USD). © Sotheby's 2022
Property from an American Private Collection.
Provenance: J.C. Moreau-Gobard, Paris.
C.T. Loo & Cie., Paris, 26th June 1964.
Collection of J.J. Klejman (1906-1995), and thence by descent.
Exhibited: Les Antiquaires et les Décorateurs, Paris, 1962.
Note: This bodhisattva, depicted in the relaxed pose known as 'royal ease', with reclining head and slightly bent body, is also known as 'Water Moon Guanyin' (Shuiyue Guanyin). Rendered with a calm face with eyes half-closed, the carver of this sculpture skilfully captured the serenity and peacefulness of the deity. This manifestation of Avalokiteshvara was thought to reside on an isolated isle named Potalaka in the mythical South Sea, where the bodhisattva sat and contemplated the moon's reflection in the water. The reflection refers to the illusory and temporal nature of all phenomena in the human world. The iconography of the bodhisattva sitting leisurely with one hand resting on one knee was popular among Chinese Buddhist statuary of the Song (960-1279), Liao (916-1125) and Jin (1115-1234) dynasties, particularly between the 11th and 13th century. The finest sculptural works of the Song dynasty were carved out of wood and covered with gesso, pigments and gold. This sculpture, still with extensive traces of pigments, is one of the well-preserved examples.
The Philadelphia Museum of Art preserves a wood sculpture of Guanyin (accession no. 1925-99-1) with a figure of similar size supported on a lower rockwork base. See also a similar-sized figure with traces of gilding and painting on the body, sitting atop a pierced rockwork base with swirling waters below, recently sold in our Hong Kong rooms, 1st April 2019, lot 3109. Both these figures, although seated in the 'royal ease' posture, sit more upright and straight, making their poses appear less naturalistic as compared to the present figure.
A Water Moon Guanyin in the Metropolitan Museum of Art, New York (accession no. 28.56), seated in a similar posture, but with a more voluminous body, of larger size, and lacking a base, was included in the Museum's exhibition Arts of Ancient China, New York, 2005, and is illustrated in Hai-wai Yi-chen (xu) / Chinese Art in Overseas Collections, Buddhist Sculpture (II), Taipei, 1990, pl. 140.
Sotheby's. Important Chinese Art, New York, 21 september 2022