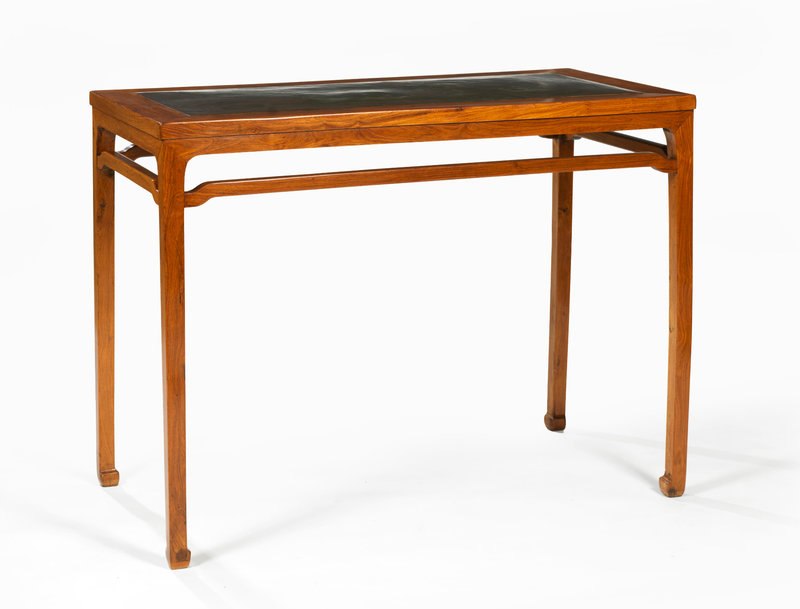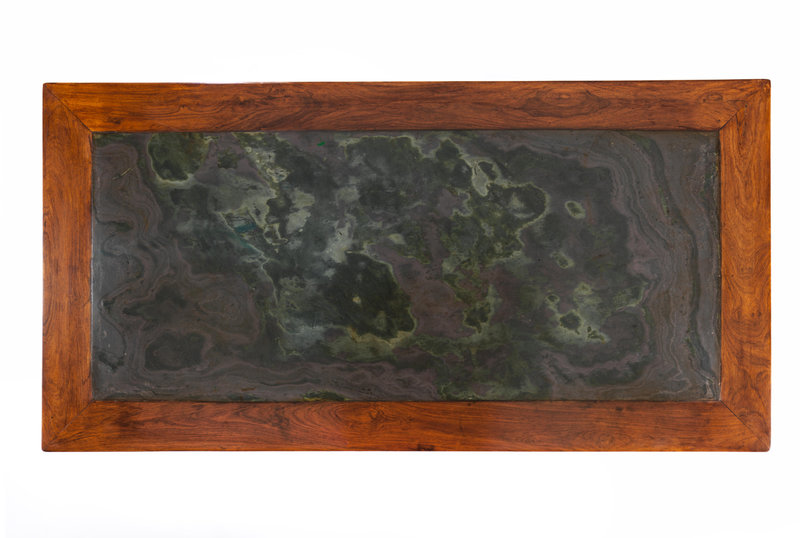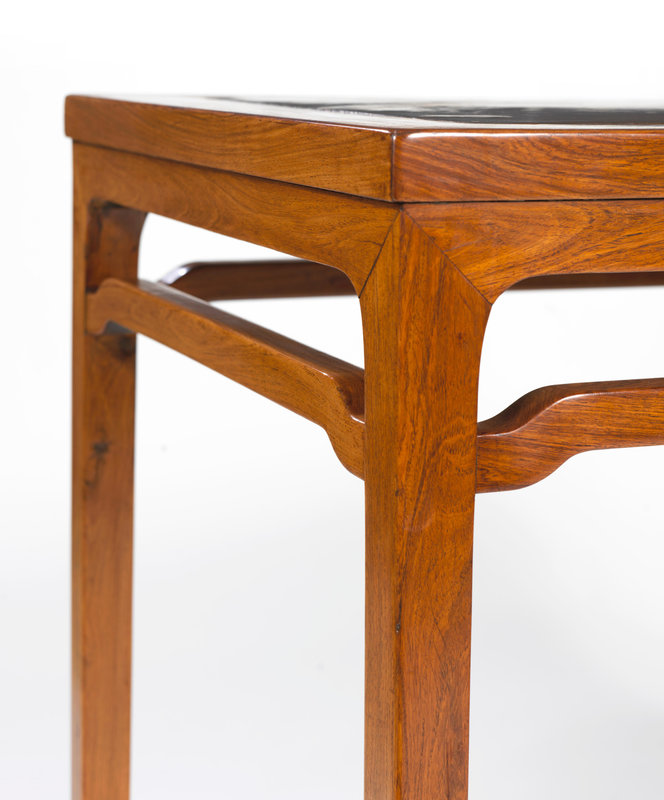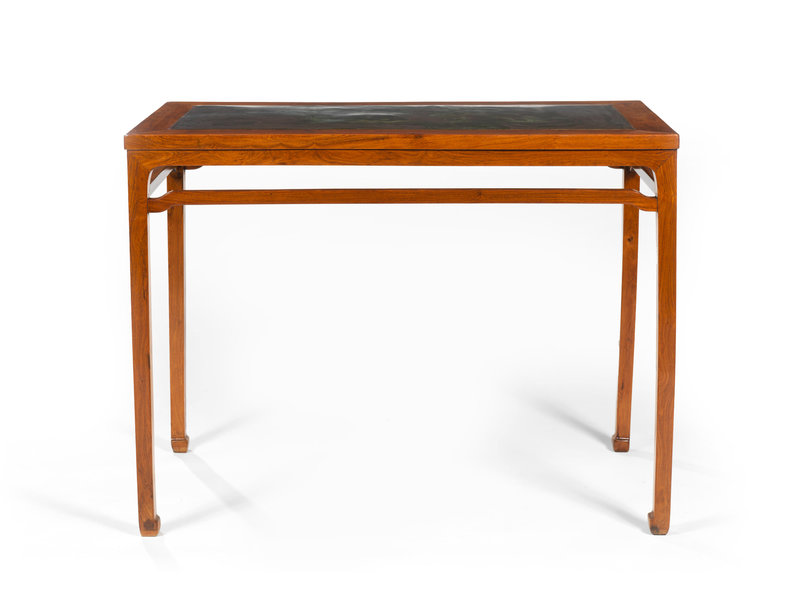 Lot 52. An important and very rare huanghuali inscribed stone-top table, Late Ming Dynasty, 16th-17th century; 89cm (35in) high x 150cm (59in) wide x 58.7cm (23in) deep. The stone 98.2cm (38 5/8in) wide x 42.5cm (16 5/8in) long. Estimate 120 000 € - 150 000 €. Sold for €504,375. Photo Fabrice Gousset.
Of rectangular form with a single floating purplish-grey and green stone panel, likely duan stone, inscbied with a calligraphic inscription, set in a mitred frame of mortise and tenon construction with moulded edges, above straight waist and a plain apron, supported on four legs of slender square section terminating in hoof feet and joined by humpback stretchers, the well-grained lustrous wood of warm amber-honey tone.
Provenance: Jean-Pierre Rousset, Paris (1936-2021), acquired in the 1980's.
Note: Tables with a stone top such as the present lot were particularly useful when playing the guqin – a seven stringed zither – with sound boxes underneath. The stone surface allowed the sounds to bounce off and reverberate more loudly. The inscription at the right corner of the stone top highlights its dual use of supporting the musical instrument as well as for reading. Following is the inscription:

質賦衡峰,貞似玉溫,而理瑩,而穆二,奏虞弦,熏風處,續人對,明光佇,瞻補牘,朝文

Which may be translated as:

Its quality is harder than Hengshan mountain,
The texture as smooth and gentle as jade.
Playing qin solemnly on the lustrous marble top,
And feeling the gentle breeze.
Reading under the bright light,
Dedicated to the Court: duty, loyalty and diligence.
Seal: Zhao Wen (朝文)

As the poetic inscription suggests, the present table would have been suitable for playing the qin, or for reading, aiding in study and serving the Court. A very similar table of more narrow form and without stone top, late 16th/early 17th century, is illustrated by Grace Wu Bruce, Living with Ming: the Lu Ming Shi Collection, Paris, 2000, p.110, no.23. The author notes on that tables with stone tops are quite rare, 'presumably because they break and perish at a higher rate compared to their wooden counterparts', see ibid., p.12.

See also another related huanghuali table of similar form, but without a stone top, circa 1550-1650, illustrated by C.Clunas, Chinese Furniture, London, 1997, p.49. The author notes that according to the Classic of Lu Ban, this is a xiao qin zhuo shi, 'small qin table type'. That the present table is also inscribed with a poem, perhaps signifies its importance to literati gatherings where the qin was played, poetry recited, paintings and calligraphy written and exchanged. It is more likely that such a table with a poetic inscription and imbued with cultural capital would be more suitable for playing the qin, one of the Four Arts of the Scholar along with qi (chess), shu (calligraphy), and hua (painting).

See a huanghuali incense table with stone top, inscribed with various collectors seals, Ming dynasty, including that of Xiang Yuanbian, which was sold at Poly Beijing, on 28 July 2022, lot 5563.
Les tables similaires à celle-ci étaient particulièrement utiles pour jouer du guqin - une cithare à sept cordes- le plateau en pierre formant une caisse de résonance. En effet, la surface en pierre permettait aux sons de rebondir et de se réverbérer plus fort. L'inscription au coin droit de la pierre souligne son usage double : celui de support pour l'instrument de musique ou pour la lecture:

質賦衡峰,貞似玉溫,而理瑩,而穆二,奏虞弦,熏風處,續人對,明光佇,瞻補牘,朝文

Que l'on pourrait traduire ainsi:

D'une qualité plus dure que le Mont Heng,
Son grain aussi doux que le jade,
Jouer du qin avec solennité sur la pierre brillante,
Et sentir la brise tiède
Lire sous la lumière vive,
Dédié à la Cour : devoir, loyauté et diligence

Sceau: Zhao Wen 朝文

Comme le suggère l'inscription poétique, cette table aurait convenu pour jouer du qin, ou pour lire, utile dans le cabinet du lettré et pour servir la Cour. Une table très semblable, mais plus étroite et sans plateau en pierre, fin du XVIe ou début du XVIIe siècle, est illustrée dans Grace Wu Bruce, Living with Ming: the Lu Ming Shi Collection, Paris, 2000, p.110, n°23. L'auteur note que les tables à plateau en pierre sont assez rares, « probablement parce qu'elles se cassent et disparaissent davantage que celles en bois. », Ibid. p.112.

Voir également une autre table en huanghuali de forme similaire mais sans plateau en pierre, vers 1550-1650, illustrée dans C.Clunas, Chinese Furniture, London, 1997, p.49. L'auteur écrit que d'après le Classique de Lu Ban, il s'agit d'une xiao qin zhuo shi, un type de petite table à qin. Le fait que cette table soit gravée d'un poème est peut-être une indication de son importance lors de réunion de lettrés où l'on jouait du qin, récitait de la poésie ou réalisait et échangeait des poèmes et calligraphies. Cette table, dotée d'une inscription poétique, était particulièrement appropriée pour jouer du qin, un des Quatre Arts du Lettré avec les échecs (qi), la calligraphie (shu) et la peinture (hua).

Voir une table à encens en huanghuali avec un plateau en pierre, inscrite de plusieurs sceaux de collectionneurs, dont celui de Xiang Yuanbian, dynastie Ming, vendue chez Poly à Pékin le 28 juillet 2022, lot 5563.
Bonhams. The Robert and Jean-Pierre Rousset Collection of Asian Art: A Century of Collecting - Part 1. Paris, 25 october 2022.