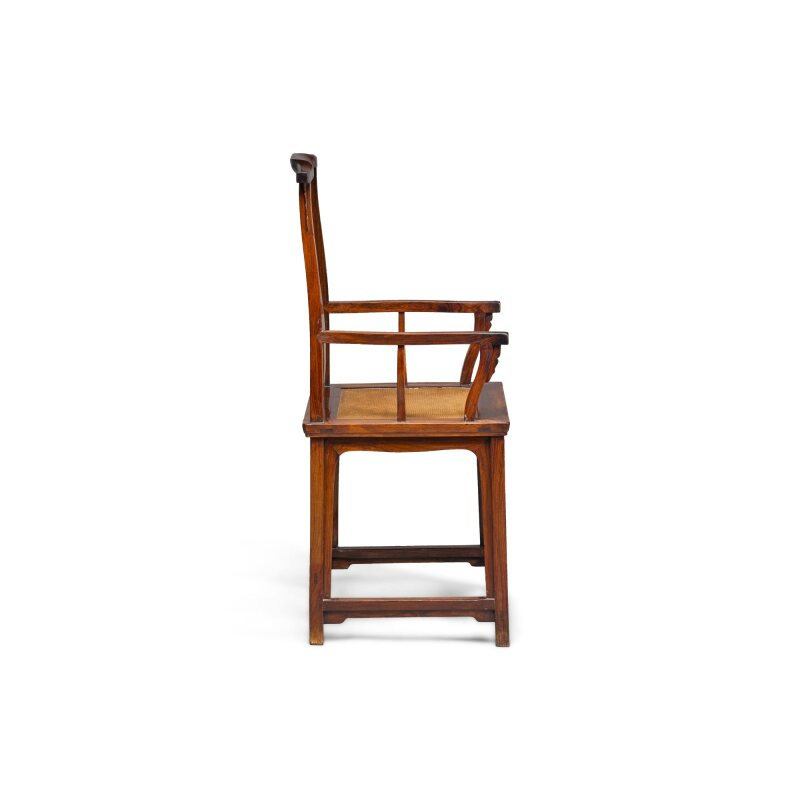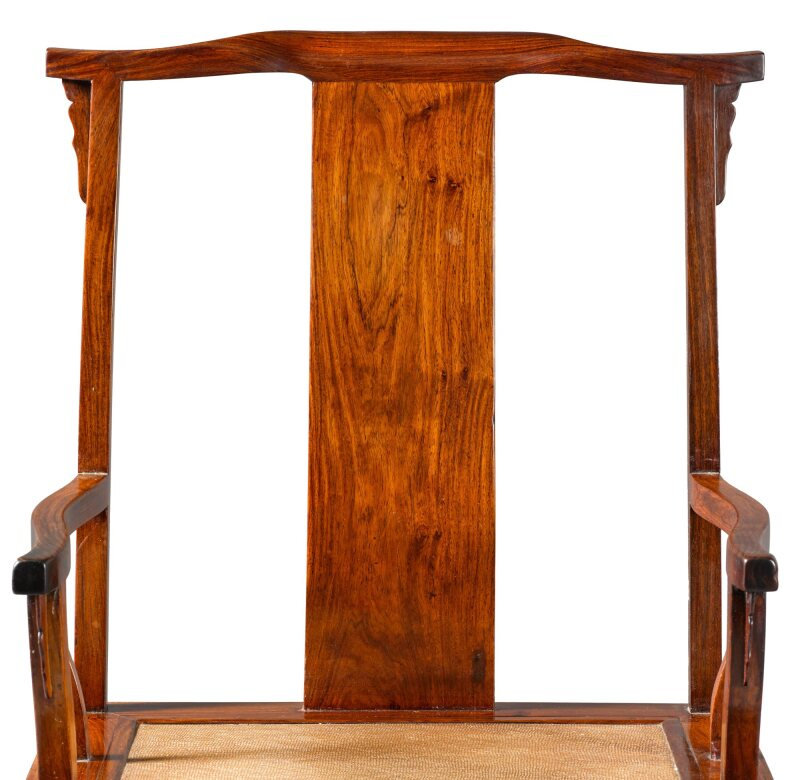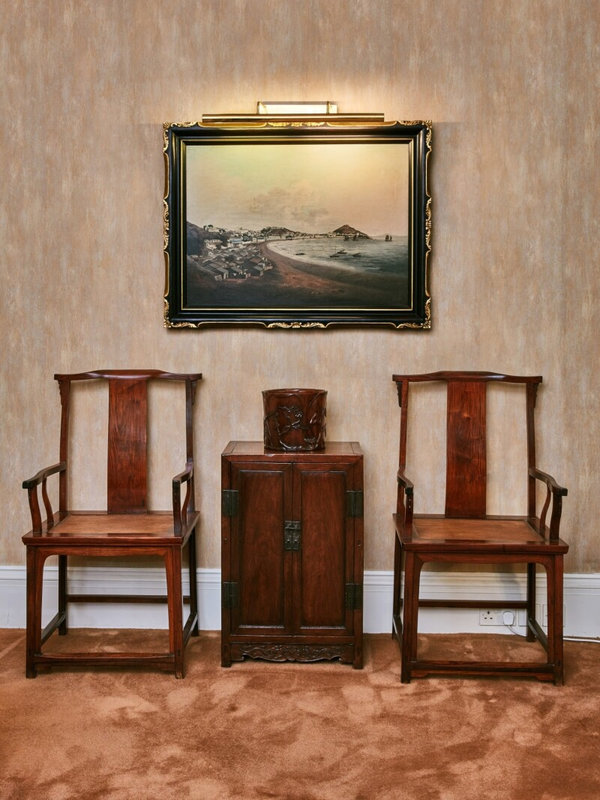 The Personal Collection of the late Sir Joseph Hotung. Lot 19. A rare pair of huanghuali yokeback armchairs, Late Ming dynasty (1368-1644); 59.5 by 48 by h. 108 cm . Lot sold: 3,276,000 HKD (Estimate: 3,000,000 - 4,000,000 HKD). © Sotheby's 2022
each elegantly constructed with a plain splat that accentuates the figured pattern of huanghuali, the sturdy yoke and curved arms terminating in square ends with shaped spandrels at the protruding ends, the armrest supported by gooseneck front posts that recede inward and with an S-shaped brace in the middle, the rear posts continue through the seat rail forming the back legs, the square-section legs joined by a footrail and stretchers of ascending heights and decorated with simple aprons, the timbre of a rich reddish-brown tone.
Provenance: Eastern Pacific Co. (Hei Hung-Lu), Hong Kong, 25th October 1984.
Note: Huanghuali yoke-back armchairs are of striking modernity in the simplicity and balance of their lines. The present type, usually regarded as sichutou ('four protruding ends'), also known as the northern type, were popular designs during the Ming period (1368-1644) and are considered to be classic examples of Ming furniture.
It is however extremely rare to find chairs of this type adorned with shaped spandrels under not only the armrests, but also under the two protruding ends of the sinuous crest rail. With the top rail resembling the winged hat that was part of the formal attire of the officials, these chairs are generally called guanmaoyi or 'official's hat-shaped chairs'. Exuding a sense of majesty and power, such chairs were reserved for the eldest or most important member of a household, or an especially honoured guest. The additional ornaments at the top corners on this pair draw attention to the distinctive form of the 'hat', and would have further bestowed the perception of status and position onto those who sat on them.
What is also special about these chairs are their square-sectioned members, which are less commonly found in Ming chairs. Although several chairs closely related to the present pair appear to be recorded, all of them are with rounded ends and without the upper spandrels. See a slightly taller one, measuring 120.4 cm in height, from the collection of Mrs Chen Mengjia, illustrated in Wang Shixiang, Ming shi jiaju zhen shang / Connoisseurship of Ming Style Furniture, Hong Kong, 2000, pp. 86-7, pl. 45; a pair sold at Christie's New York, 23rd June 1982, lot 491 and again in our New York rooms, 16th September 2008, lot 211; another pair sold in our New York rooms, 8th April 1988, lot 503; and a further chair recently sold in these rooms, 9th October 2020, lot 3649.
Sotheby's. HOTUNG The Personal Collection of the late Sir Joseph Hotung: Part 1, Hong Kong, 8 October 2022