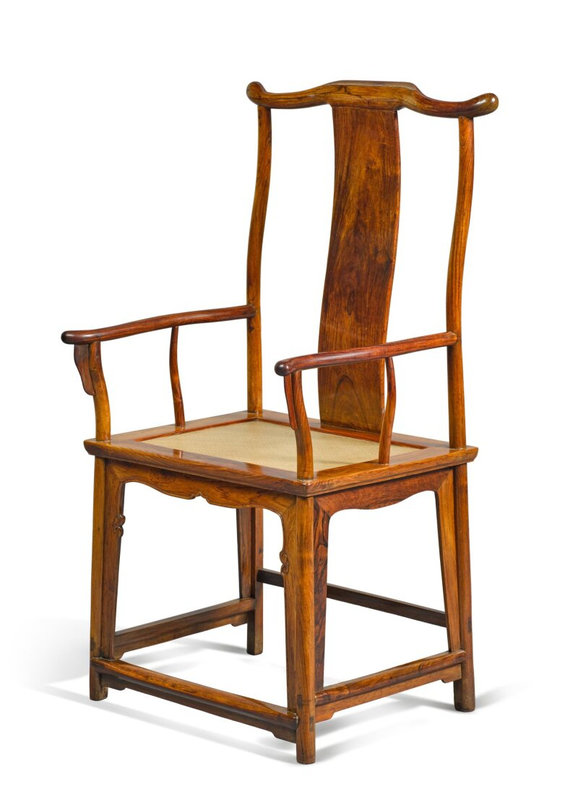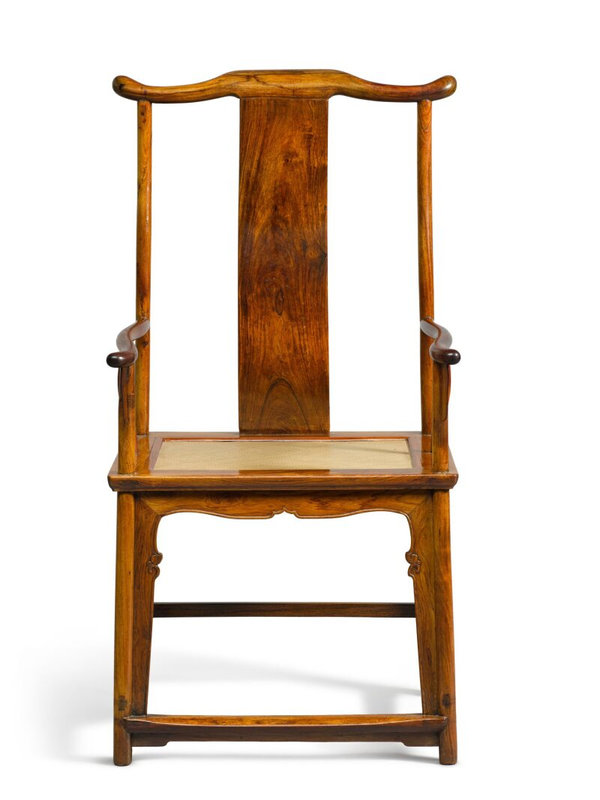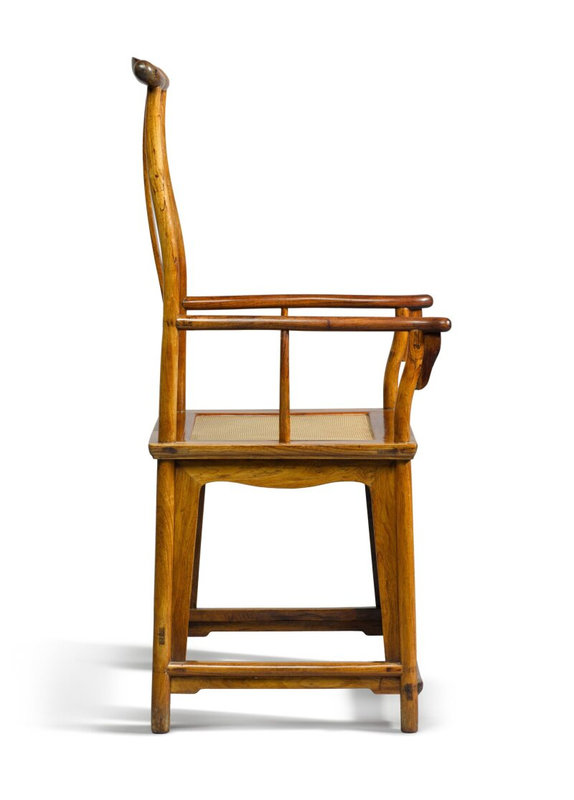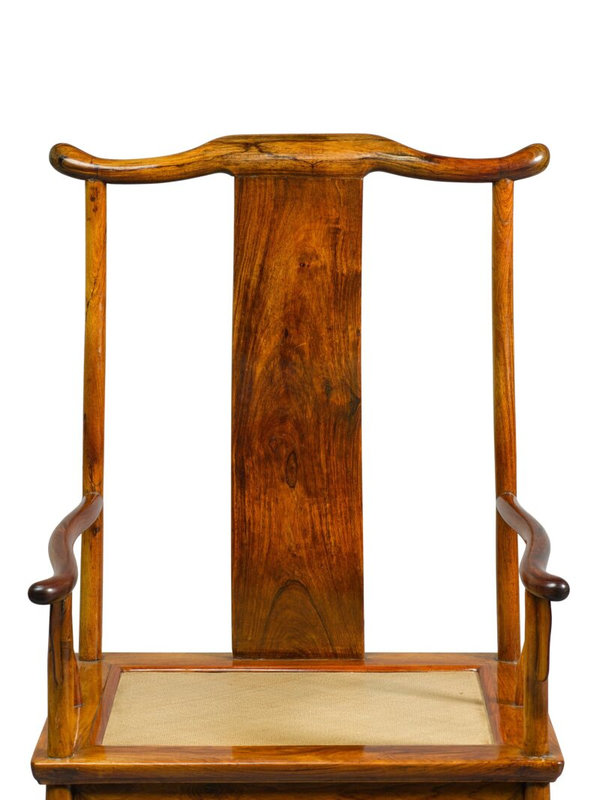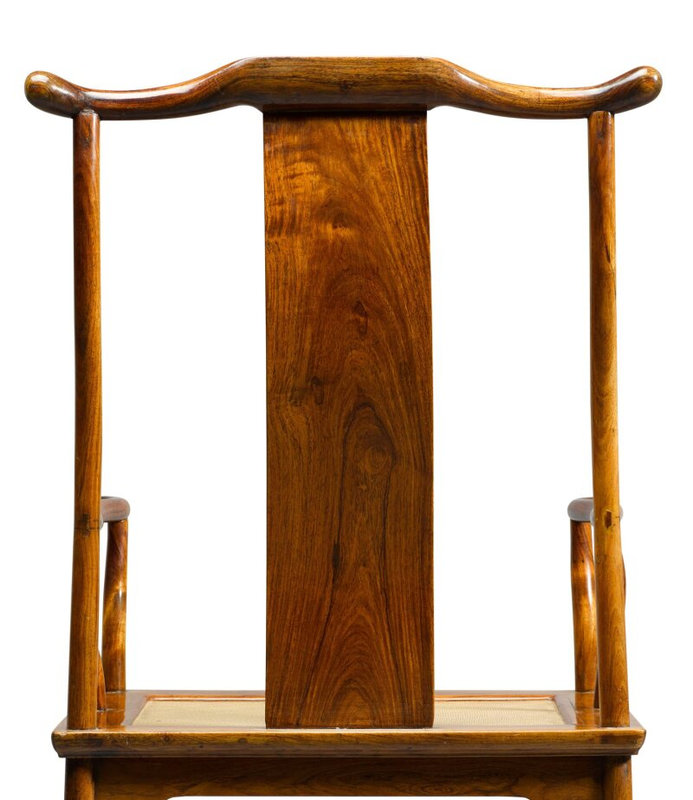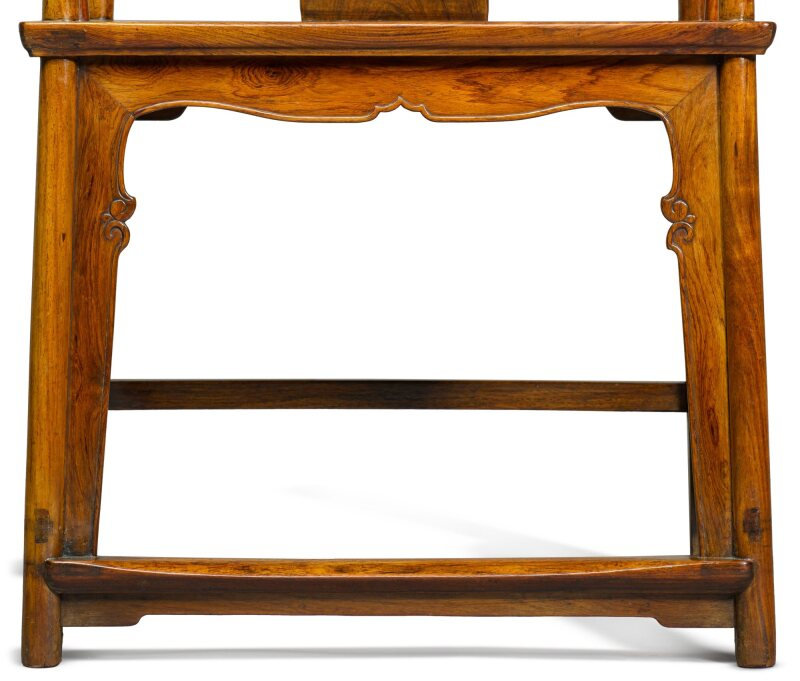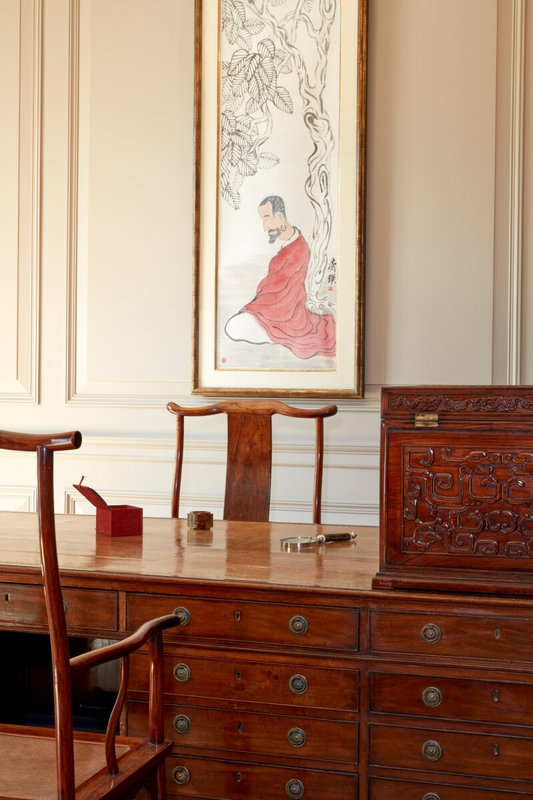 The Personal Collection of the late Sir Joseph Hotung. Lot 23. A rare and important huanghuali yokeback armchair, Late Ming dynasty (1368-1644); 61.7 by 53.5 by h. 115.6 cm. Lot sold: 4,410,000 HKD (Estimate: 3,000,000 - 5,000,000 HKD). © Sotheby's 2022
elegantly constructed with a plain S-shaped splat that accentuates the figured pattern of huanghuali, crowned by a yoke with upturned rounded ends, the curved arms with shaped spandrels at the protruding ends, supported by S-shaped braces in the middle and posts that continue through the seat rail forming the front and back legs, the legs joined by a footrail and stretchers of ascending heights, with a cusped and beaded apron at the front and plain aprons on other sides.
Provenance: R.H. Ellsworth Ltd, New York, 12th June 1982.
Note: This elegant chair is a fine example of the art of Ming (1368-1644) carpenters in creating furniture pieces that are technically sound, proportionally balanced and aesthetically beautiful. Contributing to the comfort of this chair is the S-shaped back splat, specifically designed to support the natural curvature of the sitter's spine. The everted ends of the top rail were designed not only to resemble the shape of an official's hat - thus the name guanmaoyi - but also serve a practical function of holding in place a suspended textile panel. Ming and Qing (1644-1911) literature illustrations characteristically show armchairs of this form used at dinner tables, in reception halls for guests and at the writing table in the scholar's studio. On special occasions, colourful textile would have draped over the crest rail and acted as a celebratory chair cover, as illustrated in the Wanli (1573-1620) edition of Yangzheng Tujie / Illustrated Book of Education Legends, also included in Grace Wu, The Best of the Best. The MQJ Collection of Ming Furniture, vol. 1, Beijing, 2017, p. 158. During the late Ming period, the elite was looking for simplicity and sophistication in furniture design. The poised plainness and restraint of adornment of this type of chair would have been an aesthetic statement in itself.
For a few examples with slight variation in dimensions and decoration on the aprons, see: a pair of high yoke-back armchairs, with a less elaborate beaded-edged apron, in the collection of Grace Wu Bruce, published in Michael Markbreiter, 'The Grace Wu Bruce Collection of Chinese Furniture', Arts of Asia, November-December 1987, p. 134; a pair with carved decoration above the centre of the apron, preserved in The Nelson-Atkins Museum of Art, Kansas City (accession nos 64-4/13 A and 64-4/13 B), one of them illustrated in Orientations: Special Issue for the Chinese Art Collection in the Nelson-Atkins Museum of Art, vol. 39, no. 8, November-December 2008, p. 63, fig. 12; and a chair similar to the Kansas City one, preserved in the Tsinghua University Art Museum, Beijing.
Sotheby's. HOTUNG The Personal Collection of the late Sir Joseph Hotung: Part 1, Hong Kong, 8 October 2022