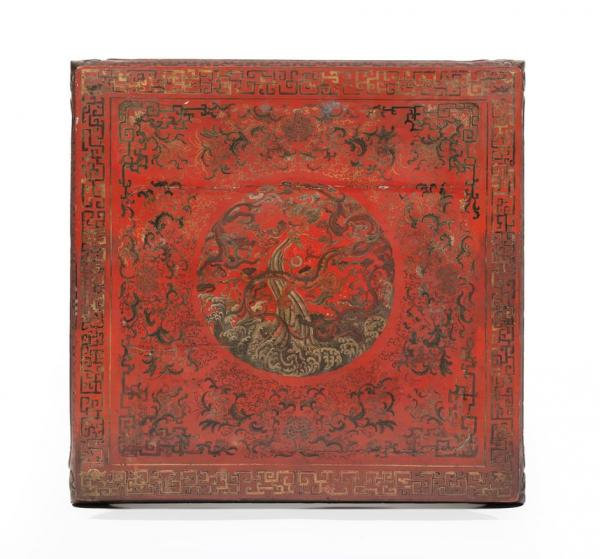 Lot 258. A large tianqi and qiangjin 'dragon and young' lacquer stand, 18th century; 68.1cm (26 3/4in) wide x 66.2cm (26 1/16in) deep x 50.6cm (19 15/16in) high. Estimate 4 000 € - 6 000 €. Photo Fabrice Gousset.
Of near square section, the top colourfully decorated with a central medallion of an adult dragon and young pursuing the flaming pearl above crashing waves and a gourd emanating lingzhi fungus shaped clouds with a bat in flight, framed by peony, lingzhi and lotus foliate and key-fret scrolls, all framed by archaistic chi-dragon scrolls, the rim with a key-fret above the waist with moulded relief decoration of foliate sprays above the beaded edge, supported on four cabriole legs connected with splayed aprons and decorated with foliate sections and relief-moulded leaf around each central edge terminating in a curled frond, decorated with continuous interlocking ruyi-heads and flowers with further floral sprays along the legs, all raised on a slightly splayed base-frame with short supports.
Provenance: C.T. Loo, Paris (Label)
Robert Rousset, Paris (1901-1981)
Jean-Pierre Rousset, Paris (1936-2021).
Note: Notable for its elegant and sweeping form, the present stand is meticulously decorated with intricate floral designs and a central roundel containing a larger and smaller dragon. The motif of an adult and young dragon seems to have been favoured particularly by the Qianlong emperor and has been interpreted as conveying the message of the father teaching his son the ways of life, and within the Imperial family, that of the emperor giving lessons to the prince.

Stands of similar form to the present example were used in both religious and secular contexts to hold incense burners or flower vases. These objects were designed with great attention to detail and form, pleasing the eye from any angle. For a detailed discussion about the form of incense stands, see S.Handler, Austere Luminosity of Chinese Classical Furniture, Berkeley and Los Angeles, 2001, pp.295-302.

See a related but taller gilt polychrome lacquer 'elephant' incense stand, 18th century, which was sold at Bonhams London, 16 May 2019, lot 75.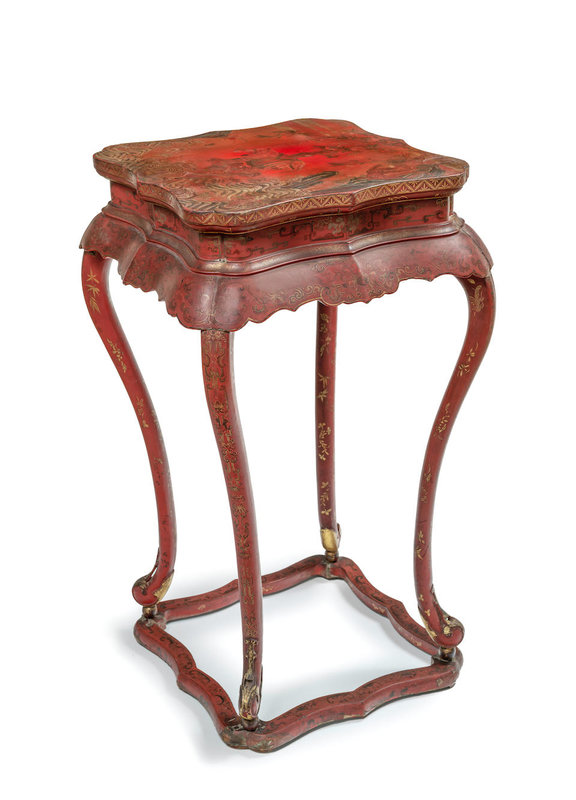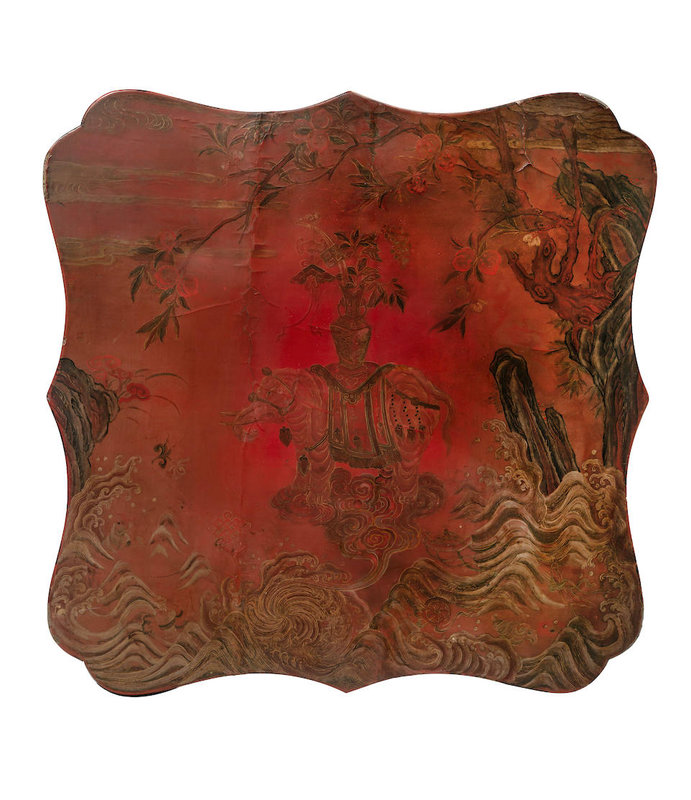 A rare and gilt polychrome lacquer 'Elephant' incense stand. 18th century; 51cm (20 1/8) deep x 51cm (20 1/8) wide x 86cm (33 7/8) high. Sold for £ 81,312 (US$ 90,184) at Bonhams London, 16 May 2019, lot 75. © Bonhams 2001-2022
Finely incised and coloured in varying shades of red, green and brown transmuting to black, all picked out with traces of gold filling within the incisions, the top finely incised and gilt with an elephant supporting a vase with flowers amidst cloud scrolls, surmounting a broad, flaring, cusped and barbed apron decorated with lotus scrolls, all raised on four cabriole legs terminating in outward curving slipper feet, supported on a square frame.
Provenance: a distinguished French private collection, Normandy.
Note: Incense stands such as the present example were used both in religious as well as secular contexts as contemporaneous paintings and prints illustrate. Often positioned in the center of a room, such stands supporting incense burners were designed with great attention to detail and form, pleasing to the eye from any angle.

Polychrome lacquer became popular in the late Ming dynasty, either brush painted or gold-engraved and colored in the more onerous qianjin-and-tianqi technique as found on the present table. The design on the top of the incense stand is also particularly auspicious and the combination of a 'vase' (ping 瓶) which puns with 'peace' (ping 平), and elephant (xiang 象) which also means 'sign' or 'portent', forms a rebus for the phrase taiping youxiang (太平有象), meaning 'Where there is peace, there is a sign (or elephant)'.

Compare with a related lacquer 'dragon' incense stand, 17th century, which was sold at Sotheby's New York, 20 March 2019, lot 714.
Bonhams Cornette de Saint Cyr Paris. The Robert and Jean-Pierre Rousset Collection of Asian Art: A Century of Collecting - Part 2. Paris, 26 october 2022