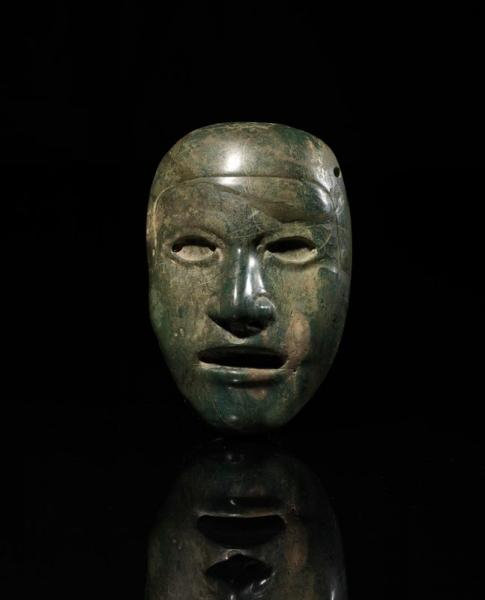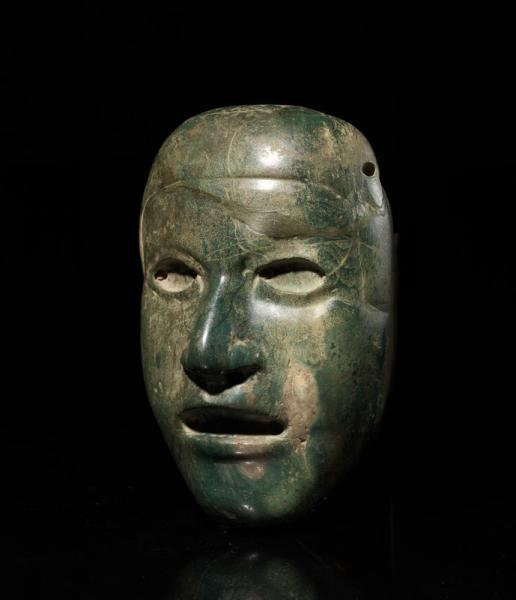 Lot 344. A rare Aztec green stone mask of a dignitary, Mexico, Post- Classic Period, 1325-1521 BC; 13.5cm (5 1/2in) high x 9cm (3 1/2in) long x 6.8cm (2 5/8in) wide. Estimate 6 000 € - 10 000 €. Photo Fabrice Gousset.
Provenance: Merton Simpson, New York
Robert Rousset, Paris (1901-1981); acquired from the above on 20 January 1958
Jean-Pierre Rousset, Paris (1936-2021).
Note: Le visage serein de ce personnage est transcrit de manière réaliste. La bouche ouverte et les narines dilatées de son nez lui insufflant la vie.
Deux trous tronconiques de chaque côté du crâne servaient à le fixer sur un vêtement d'apparat. Son style est à rapprocher du masque conservé à l'American Museum of Natural History de New York sous le n° 30-11847.
Bonhams Cornette de Saint Cyr Paris. The Robert and Jean-Pierre Rousset Collection of Asian Art: A Century of Collecting - Part 2. Paris, 26 october 2022