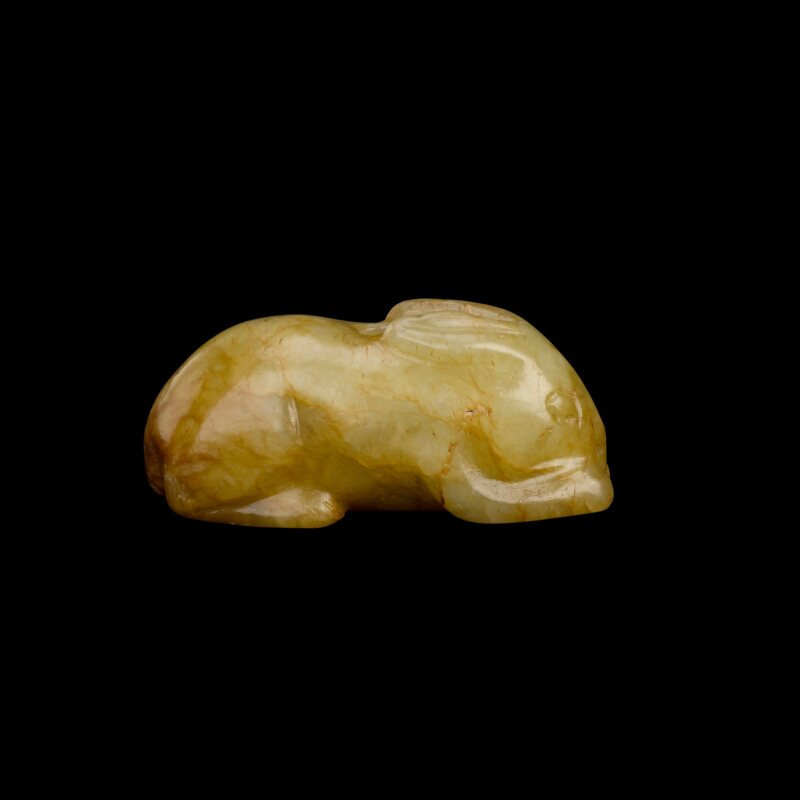 The Personal Collection of the late Sir Joseph Hotung. Lot 102. A small yellow jade figure of a rabbit, Song dynasty or earlier; 3.4 cm. Lot sold: 252,000 HKD (Estimate: 40,000 - 60,000 HKD). © Sotheby's 2022
modelled as a dainty crouching rabbit with subtly incised eyes, its muzzle framed by the front paws and the long ears swept backwards, the hind legs tucked under the muscular haunches, vertically perforated from behind the ears through to the flat underside, the stone of a honey-yellow colour with russet-brown veining.
Provenance: Chung Wah Pui, Hong Kong, 6th July 1993.
Literature: Jessica Rawson, Chinese Jade from the Neolithic to the Qing, London, 1995, pl. 26:9.
Chinese Jade Animals, Hong Kong, 1996, cat. no. 69.
Exhibited: British Museum, London, on loan, 1995.
Chinese Jade Animals, Hong Kong Museum of Art, Hong Kong, 1996.
Note: Rabbit-form ornaments enjoyed considerable popularity in ancient China, presumably because of the mythological association with the elixir of immortality on the moon. Jessica Rawson believes the present jade rabbit may pre-date the Song period, as it shares some characteristics with examples attributed to the Tang dynasty (ibid., p. 365, figs 1-3).
For comparable Song examples, see a small figure of a rabbit crouching on a pedestal in the Arthur M. Sackler Gallery, Smithsonian Institution, accession no. S2012.9.2774; and an excavated white jade paperweight of a rabbit in a similar pose, published in 'Zhejiang Quzhou shi Nansong mu chutu qiwu [Artifacts unearthed from the Southern Song in Quzhou City, Zhejiang Province]', Archaeology, 1983, no. 11, pp. 1004-18, pl. 6, no. 4.
Sotheby's. HOTUNG The Personal Collection of the late Sir Joseph Hotung: Part 1, Hong Kong, 9 October 2022