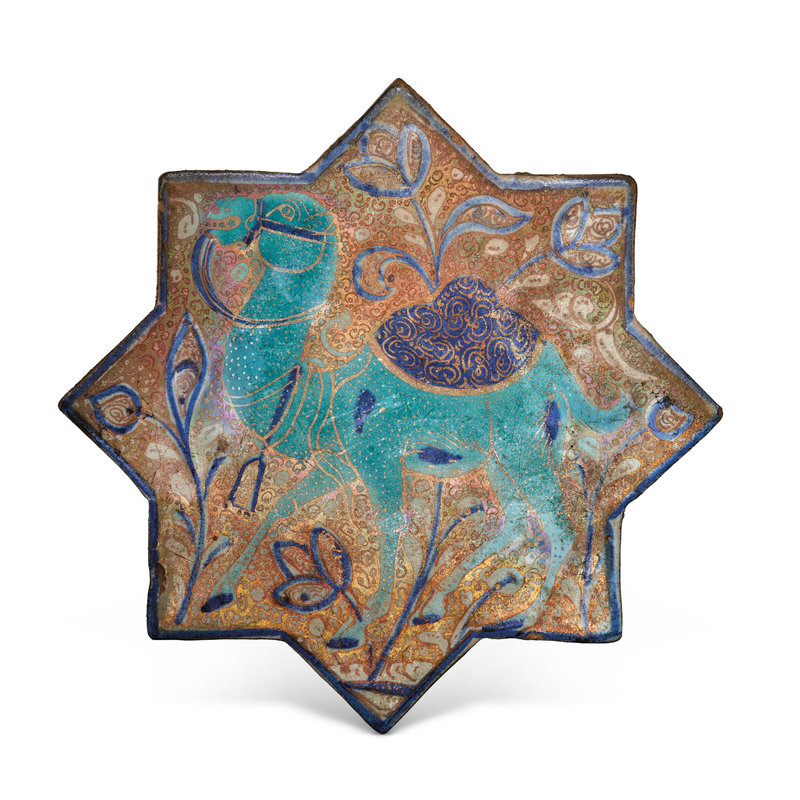 Lot 31. A Kashan lustre, turquoise and cobalt-blue star tile, Iran, late 13th-early 14th century; 8in. (20.3cm.) across. Price realised GBP 163,800 (Estimate GBP 60,000 – GBP 80,000). © Christie's Image 2022
Depicting a camel with saddle cover walking amongst foliage, intact.
Property from a Private American Collection.
A Lustrous Menagerie: Persian Ceramics from a Private American Collection
The 1931 Exhibition of Persian Art held at the Royal Academy in London was organised by Arthur Upham Pope, an American whose name became synonymous with Persian Art. That magnificent exhibition led to Pope's six volume magnum opus, the Survey of Persian Art, which came out shortly before the outbreak of war. While this was produced in the United Kingdom, he clearly also had the American market in mind, and was also working on a magnificent New York follow-up to the London show. This took place in 1940 - it was promoted as "Six Thousand Years of Persian Art" ending up unfortunately overshadowed by the European war.
This move to New York was one that a number of dealers also made in the 1930s, choosing to move as Europe became more troubled, and as America was considered the marketplace with the greatest potential. The Armenians Dikran Khan Kelekian and Hagop Kevorkian, each with huge and impressive stock already, both set up there and eventually relocated from Paris. A number of other dealers followed, making New York the centre of the commercial Islamic Art world. The Iranian Jewish entrepreneur Ayoub Rabenou was amongst those who chose New York as the western base from which to sell the items that were being discovered through his legally licensed Persian excavations. Ayoub Rabenou began excavating as a young man in the 1920s. His collaborations with the Iranian Archaeologic Department and the directors of the Iran (Bastan) National Museum are well documented in the numerous exhibitions and catologues in which both participated, many of which were sponsored by the government. He worked very closely with Mehdi Bahrami (Director ofIslamic Art, Iran Bastan (National) Museum), M.T. Mostafavi (Director General Antiquities, Iran), Andre Godard (Director of the Iranian Archaeological Service), and the archaeologist Roman Ghirshman. In 1935 Erich Schmidt in the Penn University Museum Bulletin Rayy Research report describes Ayoub's advice guiding him where to excavate in the garden of Abul Fath Zadeh with "gratifying results". Rabenou's finds were exhibited as early as 1931 at the International Exhibition of Persian Art in London. The same year he sold over 100 pieces including many ceramics from sites such as Saveh, Sultanabad and Rayy in Sotheby's June 1931 sale of Important Works of Persian Art.
The combination of active promotion by Pope, and the supply of excellent quality works of art in a new and exciting area meant that interest in collecting Persian Art rapidly grew. Every museum needed its representative collection and so extraordinary pieces began to appear throughout the country, not just in New York, Boston and Washington, but also in Chicago, Cincinnati,Cleveland, St. Louis, Worcester, and many other places. Several of those works that had been displayed in London some even published in the Illustrated London News, made their way to the Nelson Atkins Museum of Art (32-25), the Boston Museum of Fine Arts (44.829) and the Minneapolis Institute of Art (50.46.434). In the 1950s and 60s he continued to promote Iranian Art, placing numerous works of Art including ceramics from Gurgan and Nishapur in the Metropolitan Museum of Art and the Victoria & Albert Museum.
The brilliance of the combination of Pope and the dealers was however that Persian Art was also promoted as an excellent addition to a well-rounded private collection of western art, and so groups of items from Rabenou, particularly pottery of which there was a considerable supply, were acquired by many private collectors. In 1939 Rabenou was instrumental in forming the Persian Art collection of Doris Duke, which included a large number oflustre star tiles as well as innumerable other Islamic works, all now located in Shangri La, Hawaii. Many of these private collections formed the core of major institutional donations, such as Alfred Pilsbury's bequest to the Minneapolis Institute of Art. The current group is typical of this process, its provenance going back to the 1930s and 40s, the real heyday of Persian Art in the USA. The quality of the best pieces here is exceptional.
A Kashan lustre, turquoise and cobalt-blue star tile
This magnificent star tile is amongst the best of a small group of Ilkhanid examples painted with animals. They would have provided glittering ornament to the interiors of secular and religious buildings in Iran, from around 1200. Three Kashan star tiles in the David Collection, dated around 1290-91 are decorated in a similar fashion although with less refined drawing – each with an animal (a bull, two elephants or a horse) captured running to the left, on a foliate ground emitting from a small pond (The Legacy of Genghis Khan, exhibition catalogue, New York, 2002, pp.100-101, figs.113-5). A similar horse tile, which is in the Museum of Fine Arts, Boston is dated AH 710/1310 AD (Oliver Watson, Persian Lustre Ware, London, 1985, p.141, no.119). Another in the same museum, attributed to Kahan, circa 1310, depicts a fierce camel with a dotted coat and covered with a saddle blanket decorated with dense whirls. It bears close resemblance to ours both in the style of the drawing and the finesse (06.1896; op.cit, 2002, fig.117). Another of the same group, very similar, but decorated with a jackal, recently sold at Artcurial, Antiquities, Islamic & Pre-Columbian Art, Paris, 2 November 2021, lot 143.
The intensity of colour and the control of the turquoise on our tile feels very close to a group of star and cross tiles in the British Museum, which are thought to have once decorated the interior of a Shi'ite shrine, the Imamazada Ja'far, in Damghan, dated 1267 (OAG 1983.230, 231, 232 a & b; op.cit., 2002, fig. 2, pp.4 and 266 and The Arts of Islam, exhibition catalogue, 1976, London, no.384, p.258). Although the cross tiles from that commission have no inscription, the star tiles have borders which contain sections from the Shahnama, albeit verses that are religious in tone. In the entry for the tiles in the Legacy of Genghis Khan catalogue, the author states that given the nature of the inscription, the tiles may originally have been made to adorn a royal residence, but were instead used or reused in the shrine at Damghan. So close is ours in feeling, that is it possible that it was part of the same original commission?
Star tiles without a calligraphic border are rare, and the result is such that the central image becomes larger and far stronger. A tile almost identical to ours but decorated with a horse sold in these Rooms, 13 April 2010, lot 51. This must have been part of the same original commission as ours.
Christie's. Art of the Islamic and Indian Worlds including Oriental Rugs and Carpets, 27 Oct 2022