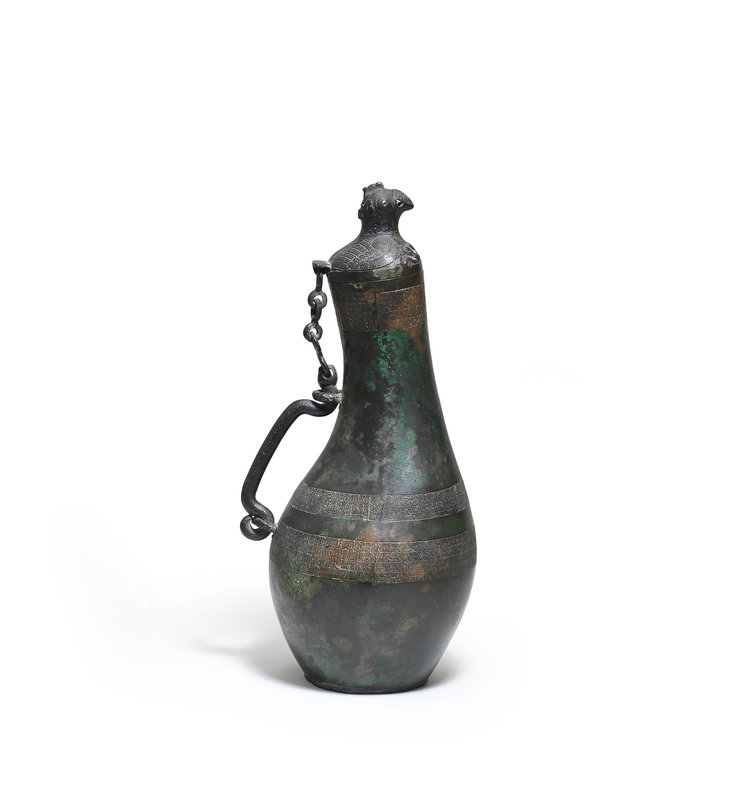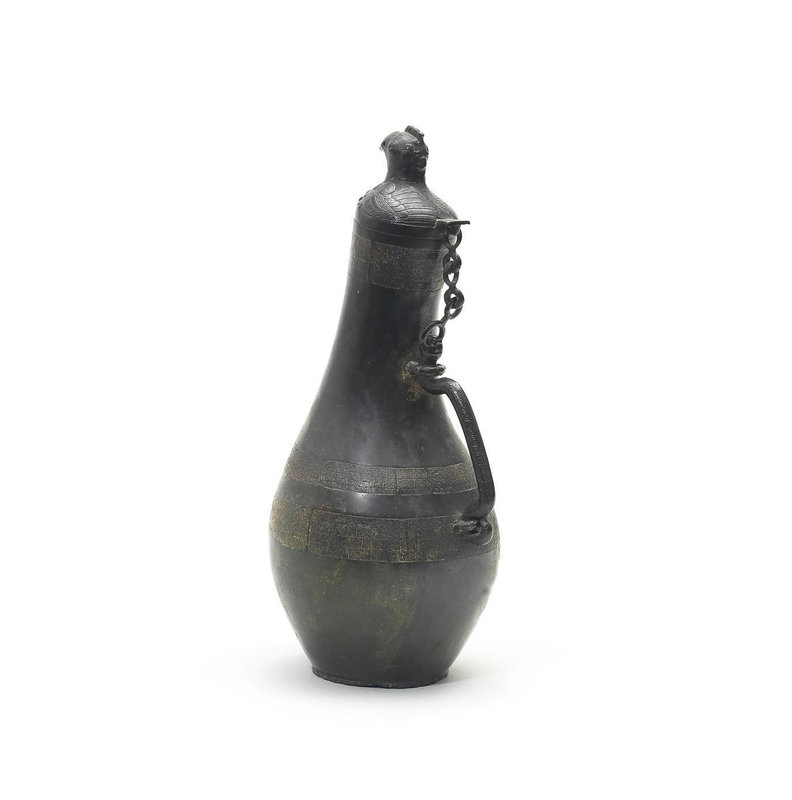 Lot 101. A rare archaic bronze 'gourd' vase and cover, hu, Eastern Zhou dynasty (770-221 BC); 33cm (13in) high. (2). Sold for £101,100 (Estimate £40,000-60,000). © Bonhams 2001-2022
The bulbous flask-shaped body supported on a simulated rope-twist foot, rising to a straight neck slightly curved on one side, intricately cast with two registers around the body and another below the mouth rim decorated with the 'coiling snake' panhui motifs, set on one side with a bar handle in the form of a snake attached to the body with two rope-twist rings and with a loose interlinked chain secured to the tail of the bird-shaped cover, the cover naturalistically cast as a bird with well detailed wing feathers bordered with archaistic scrolls, the sharp beak opening to form the aperture of the vessel, the bird grasping two serpents in its claws.
Provenance: Mark Dineley (1901-1975)
Peter Dineley (1938-2018), and thence by descent.
Note: Mark Dineley and his son Peter Cleverly Dineley collected antique arms and armour, Chinese, Tibetan and Nepalese art amongst other interests. The collections were displayed in the former family home, Aubrey House, located in Holland Park, London - a stately 18th century house. The house came into the Dineley family when it was acquired in 1873 by William Cleverly Alexander (1840-1916) from whom Mark and Peter were descended. W.C. Alexander was a banker and a great connoisseur and patron of the artist James McNeill Whistler, as well as a renowned collector of Chinese ceramics, jade and Japanese art, much of which is now in the British Museum, London, including the celebrated Northern Song Alexander bowl. He was amongst the lenders to exhibitions held at the Burlington Fine Arts Club in 1895, 1896 and 1910 and to the City of Manchester Art Gallery's Exhibition of Chinese Applied Art in 1913, and to exhibitions held at the Victoria and Albert Museum, London. In May 1931 his collection of Chinese ceramics, including 355 lots, was sold over two days and Sir Percival David acquired a significant part, now in the British Museum.

Gourd-shaped vessels resembling this vessel have been excavated in Henan, Shanxi and Shaanxi Provinces, which were among the territories ruled by the Jin and Wei. Such vessels were used for containing wine and it is notable that the design is rare compared with more common wine-vessel forms such as gu. Excavations in early Warring States tombs have only revealed one such vessel within a large burial, suggesting that such vessels reflected the noble status of the deceased.

Compare with a similar gourd-shaped vessel and cover, Warring States, decorated with three registers of panhui motifs around the body, in the National Palace Museum, Taipei, (acc.no.GuTong000024N000000000); and another excavated in 1988 at Jinshen village, Taiyuan, Shanxi Province, now in the Shanxi Museum, see Zhongguo meishu fenlei quanji. Zhongguo qingtong tongqi quanji 8. Dongzhou 2, Beijing, 1995, pp.73-74, nos.81-83. See also other similar excavated examples in the Shaanxi Museum of History and the Sackler Gallery of Art illustrated in ibid., pp.75-76, nos.84-85.

For an example of this rare type in the Arthur Sackler collection, see Jenny So, Eastern Zhou Ritual Bronzes in the Arthur M. Sackler Collection, Washington D.C., 1995, pp.236-239, no.39. The author suggests that this type of vessel was a 'short-lived type which appeared toward the end of the eighth century BC and disappeared by the early fifth century BC, and illustrates a closely related example formerly in the collection of Mrs. Otto H. Kahn, now in the Metropolitan Museum of Art, New York (acc.no.1949.135.9), illustrated ibid., p.238, fig.39.1.

Following the trend for archaism in the 18th century, and especially during the reign of the Qianlong Emperor, vessels such as the present lot became the model for other gourd-shaped vessels in various other media such as jade and cloisonné enamel. See for example, a cloisonné enamel vase of similar form to the present lot, Qianlong, in the Asian Art Museum, San Francisco (acc.no.B6OP286).
Bonhams. FINE CHINESE ART, 3 November 2022, London, New Bond Street