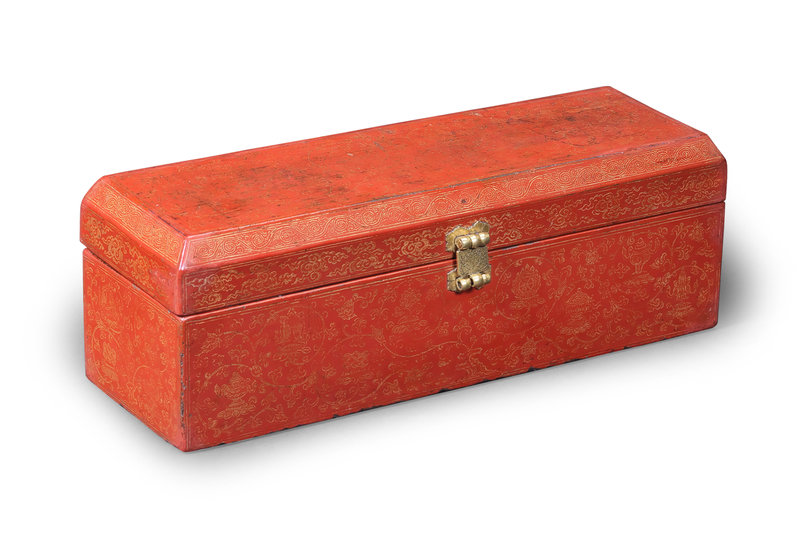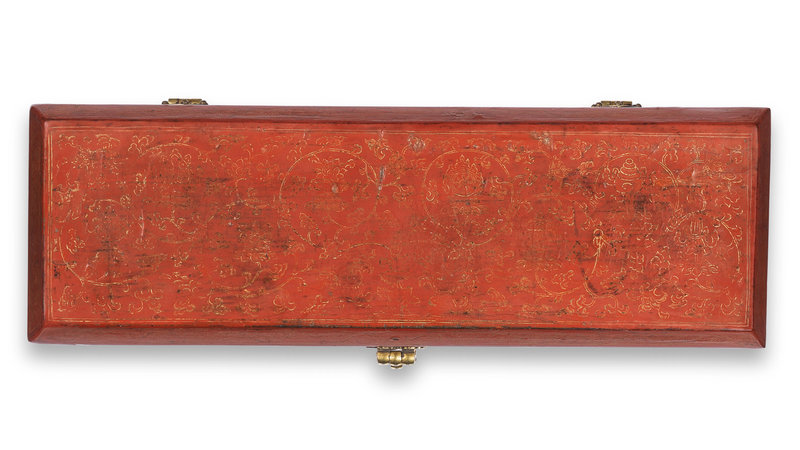 Lot 305. A rare gilt-decorated red lacquer 'bajixiang' sutra box and cover, Early 15th century; 40cm (15 3/4in) long. Sold for £19,125 (Estimate £15,000-20,000). © Bonhams 2001-2022
The rectangular box lacquered in vibrant red and decorated with gold-filled incised lines depicting scrolling lotus with the 'Eight Buddhist Emblems' each supported on an blossoming lotus flower, the cover hinged and with a gilt-bronze clasp at the front chased with lotus motifs, the sides of the cover with swirling clouds, the trapezoidal upper section with meandering foliate scrolls, the interior with woven silk lining.
Provenance: Christopher Bruckner Asian Art Gallery, London, prior to 2005.
Published and Illustrated: Céline and Christopher Bruckner, Chinese Imperial Patronage: Treasures from Temples and Palaces, vol.II, London, 2005, no.3
Note: Compare with a box, probably made in the same workshop, but with a dragon design, in the Metropolitan Museum of Art, New York, illustrated by J.Watt and L.D.Patry, Defining Yongle: Imperial Art in Early Fifteenth Century China, New York, 2005, no.21. See also a related large square lacquer box decorated in the same technique with dragon roundels, dated 1389, illustrated by J.M.Addis, Chinese Ceramics from Datable Tombs, London, 1978, pl.32d.

The present lot would have been made to hold a Buddhist sutra. Zhu Di (1360-1424), who ruled as the Yongle emperor, was introduced to Tibetan Buddhism and initiated into its practices around 1380, when he was enfeoffed in Beijing. Seeing himself as a universal ruler to rival former Mongol claims to power across the Eurasian continent, he sponsored and tolerated numerous religions including Tibetan Buddhism, which still had strong ties to the Mongol military elite. Following renewed contacts with religious and secular leaders in Tibet, the demand for works and ritual objects depicting Buddhist imagery increased at the beginning of the 15th century. In 1410, the Yongle emperor ordered the production of the Tibetan canon, or Kanjur, in Beijing; see Jiacuo, et al., 'Lasa Xianzang de liangbu Yongle Ganzhuer', Wenwu, 1985, pp.85-88.

See two very similar lacquer sutra boxes and covers, Yongle, which were sold at Christie's Hong Kong, 16 November 1998, lot 14, and 3 June 2015, lot 3010.
Bonhams. Imperial Painted Lacquer Furniture and Scholar's Objects from China's Ming and Early Qing Dynasties, 3 November 2022, London, New Bond Street