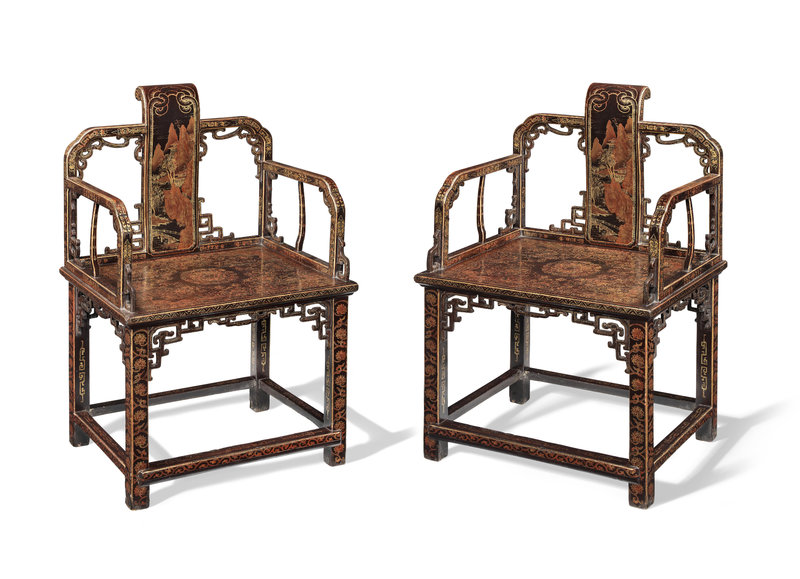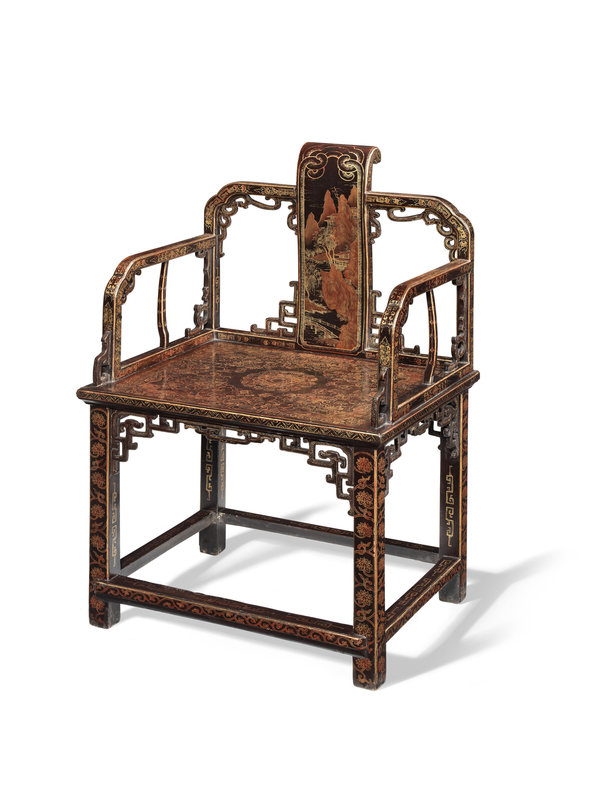 Lot 324. A rare pair of gilt-decorated black lacquer armchairs, Yongzheng-Qianlong period (1723-1795); 98cm (38 1/2in) high x 61.5cm (24 1/4in) wide x 48.5cm (19in) deep. (2). Sold for £25,500 (Estimate £25,000-35,000). © Bonhams 2001-2022
With a curved central back rail delicately painted in red lacquer and gilt with groups of multi-roofed pagodas beneath pine on the bank of a boisterous river, below cloud scrolls and intertwined ruyi heads, the flat seat with an elaborate floral design framed by C-scrolls and alternating ruyi-head and lotus blossom enclosing four bats in shades of gold and apricot lacquer with four smaller sprays at the corners, the frame with deeply-pierced fretwork around the inner edges of the arms and legs and variously decorated with foliate scrolls and diaper grounds, the legs of square section joined by stretchers also decorated with lotus scrolls.
Note: The lavish use of gold on a black lacquer ground became particularly popular during the reign of the Yongzheng emperor, who especially appreciated and collected Japanese-style gold and silvered lacquer (maki-e). Gilt-decorated lacquer thus became very popular at the Qing Imperial Court for a variety of Imperial furniture, from thrones to beds, stands, stools, seats, tables, cabinets, screens, chairs and armchairs as demonstrated in the present lot. Furniture of this type can be seen in situ in the Forbidden City in places such as the Yucuixuan and the Cui Yun Guan (Hall of Green Cloud). For examples in the Qing Court Collection, see The Complete Collection of Treasures of the Palace Museum: Furniture of the Ming and Qing Dynasties (II), Hong Kong, 2002, pls.4, 20, 28, 34, 49, 57, 61, 62, 76, 85, 89, 159, 167, 229, and 234.

The present pair of gilt and black lacquer armchairs is very similar to a pair sold by Yamanaka & Co. at the American Art Galleries, New York in January 26-27 1917, in the sale titled Art Treasures from the Imperial Palace Pekin, lot 226; and to a gilt lacquer armchair, then at C.T.Loo & Co., Paris, illustrated by H.Cescinsky, Chinese Furniture, London, 1922, pl.XLV (a).

See also a similar pair or Imperial gilt-decorated black lacquer armchairs, 18th century, which was sold at Bonhams London, 17 May 2012, lot 161.
Bonhams. Imperial Painted Lacquer Furniture and Scholar's Objects from China's Ming and Early Qing Dynasties, 3 November 2022, London, New Bond Street