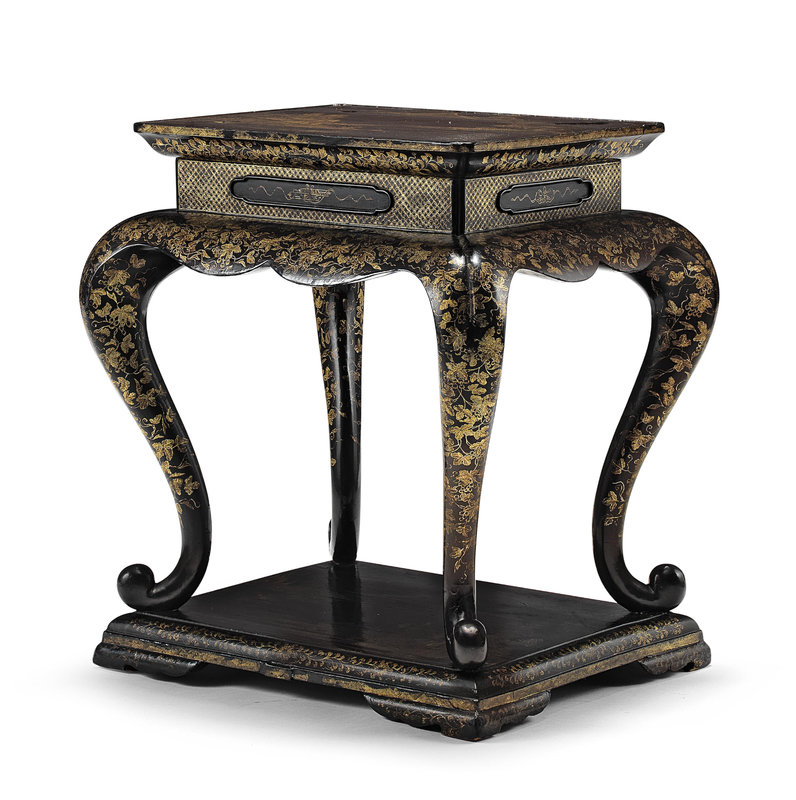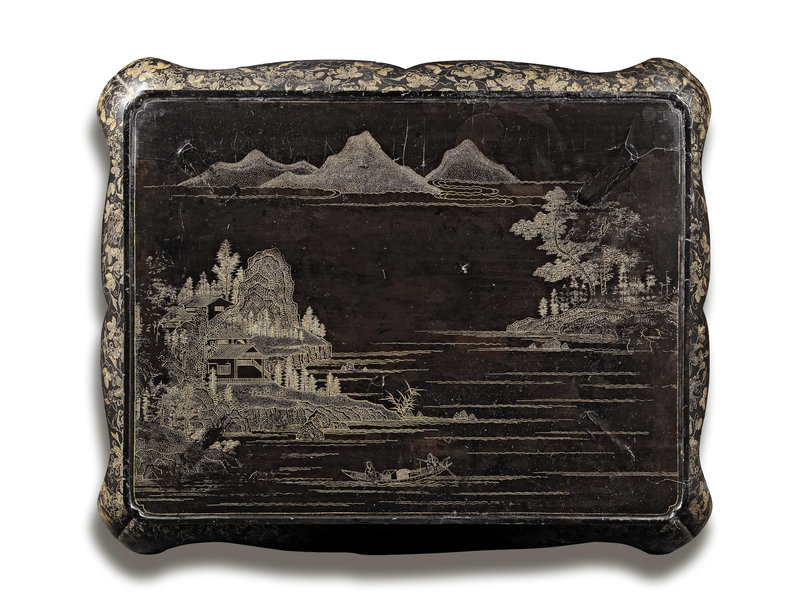 Lot 326. A gilt and black lacquer rectangular incense stand, 18th century; 62cm (24 3/8in) high x 58cm (23 7/8in) wide x 47cm (18 1/2in) deep. Sold for £6,375 (Estimate £5,000-8,000). © Bonhams 2001-2022
The stand of rectangular section with its top lavishly decorated with a landscape featuring a sampan crossing the river, its banks dotted with small pavilions nestled within jagged rocks, willow and pine trees, the curving edges decorated with intricate foliage, supported on a straight recessed waist defined by narrow panels enclosing Auspicious Emblems reserved on a diaper ground, all above the cusped and barbed apron decorated with vines and grapes, the same design continuing onto the four curling legs ending in upturned feet resting on a stepped stand decorated with another riverside scene bordered by floral scrolls.
Note: Incense and other aromatics have been burned in Chinese culture since the Han dynasty and were used for both secular and religious purposes. Censers were used not only to burn incense, but also to hold a variety of aromatic substances that can slowly release their scent. Censers and their stands would be placed in interiors, in Imperial offices, private residences but could also be placed in places of worship or used outdoors. Therefore, incense stands have become a standard piece of Chinese furniture for any individual who could afford luxury goods. The high waist and the graceful undulations suggest this stand could probably linked to Buddhism. High waisted pedestal stands, xumizuo, were commonly placed in front of Buddhist images. For further discussion about the use and shape of incense stands, see Wang Shixiang, Connoisseurship of Chinese Furniture: Ming and Early Qing Dynasties, Hong Kong, 1990, vol.1, pp.52-54.

Compare with a related black lacquered incense stand, Kangxi, which was sold at Christie's Hong Kong, 1 June 2011, lot 3557.
Bonhams. Imperial Painted Lacquer Furniture and Scholar's Objects from China's Ming and Early Qing Dynasties, 3 November 2022, London, New Bond Street