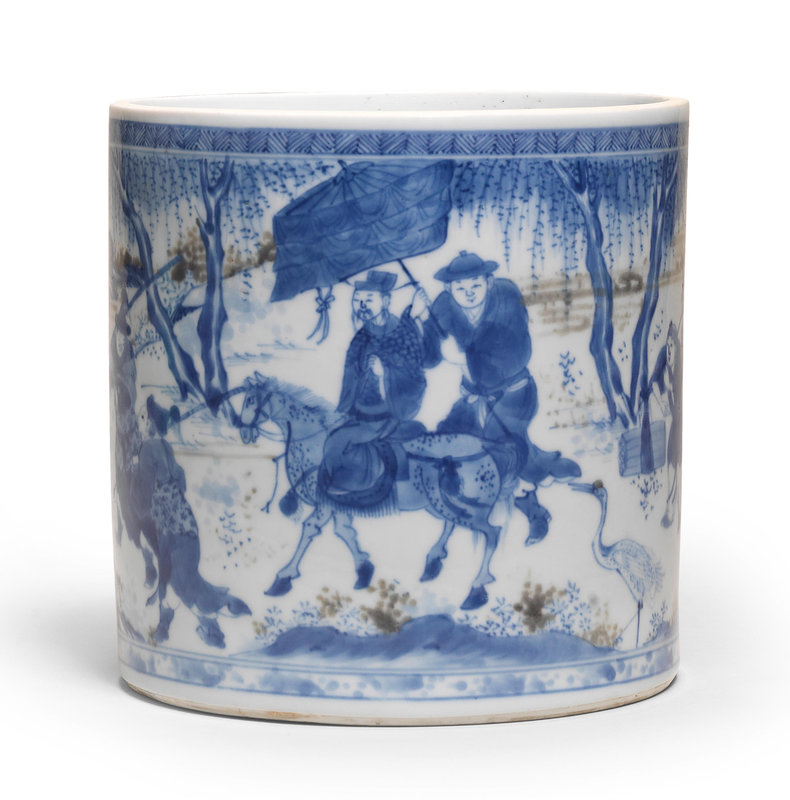 Lot 10. A very rare blue and white and copper-red brushpot, bitong, Early Kangxi period (1662-1722); 16.5cm (6 1/2in) diam. Sold for £31,800 (Estimate £30,000-£40,000). © Bonhams 2001-2022
The tall straight sides rising from a channelled foot ring to a dry mouth-rim, masterfully painted around the exterior with a scene of a bearded scholar-official riding a horse accompanied by an attendant with a parasol decorated with copper-red, beside a crane and followed by other attendants carrying scrolls and a guqin, guards at the front, all amidst a landscape with willows and gnarled rocks, between a herring-bone border at the mouth and dotted border at the foot.
Provenance: Sydney Fung, Hong Kong
Adrian M.Joseph (d.2010), Hong Kong, circa 2004.
Published and Illustrated: S.Marsh, Brushpots: A Collector's View, Hong Kong, 2020, pp.116-117.
Note: Chamber (Xixiang ji), when scholar Zhang is returning to the monastery after having passed the Imperial civil service examinations. However, the scholar's beard indicates he is of a more advanced age. The rider of the horse is not easy to identify, but he is clearly someone of considerable importance. An attendant holds a formal canopy over the rider, indicative of high rank. Preceding the horse are two soldiers, carrying very long ceremonial staves over their shoulders.

It is significant that a red-capped crane stands to the side, since cranes are not only symbols of longevity, but, when combined with a qin (carried by one of the attendants), forms a rebus for yiqin yihe (一琴一鶴) which denotes an incorruptible official. This refers specifically to Zhao Bian of the Song dynasty, who served as a censor in Sichuan Province. There he lived a pure life with his qin and his pet crane. It is probable that it is Zhao Bian who is depicted on this brushpot.

The whole pot is finely painted, with the rocks that form the end of the scene painted in the 'Master of the Rocks' style. Also, interestingly, there is 'v'-shaped grass, which is often thought to be more commonly a feature of 1640s porcelain decoration. Apart from the rich cobalt blue, a notable feature of this brushpot is the second underglaze colour, reddish-brown, the result of copper oxide, very thinly applied.

See a related blue and white and copper-red brushpot, also with a channelled foot, Kangxi, illustrated in Qing Shunzhi Kangxi chao qinghua ci, Beijing, 2005, no.222.

Compare with a related blue and white and underglaze copper-red brushpot, early Kangxi, with mountains in the 'Master of the Rocks' style, which was sold at Bonhams London, 6 November 2014, lot 230.
Bonhams. THE MARSH COLLECTION ART FOR THE LITERATI, 3 November 2022, London, New Bond Street