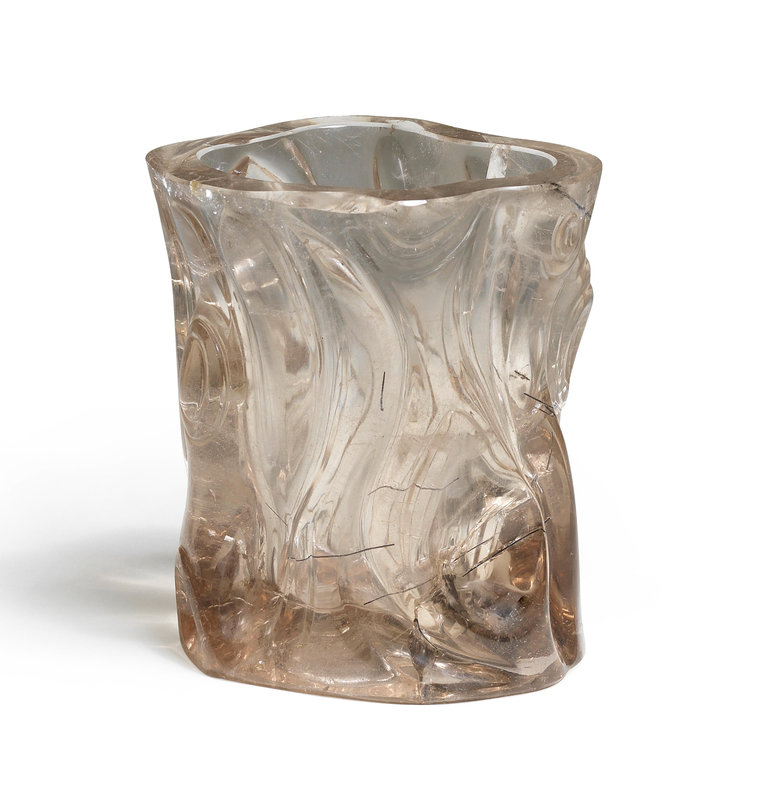 Lot 11. A rare rock crystal tree-trunk-shaped brushpot, bitong, Mid Qing Dynasty; 14cm (5 1/2in) high. (2). Sold for £7,012.50 (Estimate £4,000-£6,000). © Bonhams 2001-2022
The transparent crystal smoothly hollowed and crisply carved as a gnarled tree-trunk with swirling knots, the stone with 'pine-needle' inclusions, wood stand.
Provenance: S. Marchant & Son, London, 25 June 2002.
Published and Illustrated: S.Marsh, Brushpots: A Collector's View, Hong Kong, 2020, pp.18-19.
Note: Rock crystal is traditionally valued for its translucent quality as a symbol of purity, and is referred it as shujing, literally meaning 'water essence' (水晶); see M.Wilson, Chinese Jades, London, 2004, p.102. The present lot is carved a tree-trunk, probably a gnarled pine because of the 'pine-needle' inclusions. The pine tree is one of the 'Three Friends of Winter' along with bamboo and plum blossom and was admired by scholars for encapsulating ideals of Confucian morality such as self-discipline and fortitude.

See a related rock-crystal brushpot carved as a gnarled pine tree with crane and bamboo, Qing dynasty, illustrated in The Jade Carving Art in the Ch'ing Dynasty, Taipei, 1990, p.165.
Bonhams. THE MARSH COLLECTION ART FOR THE LITERATI, 3 November 2022, London, New Bond Street