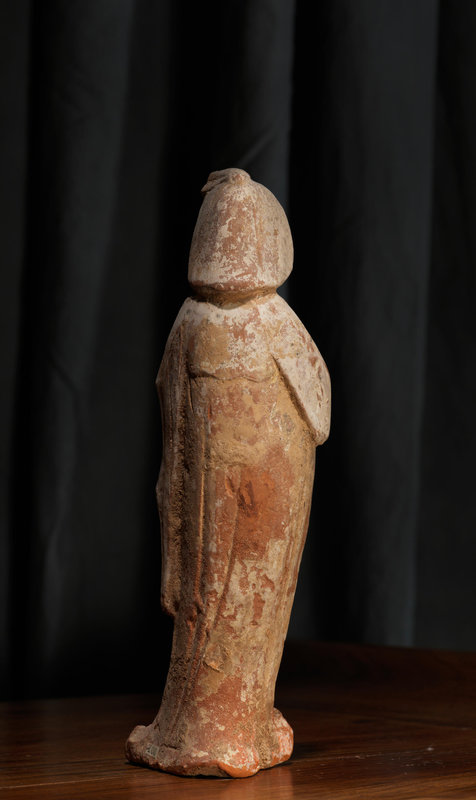 Lot 41. A painted pottery figure of a court lady, Tang Dynasty (618-906 AD); 22.5cm (8 7/8in) high. Sold for €4,845 (Estimate 300 € - 500 €). Courtesy Bonhams.
The standing figure well-modelled, dressed in a long robe falling to the feet in heavy folds and concealing her hands, framed by the soft coiffure drawn up into a large loop.
Provenance: Robert Rousset, Paris (1901-1981), acquired prior to 1935.
Jean-Pierre Rousset, Paris (1936-2021).
Note: The elegant modelling of the present figure, characterised by a full body and thin garments falling gracefully to her feet, reflects the changes in the ideal of feminine beauty taking place during the middle of the 8th century. At this time, the highest-ranking classes of the Tang dynasty had become more sedentary and interested in interior pursuits. Tang poets spoke passionately about these new canons of beauty. A related pottery figure of a Court lady, Tang dynasty, in the Palace Museum, Beijing, is illustrated in Diao Shi Ru Sheng: Gugong Cang Sui Tang Taoyong, Beijing, 2006, p.95, no.41; a further related pottery figure of a Court lady, Tang dynasty, from the Robert Rousset collection, in the Musée Guimet, Paris, is illustrated by J-P.Desroches, Compagnons d'Eternite', Paris, 1981, p.235.
Bonhams Cornette de Saint Cyr Paris. The Robert and Jean-Pierre Rousset Collection of Asian Art: A Century of Collecting - Part 1. Paris, 25 october 2022.