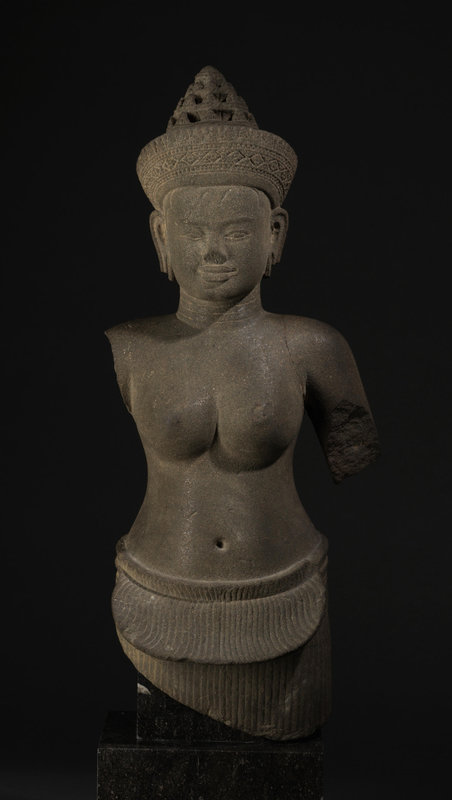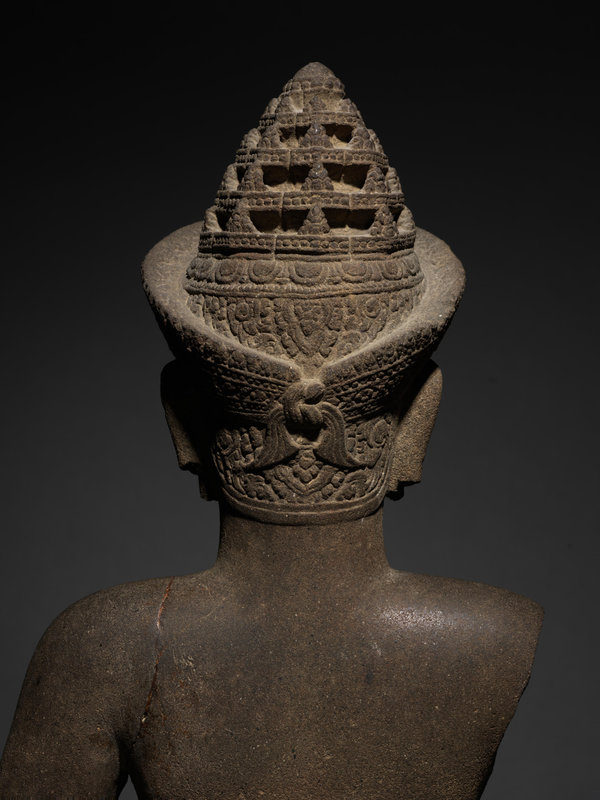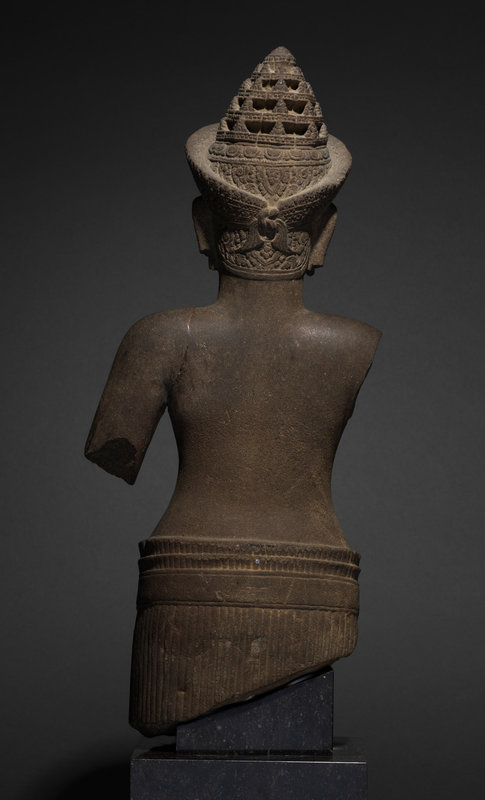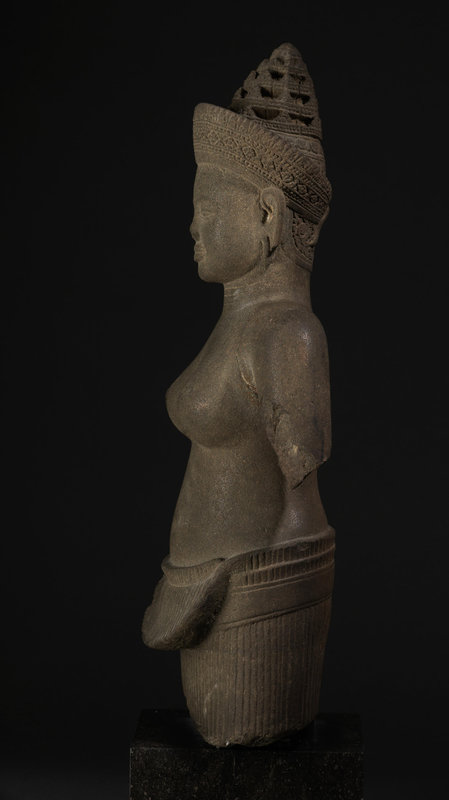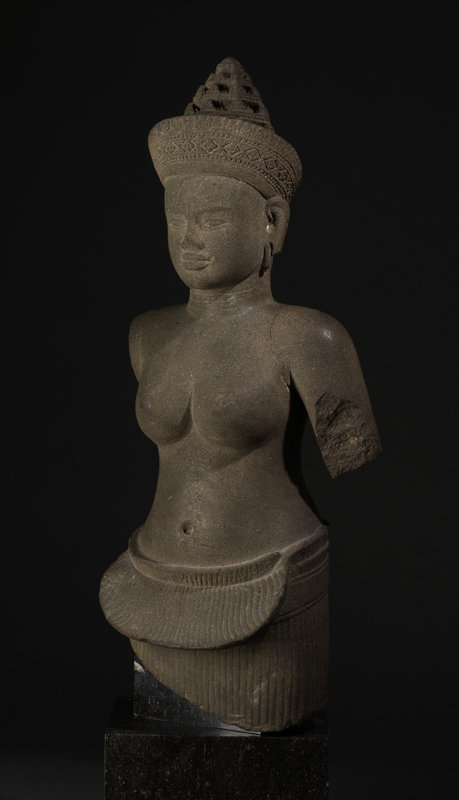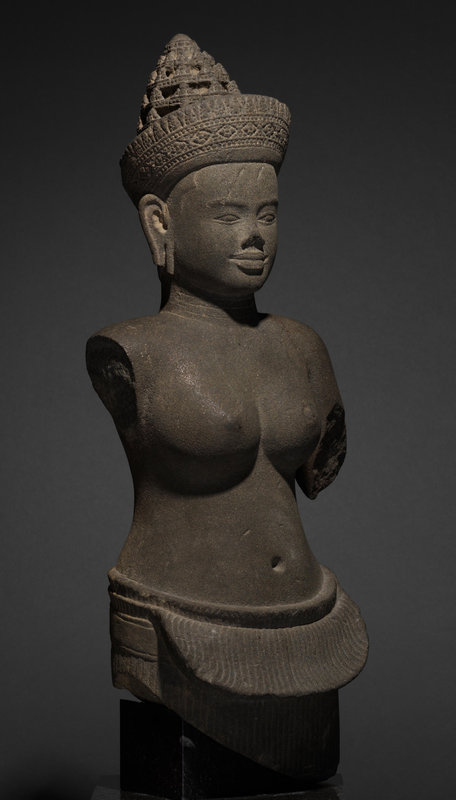 Lot 59. A sandstone bust of a female divinity, Cambodia, Angkor Period, style of Pre Rup, 10th century; 62cm (24 3/8in) high. (2). Sold for €315,375 (Estimate € 30,000-50,000). Photo Fabrice Gousset.
This is a very rare and early representation of a female deity with superb purity of form. The top of the sarong is draped across the plain belt and the hemline is flared towards the top. She is carved with delicate folds at the neck (trivali) and faint wavy lines are incised beneath the breasts and navel enhance her plump features, stand.
Provenance: Robert Rousset, Paris (1901-1981), acquired from Capital Antique, Bangkok, 12 January 1969
Jean-Pierre Rousset, Paris (1936-2021).
Note: The goddess represents one of the principal Hindu female deities, most likely Uma or Lakshmi. In the absence of arms and attributes, the designation of this sculpture cannot be confirmed. However, the conical mukuta in the form of a lotus crown that covers her chignon, is decorated with motifs openwork lanceolate florals, and terminated by an ovoid bud is a key distinguishing feature of Pre Rup milieu.

Despite the limited documentation and the lack of originality shown by the statuary of the Râjendravarman period, many particular elements support the attribution of this deity to the style of Pre Rup. Generally speaking, the deity is reminiscent of the style of Koh Ker, but its size is much smaller and returns to hieraticism. She wears the same sarong as at Koh Ker, narrow pleat-lines with a large characteristic flap, but on the other hand, the pleated fabric is much broader with an archaic tendency.

Compare with a Shiva in the Musée Guimet (MA 3431) that shares a similar treatment of the sampot and crown, see A.Le Bonheur Rarities of the Musee Guimet, Paris, 1975, pls.3 and 4. Also see J.Boisselier Asie du Sud-Est, Tome I – Le Cambodge, 1966, p.247, fig.58fn. and R.Goepper, ed., Skulpturen der Khmer und Thai, Stuttgart, 1989, p.80-81.

La déesse représente l'une des principales divinités féminines hindoues, très probablement Uma ou Lakshmi. En l'absence d'armes et d'attributs, l'identité de cette sculpture ne peut être confirmée. Cependant, la mukuta conique en forme de couronne de lotus qui recouvre son chignon, est décorée de motifs floraux lancéolés ajourés et terminée par un bourgeon ovoïde est un élément distinctif essentiel du style de Pre Rup.

Malgré la documentation limitée et le manque d'originalité de la statuaire de la période de Râjendravarman, de nombreux éléments particuliers soutiennent l'attribution de cette divinité au style de Pre Rup. D'une manière générale, la divinité rappelle le style de Koh Ker, mais sa taille est beaucoup plus petite et revient au hiératisme. Elle porte le même sarong qu'à Koh Ker, des plis étroits avec un grand rabat caractéristique, en revanche, le tissu plissé est beaucoup plus large avec une tendance archaïque.

Comparer avec un Shiva du Musée Guimet (MA 3431) qui partage un traitement similaire du sampot et de la couronne, voir A.Le Bonheur Raretés du Musée Guimet, Paris, 1975, pls.3 et 4. Voir aussi J.Boisselier Asie du Sud-Est, Tome I – Le Cambodge, 1966, p.247, fig.58fn. et R.Goepper, ed., Skulpturen der Khmer und Thai, Stuttgart, 1989, p.80-81.
Bonhams. The Robert and Jean-Pierre Rousset Collection of Asian Art: A Century of Collecting - Part 1. Paris, 25 october 2022.