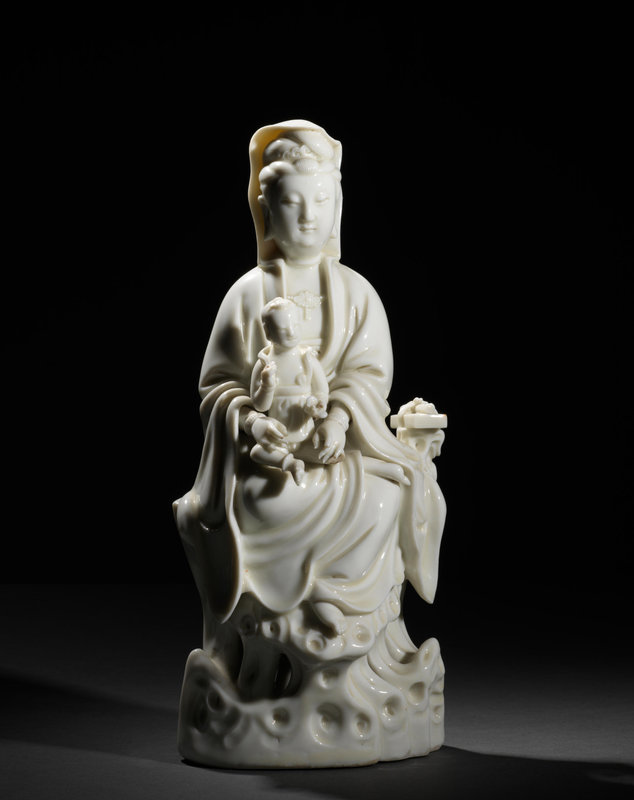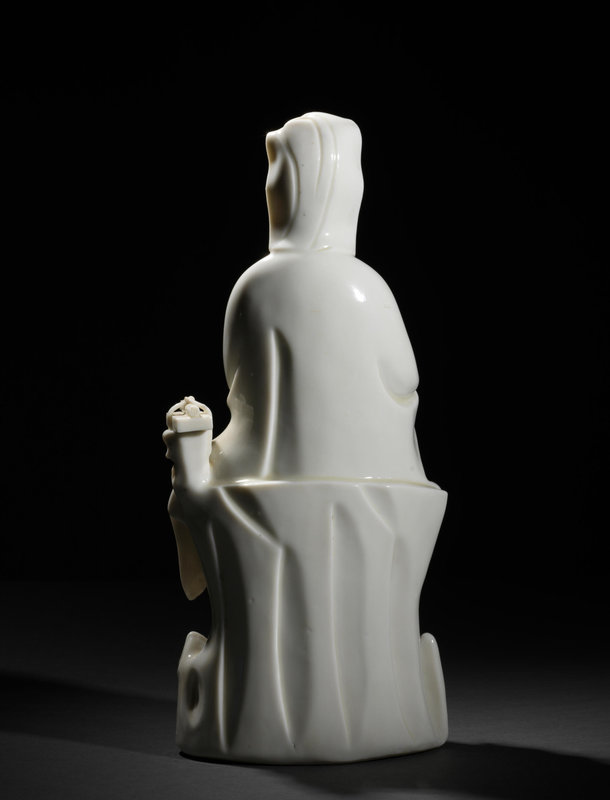 Lot 89. A blanc-de-chine Guanyin and child, 18th century; 30.8cm (12 1/8in) high. Sold for €2,805 (Estimate € 800-1,200). Photo Fabrice Gousset.
The Goddess of Mercy finely modelled seated on pierced rockwork with the right leg crossed and resting on her left lap and the bare left foot protruding under the long flowing robes open at the chest to reveal a floral necklace over the undergarments, the hooded eyes downcast in a serene expression beneath highly-arched brown and incised hair gathered in high chignon, the arms adorned with beaded bracelets supporting a boy seated on her lap holding an ingot in his left hand, the rockwork with a side section supporting a book and a scroll tied in a ribbon.
Provenance: Robert Rousset, Paris (1901-1981)
Jean-Pierre Rousset, Paris (1936-2021).
Note: See a related blanc-de-Chine figure of Guanyin and child, early/mid 17th century, illustrated by R.Kerr and J.Ayers, Blanc De Chine: Porcelain from Dehua, Singapore, 2002, no.8. Compare also with a related blanc-de-Chine figure of Guanyin and child, 17th century, which was sold at Bonhams London, 2 November 2021, lot 263.
Bonhams. The Robert and Jean-Pierre Rousset Collection of Asian Art: A Century of Collecting - Part 1. Paris, 25 october 2022.