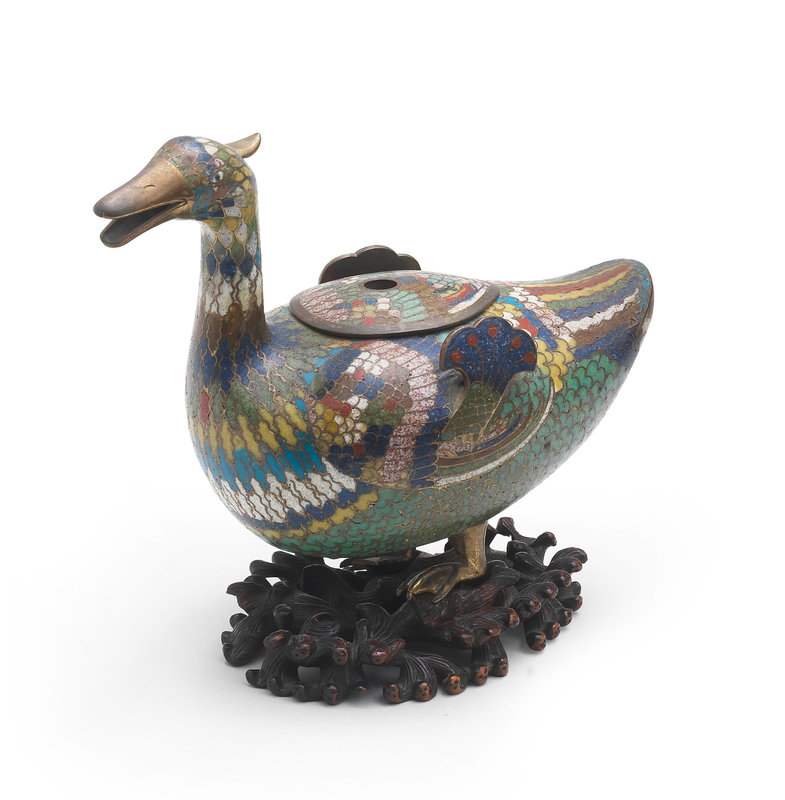 Lot 119. A cloisonné enamel duck-shaped incense burner and cover, 16th-17th century; 18.7cm (7 3/8in) high. (3). Sold for £44,400 (Estimate $7,000 - $10,000). © Sotheby's 2022
Finely modelled in the shape of a duck with its head slightly turned and beak open, its feather decorated in vibrant green, yellow, white, red, turquoise and blue, repeated at the cover, its back with an opening in the shape of feather, its beak and webbed feet gilded, all fixed on a wooden stand in the shape of waves.
Provenance: Sir Michael Oppenheimer (3rd Baronet, 1924-2020) and Lady Helen Oppenheimer DD (1926-2022), and thence by descent.
Note: The collection belonged to Sir Michael and Lady Oppenheimer DD (3rd Baronet, 1924-2020). Sir Michael's maternal grandparents were Sir Robert Grenville Harvey, 2nd Baronet (1856-1931) and Lady Emily Blanche Harvey (1872-1935) of Langley Park, Buckinghamshire. The Chinese art collection can be, at least in part, traced back to Langley Park, Buckinghamshire, home to the Harvey Baronets from 1788 until 1945, as demonstrated in a pre-1945 photograph showing Lot 122, the cloisonné enamel tripod 'elephant' incense burner, Qianlong.

Sir Michael Oppenheimer's paternal family was the well-known South African mining family. The baronetcy was created in 1921 for Bernard Oppenheimer, Chairman of the South African Diamond Corporation for setting up diamond sorting factories to employ wounded ex-servicemen after the First World War. The family has been involved with De Beers over many decades. Lady Oppenheimer DD (1926-2022) was a distinguished moral and philosophical theologian, with a particular interest in the ethics pertaining to personal relationships.

Compare with a similar cloisonné enamel duck-form incense burner, late Ming dynasty, in the Qing Court Collection, illustrated in the Compendium of Collections in the Palace Museum: Enamels, 1, Beijing, 2011, p.276, no.147. See also a pair of closely related cloisonné enamel duck-form incense burners and covers, Ming dynasty, with lotus-leaf stands, in the Victoria and Albert Museum, London (acc.nos.CIRC.187-1923 and CIRC.188-1923). A further pair of Mandarin duck form incense burners, Ming dynasty, depicted standing on a lotus leaf base, illustrated in Colorful, Elegant, and Exquisite: A Special Exhibition of Imperial Enamel Wares from Mr. Robert Chang's Collection, Suzhou, 2007, pp.118-119.
Sotheby's. Important Chinese Art, New York, 21 september 2022