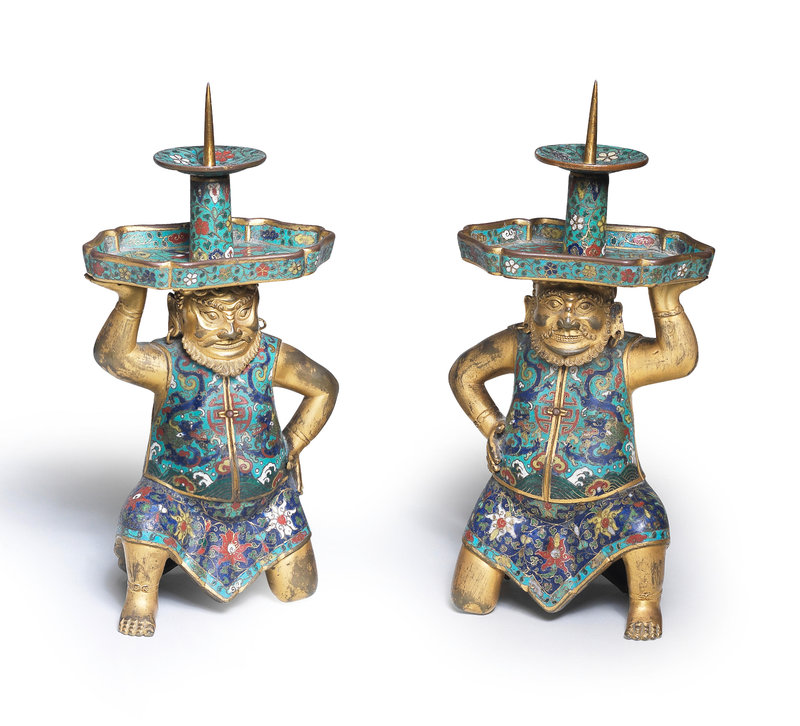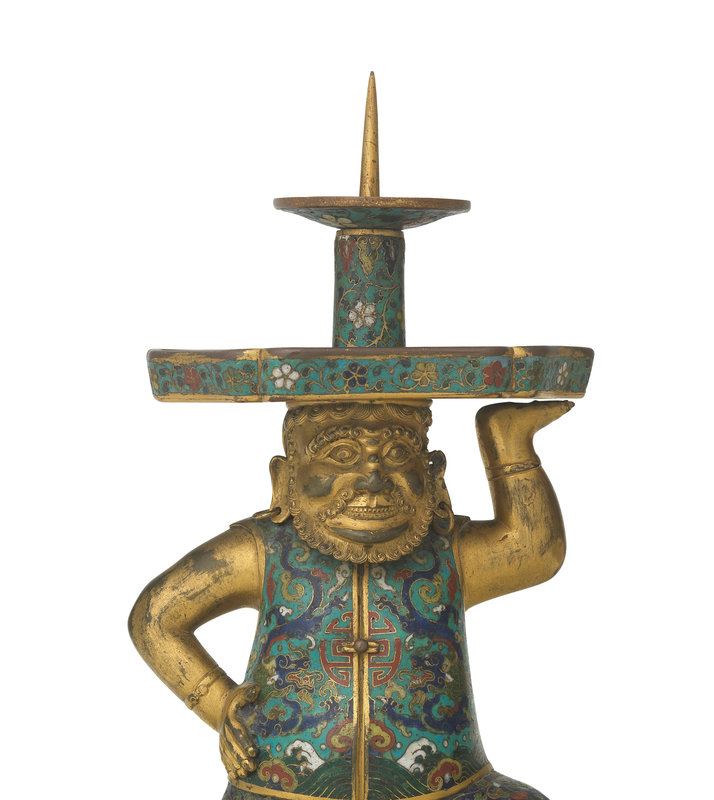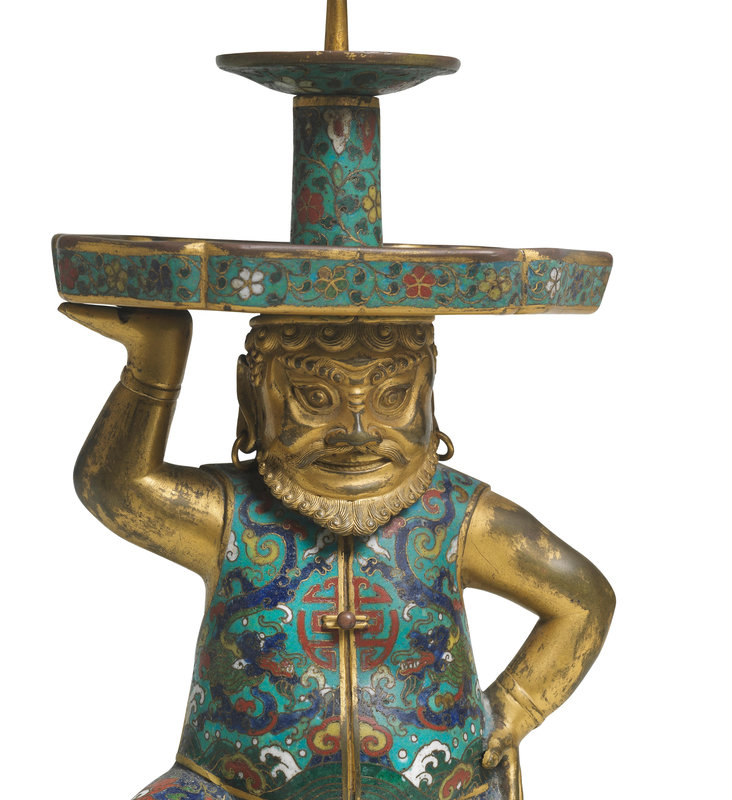 Lot 119. A very rare pair of cloisonné enamel and gilt-bronze kneeling 'foreigner' candlesticks, Kangxi period (1662-1722). Each 30cm (12in) high. (2). Sold for £44,400 (Estimate $7,000 - $10,000). © Sotheby's 2022
Each figure finely cast with one sturdy arm raised to support the shaped drip pan surmounted by a columnar pricket, the other hand resting on the hip, dressed in a tunic with dragons over crashing waves, the lower half with lotus scrolls, the head encircled with a fillet over bushy eyebrows and large bulging eyes, the mouths in gentle smiles between ears suspending loose earrings, each mirroring the other in a half kneel pose.
Provenance: Sir Michael Oppenheimer (3rd Baronet, 1924-2020) and Lady Helen Oppenheimer DD (1926-2022), and thence by descent.
Note: The collection belonged to Sir Michael and Lady Oppenheimer DD (3rd Baronet, 1924-2020). Sir Michael's maternal grandparents were Sir Robert Grenville Harvey, 2nd Baronet (1856-1931) and Lady Emily Blanche Harvey (1872-1935) of Langley Park, Buckinghamshire. The Chinese art collection can be, at least in part, traced back to Langley Park, Buckinghamshire, home to the Harvey Baronets from 1788 until 1945, as demonstrated in a pre-1945 photograph showing Lot 122, the cloisonné enamel tripod 'elephant' incense burner, Qianlong.

Sir Michael Oppenheimer's paternal family was the well-known South African mining family. The baronetcy was created in 1921 for Bernard Oppenheimer, Chairman of the South African Diamond Corporation for setting up diamond sorting factories to employ wounded ex-servicemen after the First World War. The family has been involved with De Beers over many decades. Lady Oppenheimer DD (1926-2022) was a distinguished moral and philosophical theologian, with a particular interest in the ethics pertaining to personal relationships.

Superbly cast and meticulously decorated with multiple coloured enamels, the present candlesticks are remarkable examples displaying the high standards achieved in the Imperial workshops during the Kangxi reign.

Figures of foreigners depicted with large rounded eyes and bushy eyebrows have been a popular subject in Chinese art dating from at least the Tang period, when the increased presence of foreigners in China prompted a new fascination and a gradual stylisation of the image of the foreigner in Chinese art. Painters of Buddhist luohan and tribute missions to the Imperial Court continued the fascination with the exotic in subsequent periods.

The strong facial features, curly beards and hair held in place by a curving metal fillet displayed by the present foreigners closely compare with four small foreigners with bare chests kneeling to support a gilt bronze and cloisonné enamel incense of burner, early Qing dynasty: see The Complete Collection of Treasures of the Palace Museum, Metal-Bodied Enamel Ware, Beijing, 2011, p.106, no.79. See also a related cloisonné candlestick supported by a kneeling foreigner, early Qing dynasty, illustrated in Ibid., vol.2, p.139, no.104

The combination of cracked designs interspersed with auspicious symbols, such as it can be noted on the drip pans of the present candlesticks, is unusual. The cracked ice design was especially popular on objects produced during the Kangxi reign. See for example, a cloisonné altar set, Kangxi, comprising an incense burner, a pair of candlesticks and a pair of vases, decorated with prunus blossoms on a cracked-ice ground, in the National Palace Museum, Taipei, illustrated in Enamel Ware of the Ch'ing Dynasties, Taipei, 1999, pp.97-100, pls.26-28.

Compare a pair of gilt-bronze cloisonné enamel 'foreigner' candlesticks, Kangxi, which was sold at Sotheby's Paris, 13 June 2016, lot 55. See also a related pair of cloisonné candlesticks supported by foreigners, portrayed in a similar stance and attired in similar garments as the present examples, Kangxi, which was sold at Christie's Hong Kong, 30 May 2012, lot 3906. A similar costume is also worn by a single cloisonné enamel and gilt-bronze kneeling figure of a foreigner holding a shallow bowl, Kangxi, which was sold at Sotheby's, New York, 23 March 2004, lot 528. The sleeveless jacket inlaid with a dragon rising from a band of waves recalls the traditional Qing Court robes worn by the single cloisonné figure of a kneeling foreigner holding up a sphere, Kangxi, which was sold at Christie's, Hong Kong, 26 April 1999, lot 561.
Sotheby's. Important Chinese Art, New York, 21 september 2022