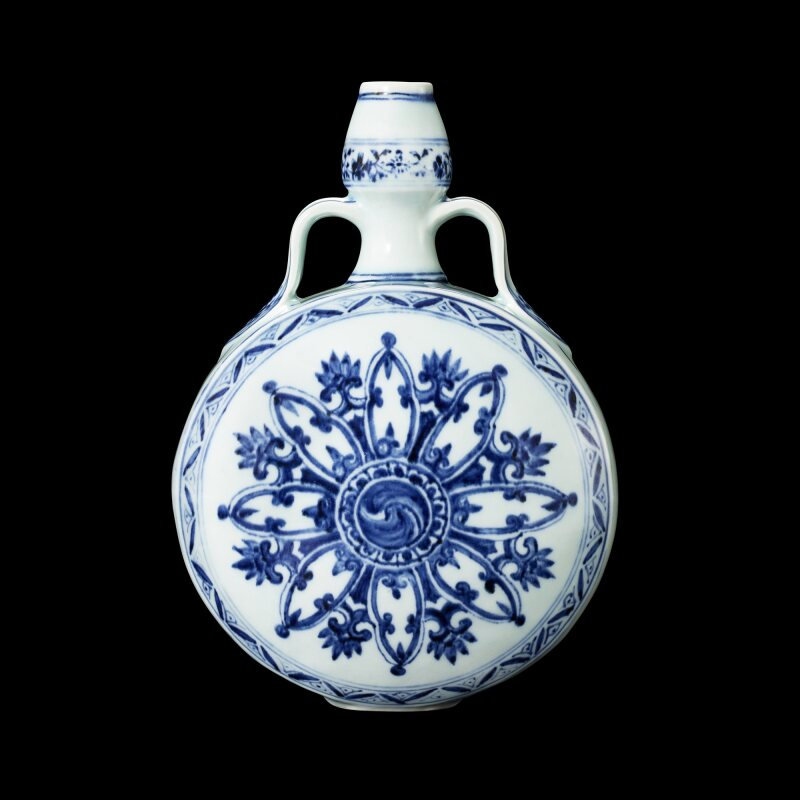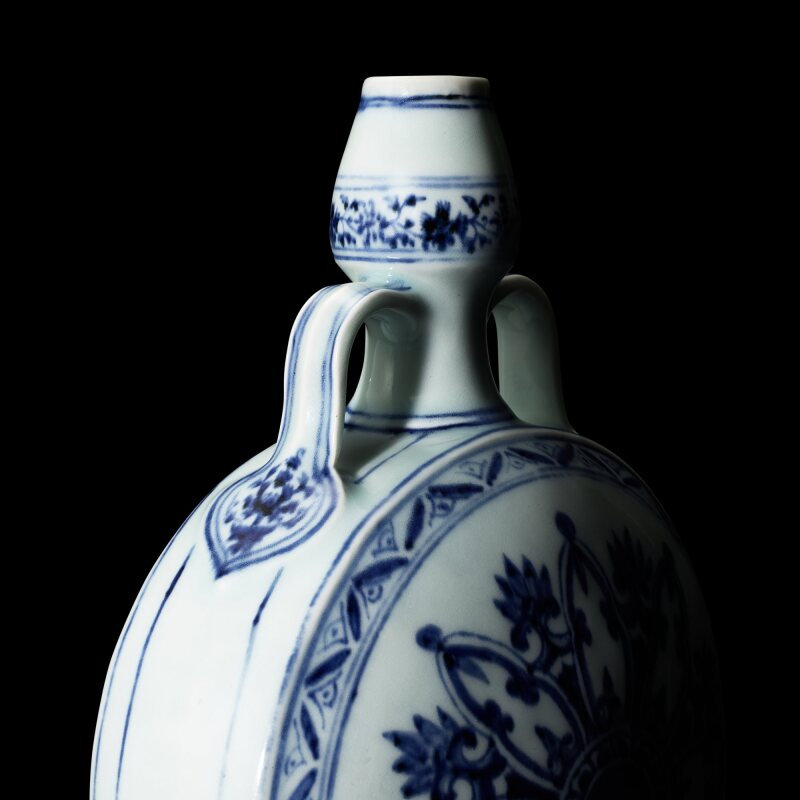 Lot 3509. A fine and exceptional blue and white moonflask, Ming dynasty, Yongle period (1403-1424); 29.3 cm. Lot sold: 12,475,000 HKD (Estimate: 14,000,000 - 18,000,000 HKD). © Sotheby's 2022
modelled after a Middle Eastern metal prototype, elegantly potted with a flattened spherical body with two domed sections, each side centred with a yin-yang medallion radiating an eight-pointed starburst, the foliate points interspersed between palmette or ornaments, all within a formal 'half-cash' diaper border around the edge, surmounted by a waisted neck and a small bulb-shaped mouth, collared by a foliate scroll band of aster and carnation, flanked by a pair of gracefully arched handles with terminals similarly adorned with floral sprays, all raised on a low oval foot, the cobalt blue of a brilliant tone with characteristic 'heaping and piling'.
Provenance: Sotheby's Hong Kong, 15th May 1990, lot 22.
Literature: Sotheby's Hong Kong – Twenty Years, Hong Kong, 1993, pl. 43.
Note: This flask represents one of the archetypal wares created at the imperial kilns in Jingdezhen during the early Ming dynasty, a design that appears to have been equally popular with the Chinese rulers as with foreign royalty. It belongs to a group of vessels which derived their inspiration from Persian prototypes and represented a new stylistic avenue for Chinese porcelain. The angular bulb and short oval foot are characteristic of Yongle flasks of this large size. Closely related examples include one in the collection of the Ottoman sultans in Turkey, illustrated in Regina Krahl, Chinese Ceramics in the Topkapi Saray Museum, Istanbul, London, 1986, vol. 2, pl. 616; one from the Qing court collection, preserved in the National Palace Museum, Taipei, and included in the Museum's exhibition Pleasingly Pure and Lustrous. Porcelains from the Yongle Reign (1403-1424) of the Ming Dynasty, 2017, pp. 140-141 (fig. 1); one from the Shanghai Museum, Shanghai, included in the exhibition Seika jiki ten [Exhibition of blue and white porcelain], Matsuya Ginza, Tokyo, 1988, cat. no. 16; and another, from the Jingguantang and Huang Ding Xuan collections, included in the exhibition In Pursuit of Antiquities. Thirty-Fifth Anniversary Exhibition of the Min Chiu Society, Hong Kong Museum of Art, Hong Kong, 1995, cat. no. 124, sold in these rooms, 29th October 1991, lot 29, and twice at Christie's Hong Kong, 3rd November 1996, lot 545, and again, 28th November 2006, lot 1512. Another example was sold in our Paris rooms, 18th December 2009, lot 65; and a further flask was sold in these rooms, 9th October 2020, lot 3608.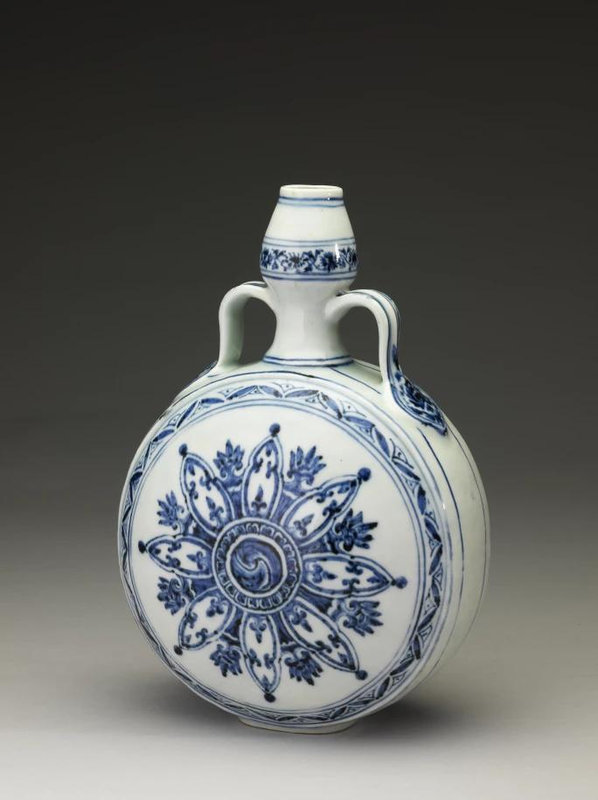 fig. 1. A blue and white moonflask, Ming dynasty, Yongle period, Qing Court Collection, Taipei Palace Museum.
The same design is also found adorning one side of flasks of similar form, but of slightly smaller size and with larger rounded bulbs, the other side decorated with a related design of interlaced petals and ruyi motifs; for example see one exhibited in the Shihua Art Museum, Shanghai, 2010, and published in Zhao Yueting, ed., Huangdi de ciqi. Jingdezhen chutu 'Ming san dai' guanyao ciqi zhenpin huicui [Porcelains of the emperors. Compilation of imperial porcelain treasures of 'The Three Ming Reigns' excavated at Jingdezhen], Shanghai, 2010, pl. 23, together with a plain white flask without a foot attributed to the early Yongle period, pl. 19, and a blue-and-white Xuande-marked example with a rectangular foot, pl. 68. See also a Xuande mark and period flask from the Qing court collection in the National Palace Museum, Taipei, exhibited in Pleasingly Pure and Lustrous, op.cit., pp. 142-143 (fig. 2), together with two white-glazed examples of this form, one undecorated and the other incised with interlaced petals, pp. 136-139. The subtle evolution of the form and design over the decades can be traced in these flasks.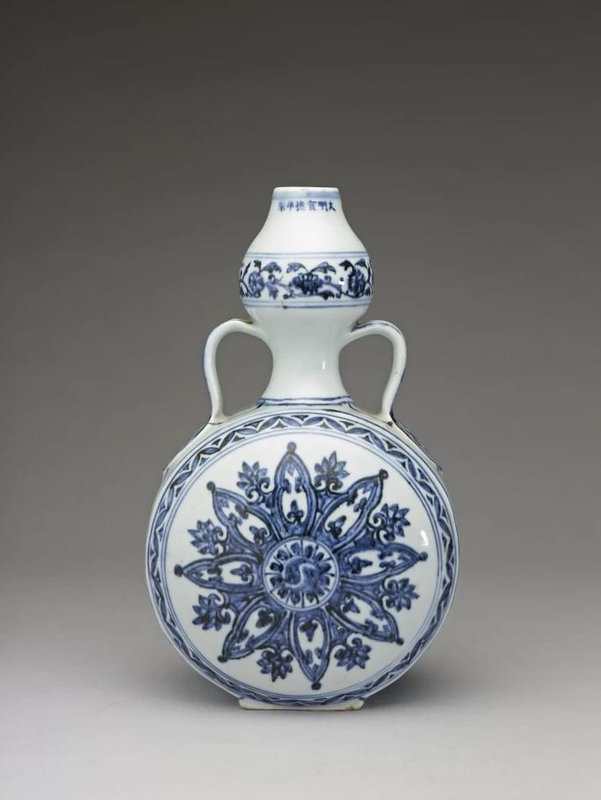 fig. 2. A blue and white moonflask, Mark and period of Xuande, Qing Court Collection, Taipei Palace Museum.
The design and shape of this flask appear to have derived from Near or Middle Eastern pottery or metal prototypes, although no exact counterpart has yet been found. Its possible origin is discussed in Margaret Medley, 'Islam and Chinese Porcelain in the 14th and Early 15th Centuries', Bulletin of the Oriental Ceramic Society of Hong Kong, no. 6, 1982-4, where a Xuande-marked flask in the Sir David Percival collection is illustrated, fig. 11; and in John Alexander Pope, 'An Early Ming Porcelain in Muslim Style', Aus der Welt der Islamischen Kunst. Festschrift für Ernst Kuhnel, Berlin, 1959, where another blue-and-white flask is published, pl. 3B, together with a large inlaid brass canteen with similar strap handles and 'garlic' mouth, pl. 1B, the latter from the Eumorfopoulos Collection, sold in our London rooms, 5th June 1940, lot 72, and now in the Freer Gallery of Art, Washington D.C., no. F1941.10 (fig. 3).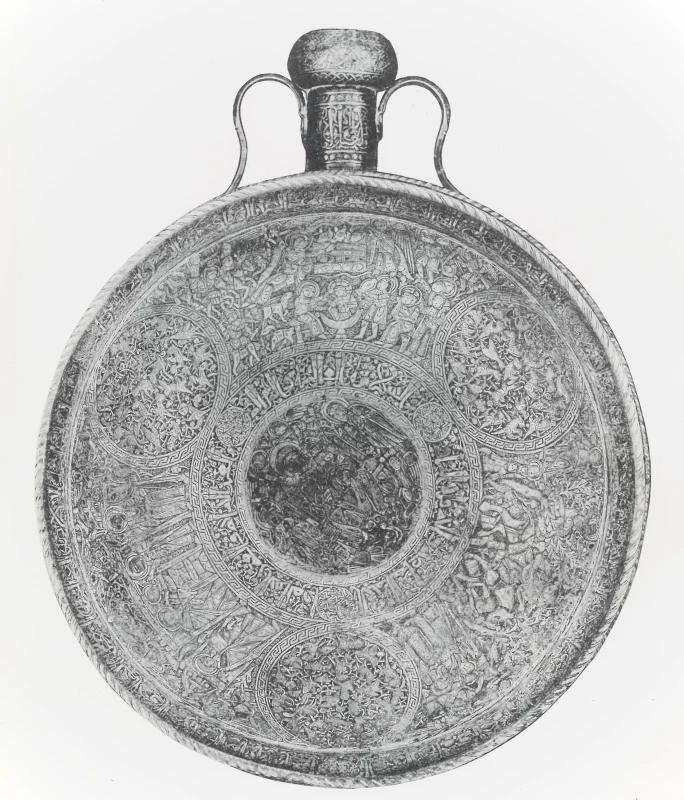 fig. 3 A silver-inlaid brass flask, Syria or Iraq, mid-13th century, formerly in the Eumorfopoulos Collection, Freer Gallery of Art, Washington D.C. (No. F1941.10), Sotheby's London, 5th june 1940, lot 72
The star-shaped rosettes adorning either side of the flask are composed in a highly stylised and geometric manner. Both its formality and abstraction are unusual in a Chinese context and, together with the enclosing chevron and geometric border, are probably also the result of Middle Eastern inspiration. However, the traditional Chinese design repertoire is represented through the flower-scroll band at the neck and the small floral sprigs at the handles, although the combination of asters and carnations is rare. The delicacy of the floral elements also serves to soften the rigidity of the overall design. Flasks of this model were popular during and peculiar to the Yongle and Xuande periods.
Sotheby's. Gems of Imperial Porcelain from the Private Collection of Joseph Lau Part II, Hong Kong, 9 October 2022