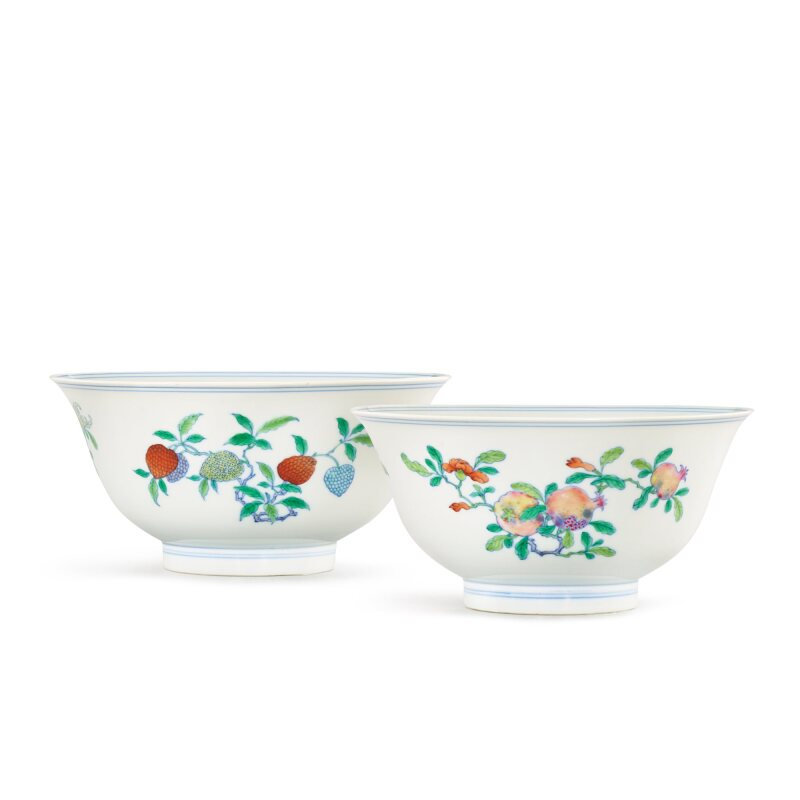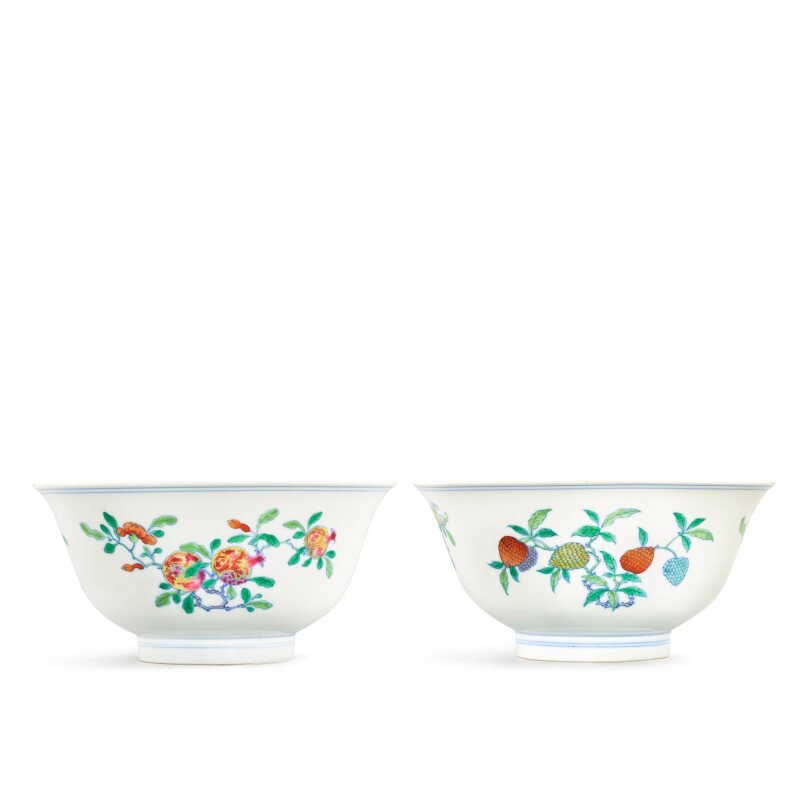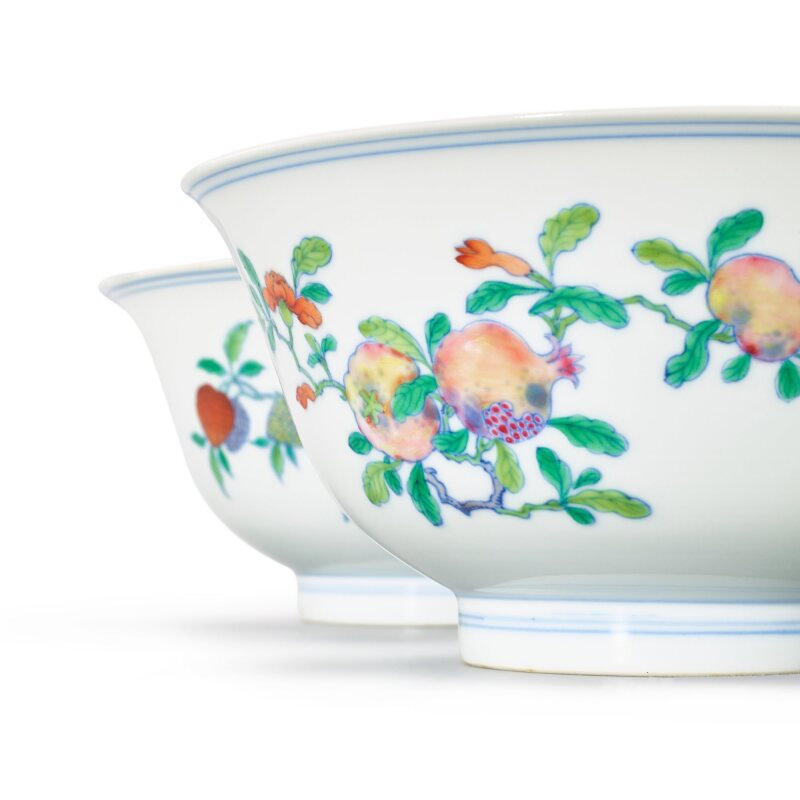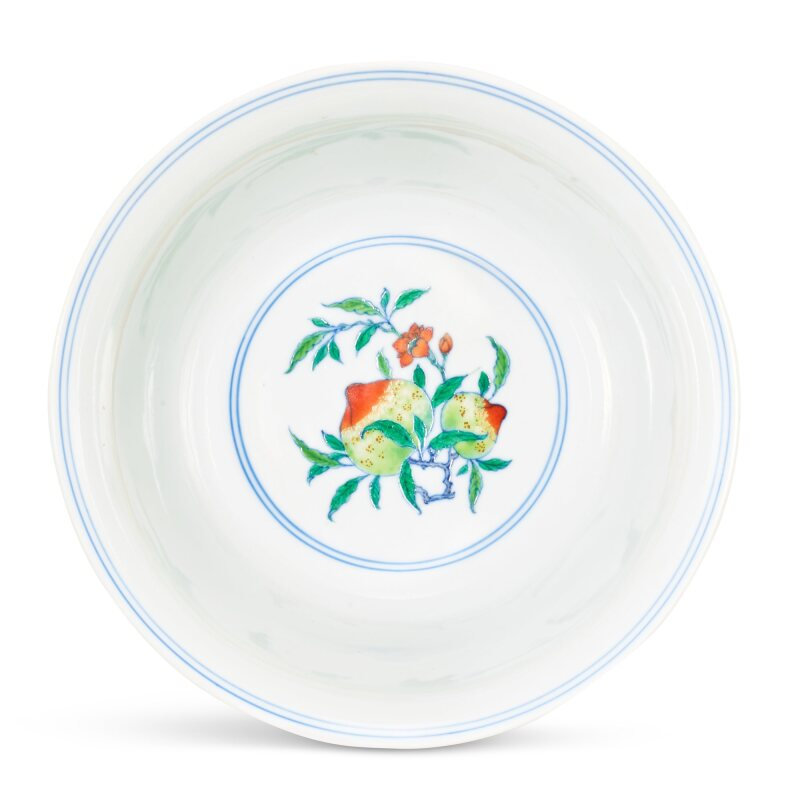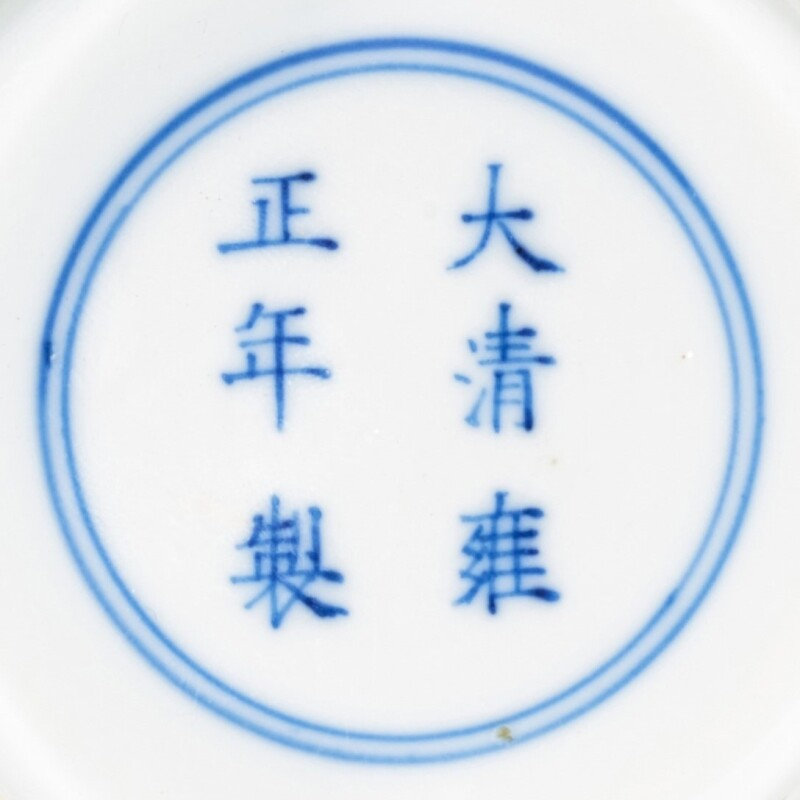 Lot 3506. A fine and rare pair of doucai and famille-rose 'sanduo' bowls, Marks and period of Yongzheng (1723-1735); 16 cm. Lot sold: 7,560,000 HKD (Estimate: 6,000,000 - 8,000,000 HKD). © Sotheby's 2022
each well potted with deep rounded sides rising from a straight foot to a flared rim, the exterior finely painted in bright enamels within an underglaze-blue outline, depicting three detached branches of flowering and fruiting sanduo including pomegranate, finger citron and lychee, the interior similarly adorned with a central medallion enclosing a single flowering branch of two succulent peaches, all within double-line borders, the base with a six-character reign mark within a double circle.
Provenance: Sotheby's Hong Kong, 15th May 1990, lot 286.
Literature: Sotheby's Hong Kong – Twenty Years, 1973-1993, Hong Kong, 1993, pl. 248.
Sotheby's. Thirty Years in Hong Kong, Hong Kong, 2003, pl. 189.
Note: The present bowls are superb examples of Yongzheng doucai porcelain in its clever manipulation of a restricted palette to create a variety of colours and textures. The doucai technique of drawing in underglaze-blue outlines and colouring in enamel washes, traditionally made use of the wucai (famille-verte) palette but later also incorporated fencai (famille-rose) enamels. The colour scheme used on this pair of bowls is particularly interesting; only one of the fruiting branches, that of the pomegranates, uses a rose-pink enamel but not in the typical fencai combination with an opaque white, but superimposed on yellow. This has created a most original tone which is otherwise very rarely seen and suggests an early date in the Yongzheng reign. Furthermore, the stippled iron red in the fruit enhances its sense of three-dimensionality while endowing it with a naturalistic texture.
Another pair of bowls of this elegant design from the collection of Sam'l C. Davis, was sold separately in the early 1990s. One bowl was first sold in our New York rooms, 27th November 1990, lot 190 and again in these rooms, 7th October 2019, lot 3018; and the other bowl was sold in our New York rooms, 26th November 1991, lot 356, published in Regina Krahl, Chinese Ceramics from the Meiyintang Collection, vol. 4, pt. II, London, 2010, pl. 1749, and sold in these rooms, 7th April 2011, lot 7. A further bowl was sold in these rooms, 11th April 2008, lot 2834.
The design of fruiting branches references two of the Yongzheng Emperor's passions: his reverence for antiquity and his love of auspicious symbols, both of which surrounded his residences and belongings. The present design, with sprays of fruiting finger citron, lychee and pomegranate, represents a variation of the auspicious sanduo ('three abundances') motif, as harbingers of endless long life, an abundance of offspring and plentiful blessings. The pomegranate bursting with seeds symbolises the wish for plentiful offspring; the lychee, with its Chinese name, lizhi, is homophonous with the phrase 'establish a son' (lizi) and represents abundance of offspring; and the finger citron, often referred to as 'the Buddha's hand' is an emblem of longevity, happiness and good fortune. They have been rendered in a style reminiscent of Chenghua doucai prototypes in an acknowledgement of the technique pioneered during the Ming Emperor's reign; compare a bowl decorated with medallions of fruiting branches, in the National Palace Museum, Taipei, included in the Special Exhibition of Ch'eng-hua Porcelain Ware, 1465-1487, Taipei, 2003, cat. no. 151.
Sotheby's. Gems of Imperial Porcelain from the Private Collection of Joseph Lau Part II, Hong Kong, 9 October 2022