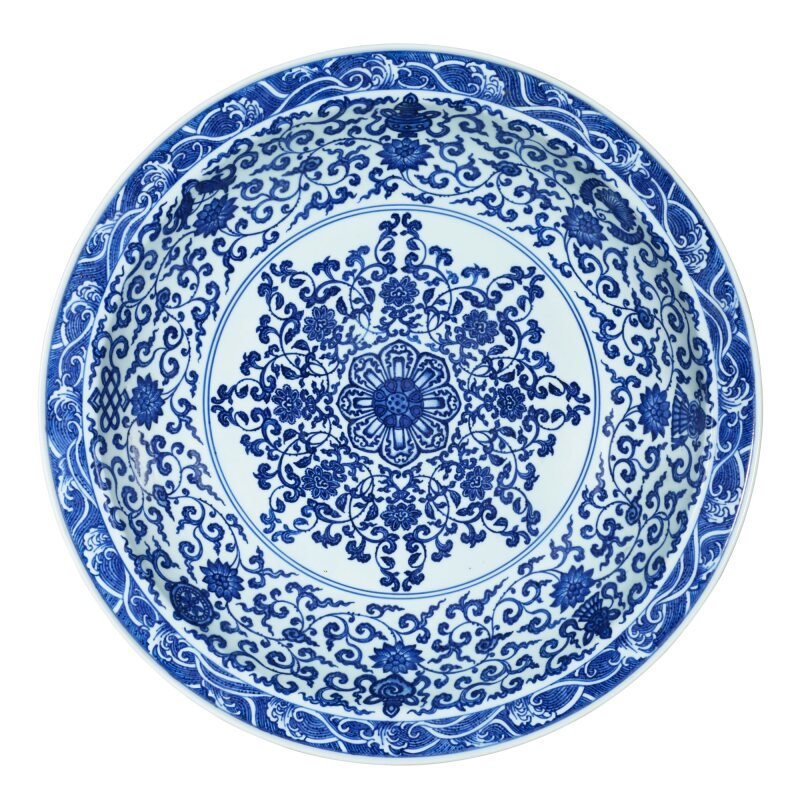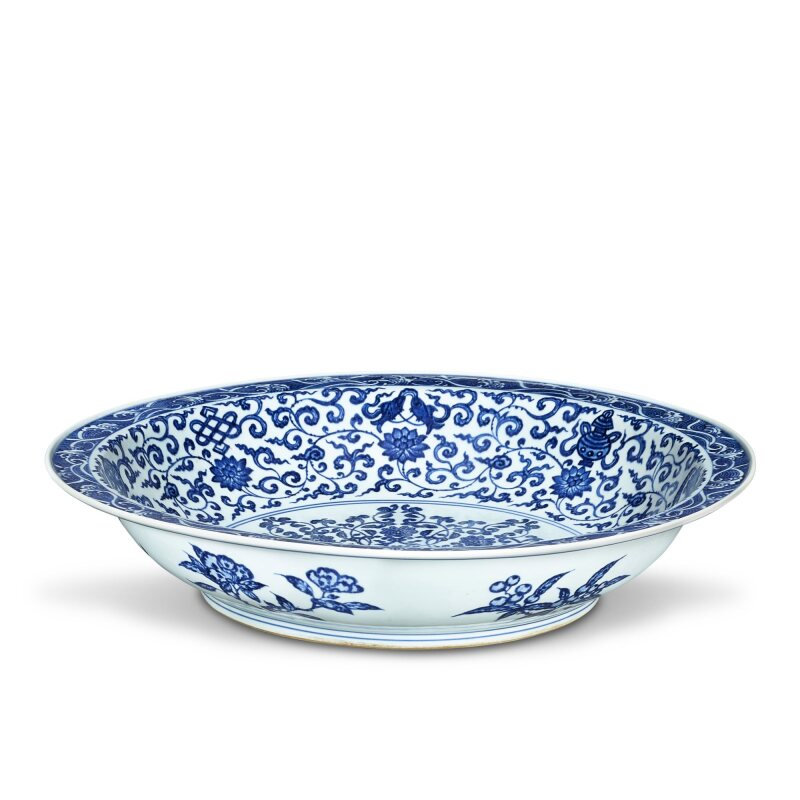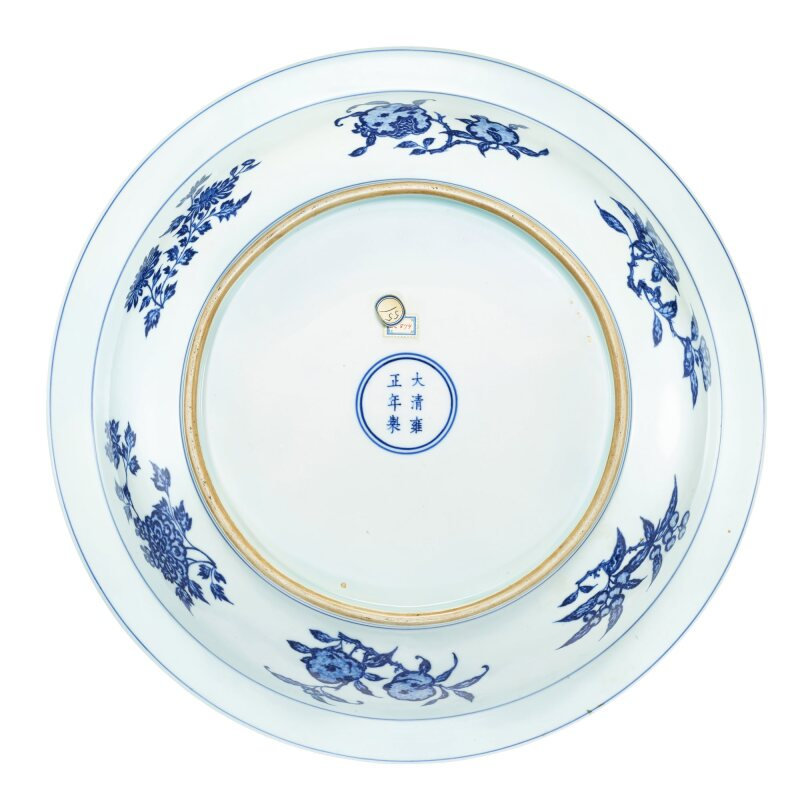 Lot 3805. A blue and white 'bajixiang' charger, Mark and period of Yongzheng (1723-1735); d. 45 cm. Lot sold: 2,142,000 HKD (Estimate: 2,000,000 - 3,000,000 HKD). © Sotheby's 2022
robustly potted with deep rounded sides rising from a short foot to a flat everted rim, the interior finely painted with interlaced flowering foliage around a central lotus medallion, surrounded by a wide frieze enclosing Eight Buddhist emblems borne on a composite floral scroll around the cavetto, the rim with a wave border, the exterior with alternate fruit and flower sprays, the base inscribed with a six-character reign mark within a double circle.
Provenance: Christie's London, 31st October 1966, lot 55.
Collection of Dr Wou Kiuan (1910-97).
Wou Lien-Pai Museum, 1968-present, coll. no. Q8.34.
Note: The present lot is exceptional for its large size and carefully composed design. Although formal lotus scrolls with blooms supporting the bajixiang, Eight Buddhist Emblems, were one of the classic patterns decorating objects with Buddhist connotations in the Yongzheng period (1723-35), dishes of this intricate design are rare, and only a few closely related pieces appear to be recorded.
Bajixiang were found on blue-and-white ceramics as supporting motifs as early as the Yuan dynasty (1271-1368) and with time developed into a principal motif. The overall design of this dish, however, is inspired by early Ming (1368-1644) prototypes; for bajixiang used in connection with lotus flowers, see, for example, Mingdai Xuande guanyao jinghua tezhan tulu / Catalogue of the Special Exhibition of Selected Hsüan-te Imperial Porcelains of the Ming Dynasty, National Palace Museum, Taipei, 1998, cat. nos 44, 52, 93 and 116; for flowering and fruiting branches, as here seen on the reverse, cat. nos 38, 47 and 62-3; for dishes with a border of crashing waves, cat. nos 179-80 and 200. Related motifs but very differently composed have been used on a smaller blue-and-white saucer-shaped dish of Xuande (1426-35) mark and period, preserved in the National Palace Museum, Taipei (accession no. gu-ci-7442), also included in the Museum's exhibition ibid. cat. no. 184. The Taipei dish is painted with a similar petal-panel rosette at the centre and a stylized lotus scroll with blooms supporting the Eight Buddhist Emblems on the reverse.
Two closely related examples of Yongzheng mark and period appeared at auction: one was sold at Christie's Hong Kong, 30th May 2018, lot 3035; the other, with the blue design set against a yellow ground, sold in these rooms, 20th November 1985, lot 156. A slightly smaller blue-and-white 'bajixiang' dish, inscribed with a Qianlong mark and of the period (1736-95), with a related composition but decorated with flying bats and florets surrounding the stylised lotus at the centre, the cavetto with less densely arranged lotus scrolls, the reverse with bats above crashing waves and rocks, was sold twice in these rooms, 29th April 1992, lot 139 and 8th April 2011, lot 3131.
Sotheby's. A Journey Through China's History The Dr Wou Kiuan Collection Part II, Hong Kong, 9 October 2022.