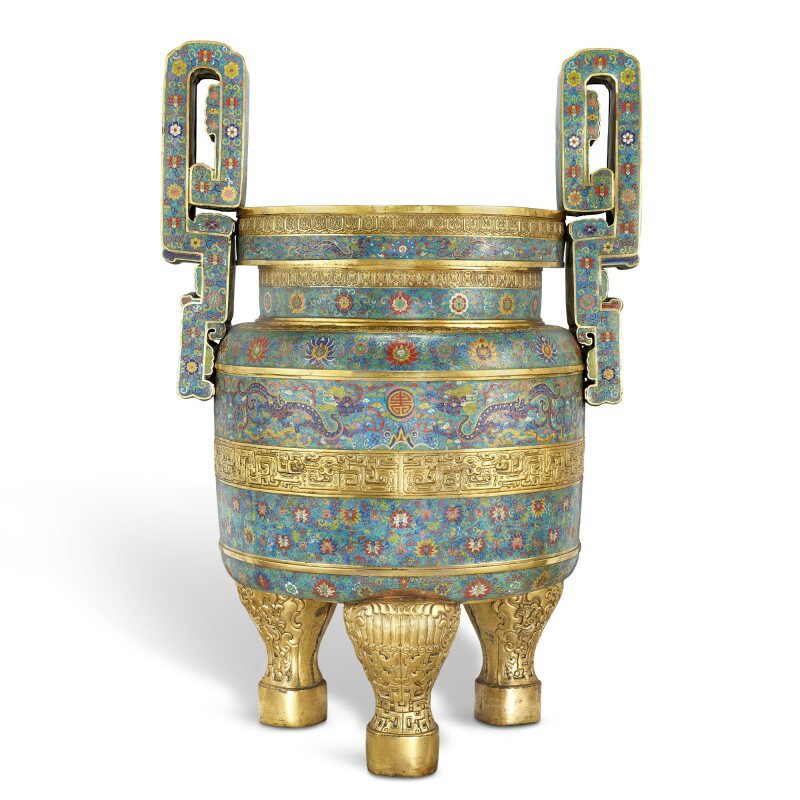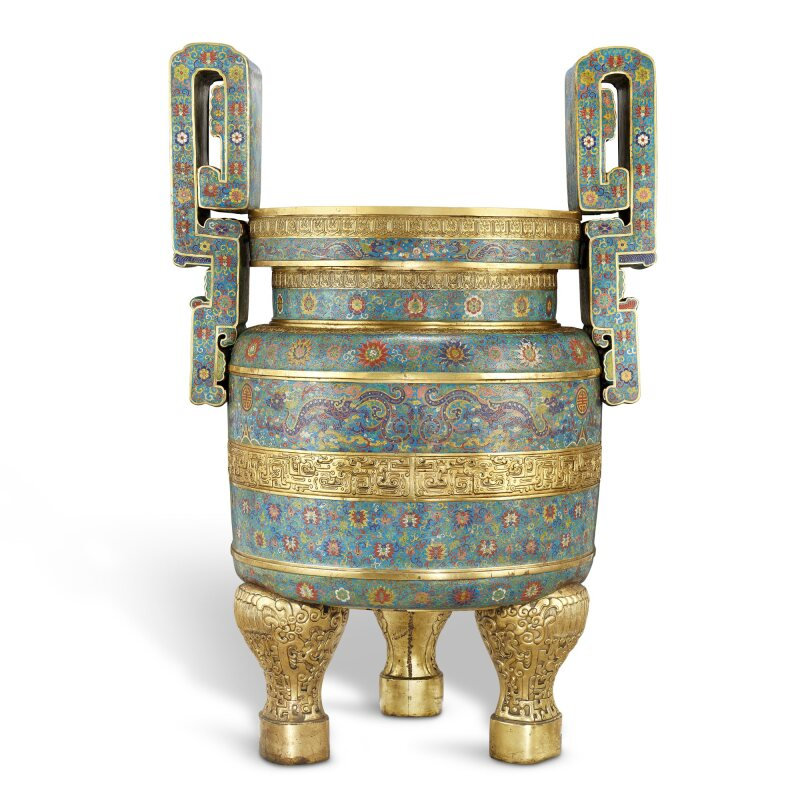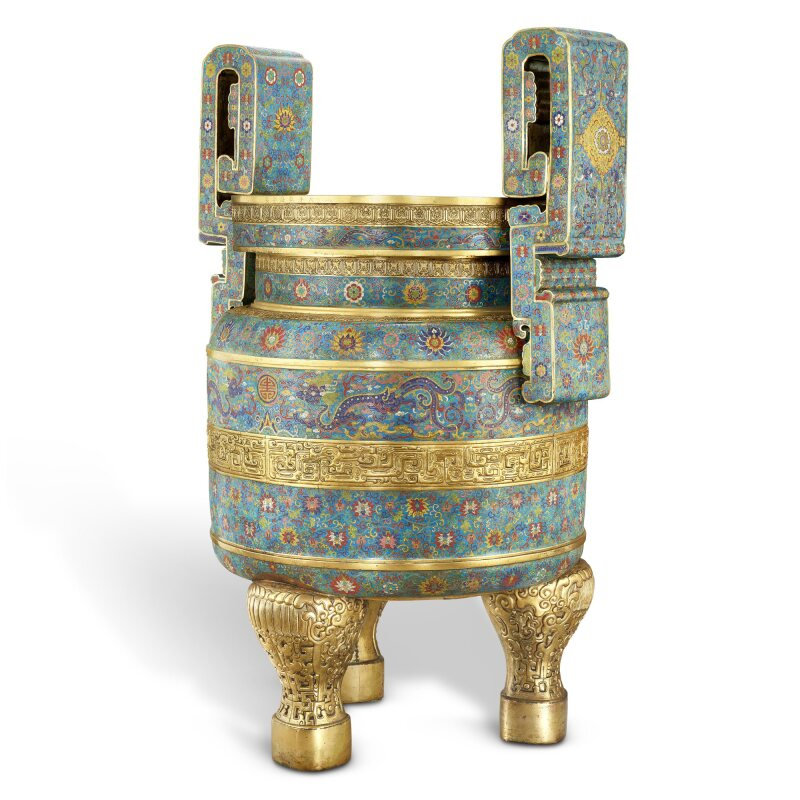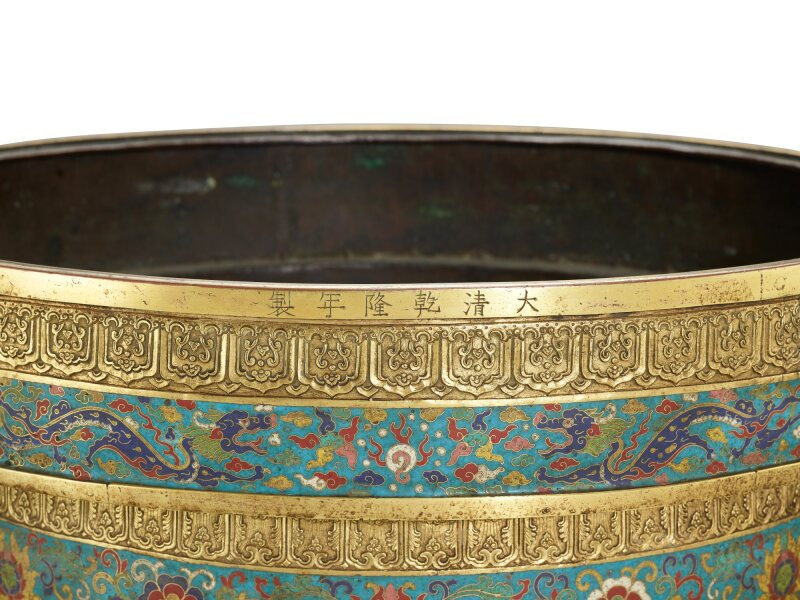 Lot 3806. A monumental cloisonné enamel 'kui dragon' tripod incense burner, Mark and period of Qianlong (1736-1735); overall h. 123 cm. Lot sold: 14,895,000 HKD (Estimate: 15,000,000 - 20,000,000 HKD). © Sotheby's 2022
the imposing incenser burner with a deep cylindrical body, surmounted by a short waisted neck and a broad mouth, supported on three solid gilt-bronze legs and flanked by two tall angular scroll handles attached to the shoulder and rim, the body decorated with cloisonné enamel bands alternating between confronted dragons with scrolling bifurcated tails divided by flaming pearls or shou roundels among dense clouds and colourful lotus flower heads among stylised leafy scroll, all on a turquoise ground, each section separated by a gilt-bronze band cast in low relief with lotus lappets at the rim, neck and shoulder, and another band of archaistic dragon scroll at the waist, the legs similarly cast with archaistic scrolls and accented with elaborate mane, the gilt-bronze mouth rim with a horizontal six-character mark
Provenance: Collection of Lord Loch of Drylaw (1827-1900), by repute.
Collection of Alfred Morrison (1821-97), Fonthill House, Tisbury, Wiltshire.
Collection of the Rt. Hon. The Lord Margadale of Islay, T.D., J.P., D.L. (1906-96).
Christie's London, 31st May 1965, lot 133.
Collection of Dr Wou Kiuan (1910-97).
Wou Lien-Pai Museum, 1968-present, coll. no. Q9.35.
Literature: Rose Kerr et al, Chinese Antiquities from the Wou Kiuan Collection. Wou Lien-Pai Museum, Camberley, 2011, cat. no. 167.
Note: Cloisonné enamel censers of this monumental size and complex ornamentation are extremely rare. Measuring over 120 cm in height, this imposing censer is among the largest vessels of its type, and only one closely related censer appears to be recorded. The present piece is a fine example of imperial enamel craftsmanship of the Qianlong period (1736-95) when cloisonné enamelling reached its zenith. This is evident in the well-planned, detailed and precisely laid-out design and the wide range of bright, delicately blended enamel colours. Sophisticated gilding can also be seen on the crisply cast decorative bands around the body and the three solid, sculptural legs. With this size and overall intricacy, this magnificent censer could only have been made in the Cloisonné Enamel Workshop within the Zaobanchu (Imperial Palace Workshops) located in the Forbidden City, Beijing, where the most skilful artists and craftsmen were encouraged to produce pieces that were creative, technically challenging and aesthetically eye-catching to please the Emperor. The six-character reign mark prominently incised at the centre of the gilt mouth rim confirms its imperial status.
The Qianlong period saw a great resurgence and expansion in cloisonné making whereby vessel forms and designs proliferated. The Emperor, a keen collector of objects and connoisseur of art, is known to have favoured works of art that were modelled after relics from antiquity. The Qing craftsmen added their own design elements, made innovative changes to the prototypes and applied their own style, thus creating archaistic pieces that were nevertheless contemporary. This censer takes its form from an archaic tripod vessel known as ding, which was originally used for holding or serving food and other offerings during the Shang (c. 1600-1046 BC) and Zhou (c. 1046-221 BC) dynasties. This vessel, no longer created as a food container but an incense burner, is unusual in its cylindrical body shape, squared scroll handles and curly motifs at its legs – features rarely seen even on Qianlong cloisonné censers.
Further to the integration of innovative designs, decorating this impressive censer are motifs that are also steeped in tradition and auspicious associations. The confronting dragons among clouds is a classic design element symbolising high rank and power since ancient times. With smaller yellow dragons playing right beneath the larger blue ones, together they might represent the Chinese saying canglong jiaozi ('old dragon teaching its young') and convey a wish for passing the power from one generation to the next. Between the confronting dragons are roundels of the Chinese character shou, meaning longevity. The dragon scroll on the waist band, cast in low relief and gilded, is closely copying archaic dragon designs. The 'foreign lotus' (fan lian) adorning the vessel overall – a stylised version of the lotus flower that is accompanied by scrolls with fanciful foliation instead of naturalistic leaves – is a motif archetypal in this period, particularly in a Buddhist context.
Ding tripod vessels were used in a ceremonial context as incense burners at least since the Song dynasty (960-1279) and continued to be used in this way, even though the Hongwu Emperor (r. 1368-98) had decreed that daily utensils should be used during state rituals. The intended use of the present censer as the central piece of a five-piece altar garniture, wugong (the five offerings), is confirmed by the only existing companion piece, which is preserved together with a matching pair of candlesticks and vases in the Château de Fontainebleau, France (accession nos F1332C, F1328cC and F1735C, fig. 1).
fg. 1. A set of five cloisonne enamel 'kui dragon' altar vessels, Marks and period of Qianlong, Palace of Fontainebleau. Photo © RMN-Grand Palais (Château de Fontainebleau) / Gérard Blot
The Qianlong Emperor, a keen follower of Buddhism, saw himself as the religious leader of the empire and commissioned ceremonial furnishings for shrines and temples as well as for the compound of the Imperial palace. Opulent pairs of four-legged censers were also placed on either side of the Emperor's throne in the Qianginggong (Palace of Heavenly Purity), in the Forbidden City, Beijing, as illustrated in situ in Qingdai gongting shenghuo / Life in the Palace During the Qing Dynasty, Beijing, 1985, p. 56, pl. 69.
Another incense burner of related cylindrical shape but much smaller in size (62.9 cm in height), with handles of similar form and motifs of shou characters, confronting dragons and lotus flowers, but lacking the gilt-bronze waist band, with lion masks on the legs and covered with a lid, formerly in the collection of Edward G. Kennedy, is now in the Metropolitan Museum of Art, New York (accession no. 22.93a–c). Compare also another smaller ding (65.5cm in height) with a pair of different squared scroll handles, of globular form and decorated with floral motifs only, preserved in the Palace Museum, Beijing (accession no. xin-80295), illustrated in Compendium of Collections in the Palace Museum: Enamels. Cloisonné in the Qing Dynasty, vol. 2, Beijing, 2011, pl. 236.
Although the beginnings of the cloisonné technique in China are still debated, the technique is now generally believed to have been introduced to China, possibly from Byzantium, in the Yuan dynasty (1279-1368). The process of making cloisonné enamel wares is a complex one which involves several laborious and specialized stages. First, the vessel body is cast, following which the very fine wires that outline the design are soldered onto the body to form pockets into which enamel is poured or applied, and then the vessel is fired. This process is repeated several times and the enamel is layered on until the desired thickness is achieved. The ware is completed after grounding and polishing to make it smooth, before finally plating the bronze elements with gold. With its striking and glamorous, this awe-inspiring censer demonstrates the immense artistic and technical achievements of the imperial workshops at the time and embodies the grandeur and power of the Qianlong reign.
Sotheby's. A Journey Through China's History The Dr Wou Kiuan Collection Part II, Hong Kong, 9 October 2022.